Hokkaido is one of the most popular and best areas when it comes to nature, winter sports, and hot springs. So in today's post, I want to show you 11 beautiful onsen towns and hot spring resorts in Hokkaido that you can visit in summer and in winter.
Noboribetsu Onsen is Hokkaido's most renowned onsen town that also attracts with its volcanic Hell Valley. Jozankei Onsen, located near Sapporo, and Yunokawa Onsen are Hokkaido's other two major hot spring resorts. If you are into skiing Niseko Hot Spring Village is the best choice.
But these 4 onsen towns are actually just the tip of the iceberg. Hokkaido has so many more hot spring towns that even I didn't know some of them before writing this post. So take a look at all of the other beautiful onsen towns in Hokkaido and let me help you with your decision. As usual, with my onsen town posts, you will find detailed information about nearby attractions, the best hot springs, onsen, and onsen ryokan in town.
1. Noboribetsu Onsen (Central Hokkaido)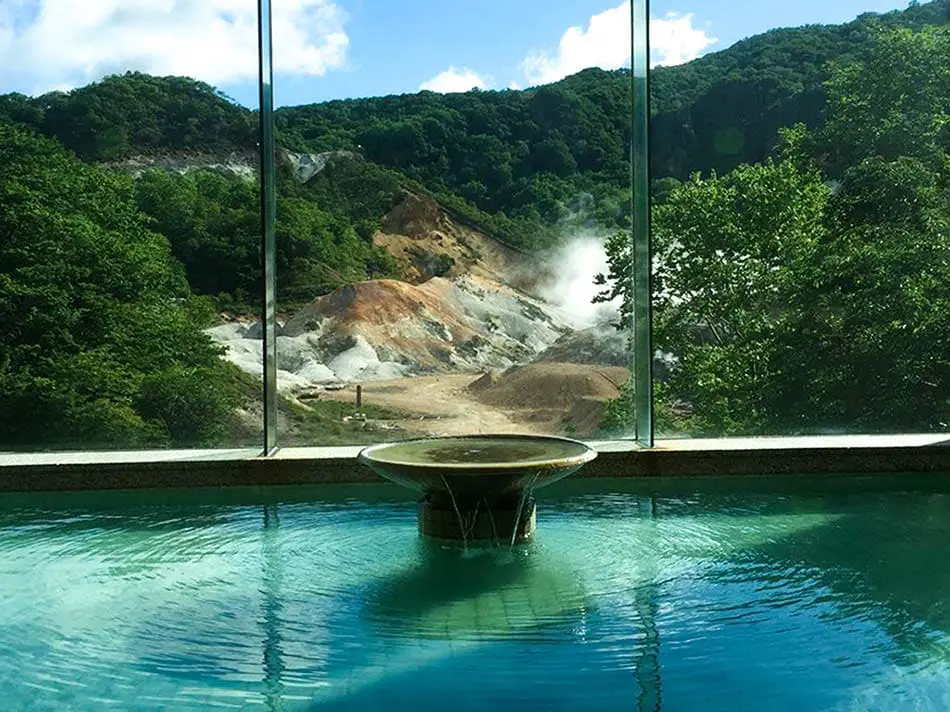 Location: Noboribetsu, Shikotsu-Toya National Park, Central Hokkaido
General Information: Noboribetsu Onsen (登別温泉) is one the most famous onsen towns in Japan and one of the most renowned hot spring resorts in Hokkaido with an abundance of high-quality hot spring water. It is located between Hakodate and Sapporo and makes for a perfect stop-off on your way from Honshu to Hokkaido's capital.
Not only the onsen but also the nature around the onsen town is just incredible. Jigokudani, aka "Hell Valley", is just a short walk away from the onsen town and will amaze you with volcanic steam vents, oddly colored rivers and lakes, and colorful autumn leaves. So take your time to hike around the valley, soak in the natural river foot bath, and maybe join Noboribetsu's Hell Festival or the Demon Fireworks Display in summer.
Most Famous Onsen Town in Hokkaido: In this hot spring town you will rather find big onsen hotels than traditional onsen ryokan, but with great onsen facilities.
Daiichi Takimotokan (第一瀧本館) has some of the largest onsen facilities with several indoor baths and outdoor baths. The great thing about this onsen hotel is the views over the Jigokudani Valley from the baths.
Even though Daiichi's views are peerless, I personally prefer the slightly more traditional onsen facilities at Noboribetsu Grand Hotel (登別グランドホテル) or Noboribetsu Sekisuitei (登別 石水亭). I just like soaking in wooden baths and pottery baths.
All 3 onsen hotels welcome daytime visitors.
Access: 15 minutes by bus from JR Noboribetsu Station. If you take the JR Super Hokuto it only takes about 1.5 hours from Sapporo. Hakodate and Yunokawa Onsen are 2.5 – 3 hours away.
Website: www.noboribetsu-spa.jp (English Translation available)
2. Sounkyo Onsen (Eastern Hokkaido)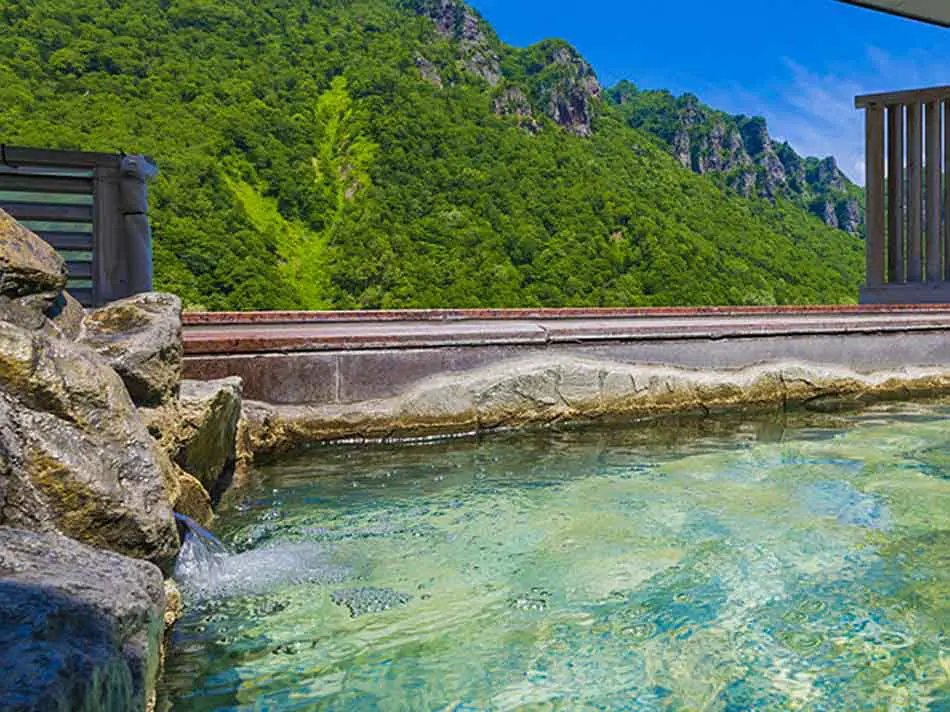 Location: Sounkyo Gorge, Daisetsuzan National Park, Eastern Hokkaido
General Information: Sounkyo Onsen (層雲峡温泉) or Souunkyou Onsen is a large and touristy hot spring town in Hokkaido's largest national park Daisetsuzan. The onsen town is nestled at the foot of Mount Kurodake in the narrow Sounkyo Gorge that stretches 24 kilometers along the Ishikari River. With cliffs that are 600 meters high, the gorge is a popular spot for autumn colors and also one of the first places where you can see the red foliage in Japan.
Attractions nearby the onsen town are the 2 famous waterfalls, Ryusei No Taki and Ginga No Taki, and the Daisetsuzan Sounkyo Kurodake Ropeway. If you are into hiking you could also consider the 2-day hiking tour from the summit of Mt. Kurodake to Asahidake Onsen.
Gorgeous Onsen Town in Daisetsuzan National Park: Sounkyo Choyotei (層雲峡 朝陽亭), Sounkaku Grand Hotel (層雲閣グランドホテル), and Sounkyo Onsen Choyo Resort Hotel (層雲峡温泉 朝陽リゾートホテル) are all onsen hotel that welcome day-trippers. They all have several indoor and outdoor baths in their modern onsen facilities.
Sounkyo Choyotei is my personal favorite. From the open-air bath with mountain views, you can see the forested cliffs of the gorge and they also have a pot tub and a wooden rotenburo. They also have a really nice indoor bath on the 2nd floor where the walls look like a Japanese painting.
Access: 30 minutes by bus from JR Kamikawa Station. The whole trip from Sapporo will take about 4 – 5 hours depending on the connection. Asahikawa is only 1 – 2 hours away from the onsen town and therefore a better base.
3. Jozankei Onsen (Near Sapporo)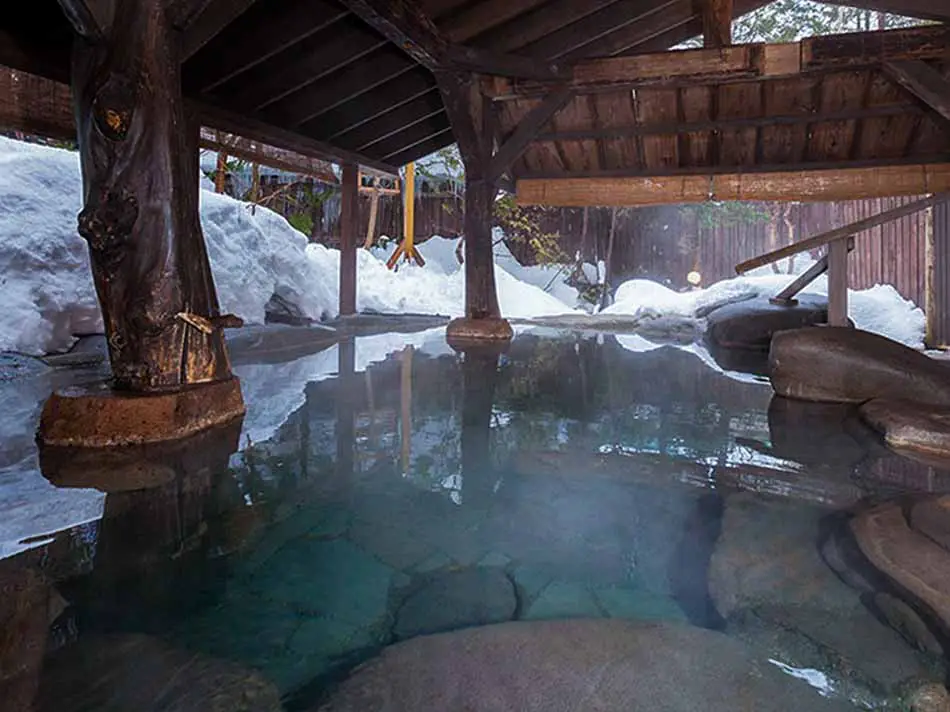 Location: Jozankei Onsen, Near Sapporo, Central Hokkaido
General Information: Jozankei Onsen (定山渓温泉) is a hot spring town that is located in the northernmost part of the Shikotsu-Toya National Park and only about 1 hour away from Sapporo. In mid-October, this onsen town also turns into an autumn leaf paradise. They are especially beautiful around Hoheikyo Dam, one of Japan's top 100 lake dams, and Shiraito no Taki, a waterfall that is frozen in winter. You can also find several Ashiyu. Tara No Yu is free, while Kokoro No Sato is quite romantic and popular among couples.
Popular Onsen Town Near Sapporo: Discovered in 1866 Jozankei Onsen became one of Hokkaido's leading hot spring areas in less than 200 years. Out of all the onsen in Jozankei, Nukumori No Yado Furukawa (ぬくもりの宿 ふる川) is the most amazing one. They have 4 different types of hot springs with old wooden interior designs and different stone patterns.
Two other excellent day-trip onsen facilities to try are at Shogetsu Grand Hotel (章月グランドホテル) and Jozankei Daiichi Hotel Suizantei (定山渓第一寶亭留 翠山亭). And you can probably find a dozen more in Jozankei Onsen Town.
Access: The most convenient way is to take a direct bus from Sapporo to Jozankei Onsen. The trip takes 70 minutes. If you have a JR Pass and want to save some money you can ride the Namboku Line to Makomanai Station and then transfer to a bus. It is still a 40-minuted bus ride, though, and you will only save about 250円. Perfect day trip from Sapporo
Website: www.jozankei.jp
4. Toyako Onsen (Central Hokkaido)
Location: Toyako Onsen, Lake Toya, Central Hokkaido
General Information: Toyako Onsen (洞爺湖温泉) is located on the southern shores of Lake Toya and is also part of the Shikotsu-Toya National Park. In the onsen town, there is a cute little Ashiyu with a dragon and from the end of April until the end of October you can see a small firework show that takes place every evening.
This is still one of my favorite destinations in Hokkaido, not because of the hot springs, but all the volcanic sights around it. We have Mount Showa, a new 290-meter-high volcano that suddenly arose in 1943. Then, there is Usuzan's west crater with its walking trail that leads through an abandoned zombi-apocalypse-like village (this part of the city was abandoned because of Mount Usu's eruption in 2000). It's like urban exploration but without trespassing.
Onsen Town With Lake Views: Thanks to one of my Japanese students and a better understanding of Japanese, I could find some really nice onsen hotels with amazing hot spring baths. The best thing all of them welcome day visitors, so you could even consider coming to Toyako Onsen as a day trip from Sapporo.
Zekkei No Yuyado Toya Kohantei (絶景の湯宿 洞爺 湖畔亭) has an onsen terrace with pottery tubs from where you can overlook Lake Toya. Toya Kanko Hotel (洞爺観光ホテル) has also a really nice gender-separated rotenburo and a really cool cave indoor onsen bath.
Toyako Manseikaku Hotel Lakeside Terrace (洞爺湖万世閣ホテルレイクサイドテラス) has extremely modern onsen facilities, and yet they feel kinda traditional. You have a stone rotenburo, a wooden indoor bath, and perfect views of the Toyako Long-Run Fireworks Display held in summer.
Next time when I'm going to stay at one of these 3 hot spring hotels, I'm sure I'm going to fall in love with the onsen in Toyako, too.
Access: 15 minutes by bus from JR Toya Station. From Sapporo and Hakodate, you can get here in 2 hours if you take the JR Super Hokuto. Noboribetsu Onsen is about 40 minutes away.
Website: www.laketoya.com
5. Niseko Hot Spring Village (Central Hokkaido)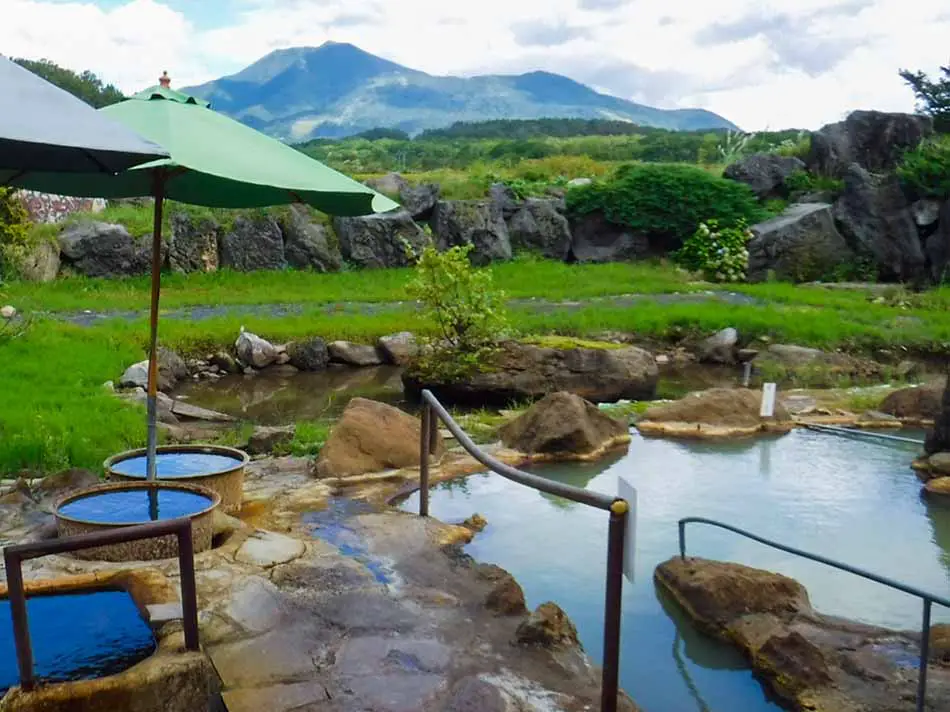 Location: Niseko Ski Resort, Hakodate, Central Hokkaido
General Information: Niseko Hot Spring Village (ニセコ温泉郷) is the name of the onsen area that spans several towns at the foot of the Niseko Mountain Range. If you are into skiing or snowboarding you will know that Niseko is one of Japan's best ski resorts with tons of powder snow. But since hitting the slopes and soaking in an onsen go hand in hand here in Japan you will also find a ton of onsen and onsen hotels. I have to confess that I am not into winter sports, so all of my information here is based on what other people say.
Onsen Town Near Famous Ski Resort: Some of the more famous hot springs seem to be near Konbu city, Annupuri ski resort, and the Grand Hirafu ski resort. The one that I found most intriguing is called Kogane Onsen (黄金温泉). This onsen facility and all of its baths have been built by the owner, a farmer, himself over several years. There are gender-separated indoor baths and open-air baths including Goemonburos separated by a big wall made of rocks. However, the outer part of the large open-air bath is not gender-separated. The views are really amazing, too.
Yukichichibu Onsen (雪秩父) and Niseko Goshiki Onsen (ニセコ五色温泉旅館) are two more orthodox options for day-trippers. Yukichichibu features a huge variety of baths including a mud onsen for beautiful skin in the female onsen facilities. Hotel Kanronomori (ホテル甘露の森) is an onsen hotel that welcomes daytime visitors but only in combination with a not-so-cheap dinner plan.
Access: The nearest stations to Niseko onsen and the ski resort are Kutchan Station, Hirafu Station, Niseko Station, Kombu Station, and Rankoshi Station. From Sapporo, it takes about 3 hours to get to either of them. Then you have to continue your journey by bus. In winter there are a lot of direct buses from Sapporo to the Niseko area stopping at all the major ski resorts. The whole trip to the hot springs can take anywhere from 3 – 5 hours.
6. Yunokawa Onsen (Southern Hokkaido)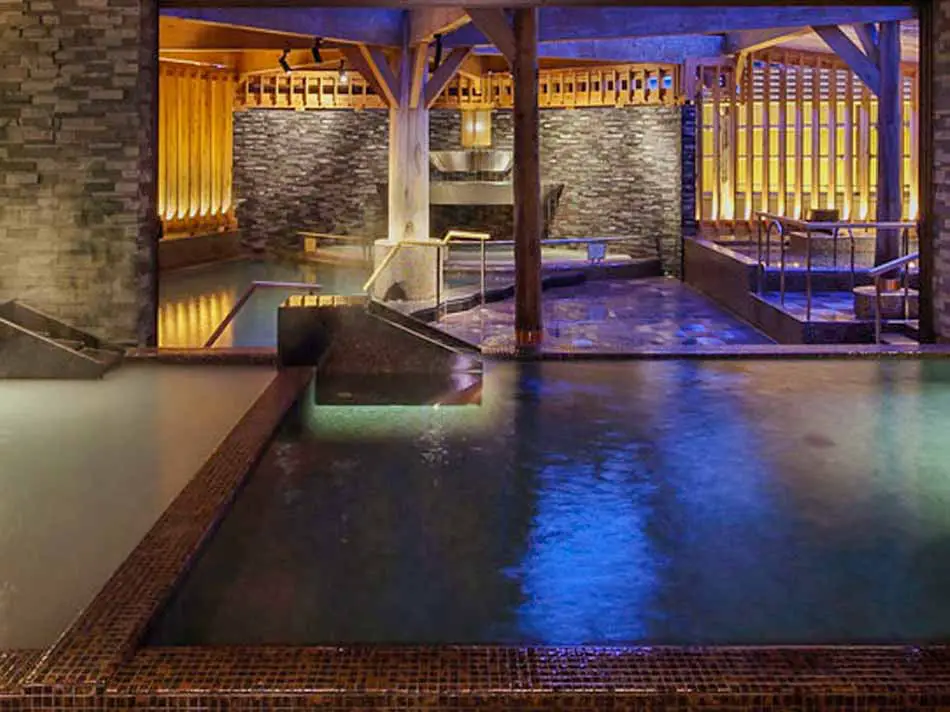 Location: Yunokawa Onsen, Near Hakodate, Southern Hokkaido
General Information: Yunokawa Onsen (湯の川温泉) is a small hot spring resort east of Hakodate and one of the 3 major onsen villages in Hokkaido together with Noboribetsu Onsen and Jozankei Onsen. Located right next to the ocean you can overlook the Tsugaru Strait that separates Hokkaido and Honshu.
While Yunokawa Onsen has a few sightseeing spots like the Black Pine Forest or the Hakodate Tropical Botanical Garden, you should rather spend your time in Hakodate. The city is especially famous for its spectacular night view from Mount Hakodate which is one of Japan's 3 famous night views. You can also eat a delicious seafood bowl at the morning market Asaichi and take a pleasant stroll around the picturesque slopes of Motomachi.
Small But Famous Seaside Onsen Town: The best way to enjoy Yunokawa Onsen is by visiting one of the amazing onsen ryokans that allow Higaeri (day trip usage). My personal favorite even after years is Hotel Banso (ホテル万惣). Their modern onsen facilities look amazing and offer tub baths, silky baths, and an open-air bath. No special view, though.
In Yunokawa you will also find the onsen ryokan Kappo Ryokan Wakamatsu (割烹旅館 若松). The small onsens have nice ocean views, but honestly, they are not so great. But! This was the designated ryokan for the emperor in the past and so the service and hospitality are top-notch. One of the best and most authentic ryokan experiences you can have in Japan…and one of the most expensive.
There are also a lot of onsen hotels directly in Hakodate city.
Access: Yunokawa-onsen tram stop. It is a 30-minute tram ride from Hakodate and a 20-minute bus ride from Hakodate Airport. Sapporo is 4.5 hours away and Aomori is 2.5 hours away. The tram is not covered by the JR Pass, but very cheap.
Website: www.hakodate-yunokawa.jp
7. Tokachigawa Onsen (Eastern Hokkaido)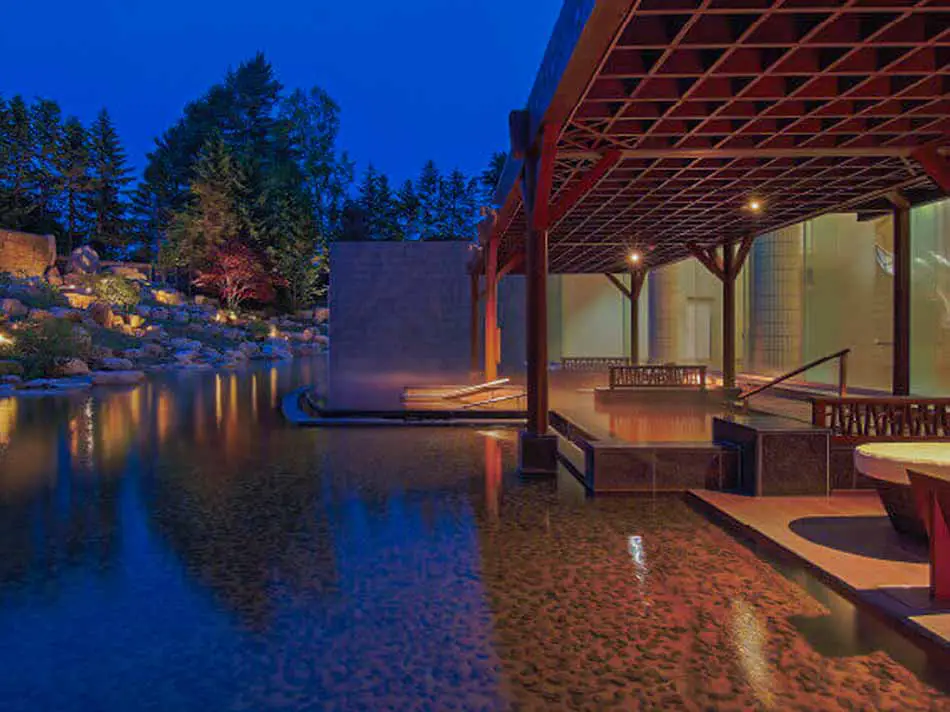 Location: Tokachigawa Onsen, Near Obihiro, Eastern Hokkaido
General Information: Tokachigawa Onsen (十勝川温泉) has unique amber-colored but transparent hot spring water that gushes out from the riverbank of the Tokachi River. Since the onsen water is very gentle and good for the skin this hot spring town is popular among Japanese women.
Tokachigawa Onsen is located in the middle of the Tokachi Plains, an idyllic rural area with ranches and fields. In spring you can see yellow rapeseed fields and an 18-meter big flower clock, while in summer at the beginning of July you can see many fireflies. In winter the plain is covered in snow and snow and ice festivals take place.
Onsen Town With Unique Moore Hot Spring: At Tokachigawa Onsen you can try one of Japan's rare moor onsen since the hot spring water is rich in plant-based organic matter. One nice onsen spa that welcomes day-trippers is the Tokachigawa Onsen Daiichi Hotel (十勝川温泉第一ホテル). You can find several baths including cypress baths, jacuzzis, and saunas. On the second floor, they have an open-air bath with a nice view of the river.
Garden Spa Tokachigawa Onsen (ガーデンスパ十勝川温泉) might be an option for the shy one since it is more like a pool and men and women are wearing swimwear. Usually, you are not allowed to wear bathers to an onsen, so not an authentic hot spring experience, but they use natural hot spring water.
Access: From the nearest station JR Obihiro Station it is a 30 minutes bus ride to the onsen town. Sapporo is about 3.5 hours away if you take the JR Ozoro Limited Express bound for Obihiro. New Chitose Airport is about 3 hours away and Kushiro is about 2.5 hours away.
Website: www.tokachigawa.net
8. Kawayu Onsen (Eastern Hokkaido)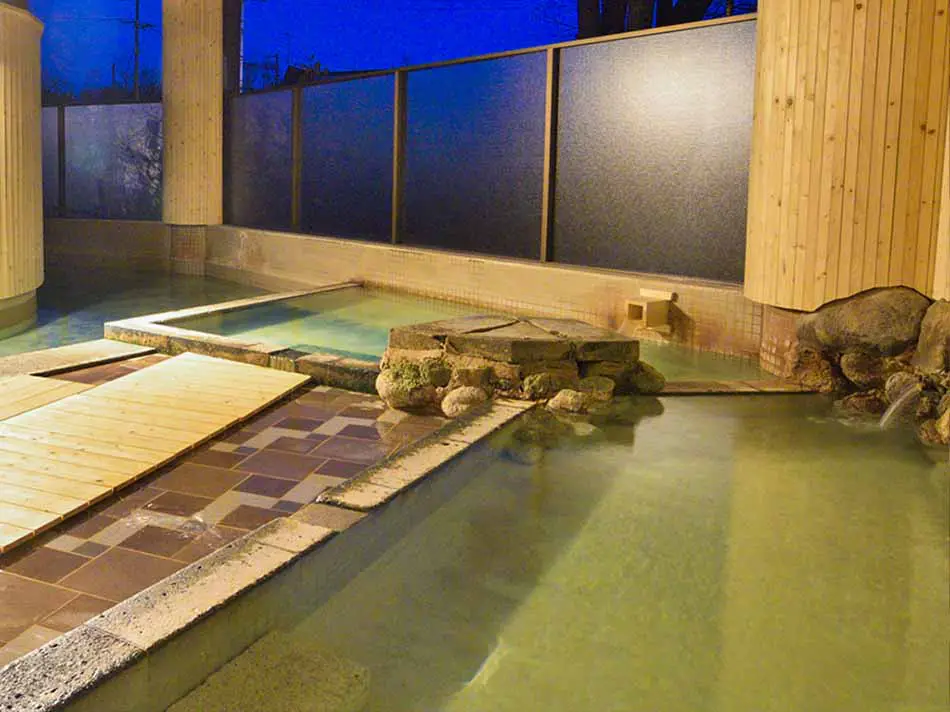 Location: Kawayu Onsen, Akan Mashu National park, Eastern Hokkaido
General Information: Kawayu Onsen (川湯温泉) is an onsen town located between Lake Kussharo and Lake Mashu in the Akan Mashu National Park. The national park is famous for its 3 mysterious crater lakes: Lake Akan, Lake Mashu, and Lake Kussharo.
Out of the 3 lakes, Lake Mashu is the most mysterious one. It is a beautiful lake with really clear water, but usually, you won't see it at all because it is covered in such dense fog. I was maybe 1 or 2 meters away from it and I couldn't even tell if there is a lake or not. Crazy experience…reminded me of Silent Hill 2.
Another attraction directly in Kawayu Onsen is the Kawayu Sumo Museum and the Ashiyu.
Onsen Town Near Hakodate: Kawayu Onsen is famous for the high acidity of its hot springs. Kawayu Onsen Oyado Kinkiyu (川湯温泉 お宿欣喜湯) is an onsen hotel and spa that you can visit during the day. They have a unique outdoor bath that spans over 1.5 floors and an indoor bath with wooden tubs and pottery tubs.
Kawayu Kanko Hotel (川湯観光ホテル) has also really nice onsen facilities with modern stone baths and more traditional wooden baths. Higaeri Nyuuyoku (day trip bathing) is also possible.
Since Kawayu Onsen's spring water is so acidic don't forget to rinse or take a shower after your hot spring bath, especially if you have sensitive skin. Normally, I would recommend you not to shower after your bath to prolong the effects and beauty benefits of the onsen water, but in this case, you definitely should.
Access: From Kawayuonsen Station it is a 10-minute bus ride to the onsen town. The JR Ozora Limited Express bound for Kushiro and then the Semmon Line bound for Abashiri will bring you to Kawayu Onsen in 6 hours from Sapporo. Kushiro and Abashiri are about 1.5 hours away and the better bases for visiting this onsen town.
9. Akanko Onsen (Eastern Hokkaido)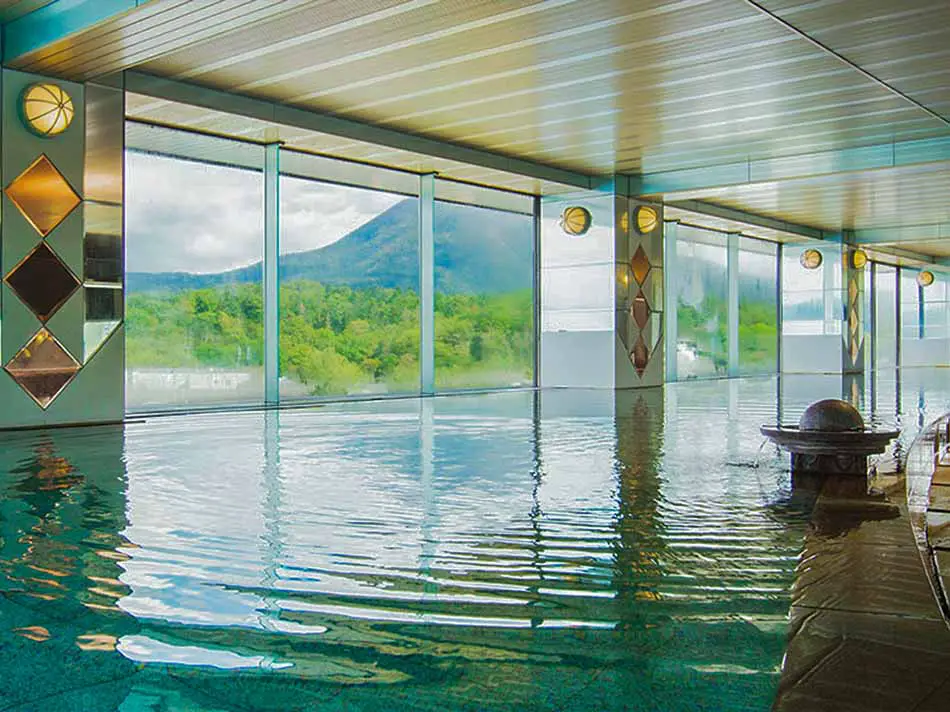 Location: Lake Akan, Akan Mashu National Park, Eastern Hokkaido
General Information: Lake Akan is a pretty crater located in the western part of the Akan Mashu National Park. It is famous for marimo, a rare algae species that grow into large green fluffy balls. Akanko Onsen (阿寒湖温泉) or Lake Akan Onsen is the same-named hot spring town located at the lake's southern shores. The top attractions around Akanko include boat cruises around the lake, the Ainu Kotan, a street where you can shop for local crafts and souvenirs, and hiking trails to the top of Mount Oakan.
Onsen Town Near Hakodate: One of the Akanko Onsen's most famous onsen baths are the onsen facilities at the New Akan Hotel (ニュー阿寒ホテル). While not the most traditional onsen baths, they have a huge infinity pool with incredible lake views. This hot spring pool isn't gender-separated and you have to wear swimwear. At night this pool turns into a romantic onsen for couples because it is beautifully illuminated and sometimes there are firework displays. Unfortunately, day-trippers can only use the facilities from 12:00 – 17:00 o'clock.
Akan Yuku No Sato Tsuruga (あかん遊久の里 鶴雅) is another onsen that welcomes day visitors. They have 2 bathing facilities, one on the 1st and one on the 8th floor with a roof-top open-air bath. Their onsen baths are definitely more traditional and they also have a nice view over Lake Akan.
Access: Mashu Station is the closest (50 minutes away), but buses are only available from July to October. So the nearest stations are Kitami Station in the north and Otanoshike Station near Kushiro in the south. From Kitami Station it is a 1-hour bus ride to the onsen town and from Otanoshike Station it takes about 1.5 hours. The whole trip from Kushiro takes about 2 hours. Sapporo is about 8 hours away.
10. Asarigawa Onsen Village (Near Sapporo)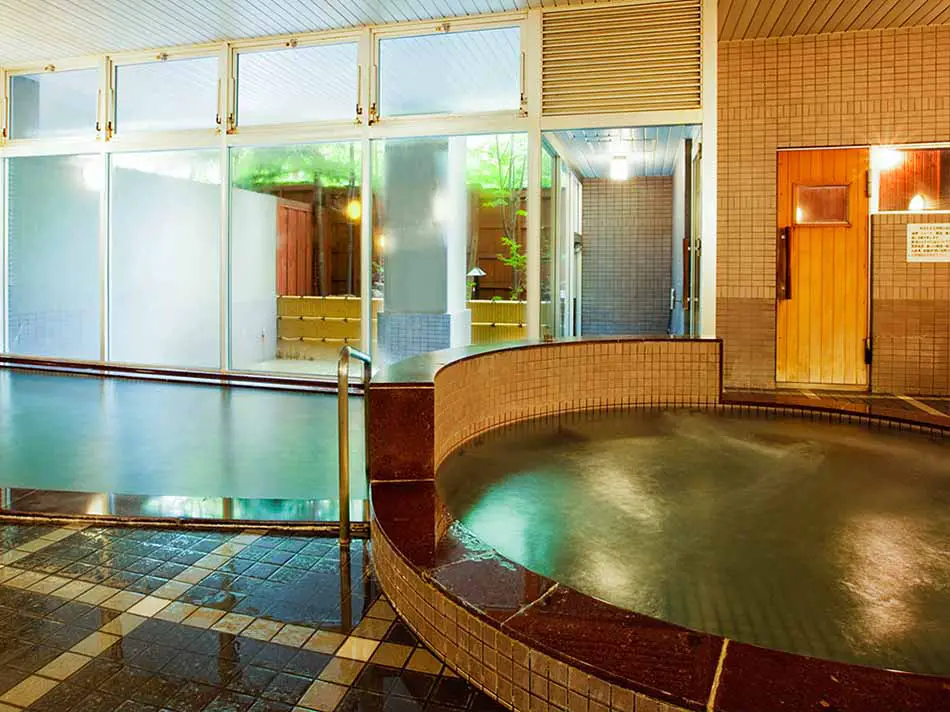 Location: Asarigawa Onsen, Near Otaru & Sapporo, Central Hokkaido
General Information: Asarigawa Onsen Village (朝里川温泉) is a small onsen town south of Otaru city and about 1 hour away from Sapporo. Otaru is a charming little port town and a popular day trip from Sapporo. The city's most famous attractions are the picturesque canal area and the Otaru Yuki Akari No Michi Matsuri (Otaru Snow Light Path Festival) which takes place in February. For the festival, the whole city and the canal area get decorated with cute little lights and small snow sculptures.
Onsen Town Near Hakodate: There aren't too many onsen hotels and onsen ryokans I could find. But two of them that open their doors to non-staying guests are Otaru Asari Classe Hotel (小樽朝里クラッセホテル) and Hotel Musashitei (ホテル武蔵亭).
Compared to other hot springs I have seen they do not have the most spectacular onsen baths, but good indoor and outdoor bathing facilities. Asari Classe Hotel has a stone outdoor bath and forest views, while Musashitei has typical Sento-like baths and a stone sauna.
The private baths attached to your room at the Asari Classe Hotel look really nice, though.
Access: The nearest station is JR Asari Station on the JR Hakodate Line towards Otaru. But when I looked it up, google maps suggested taking the same train to Otaruchikko Station and then transferring to a local bus bound for Asarigawa Onsen. It is a 20-minute bus ride. From Sapporo, the whole trip takes about 1 h 7 min.
11. Utoro Onsen (Eastern Hokkaido)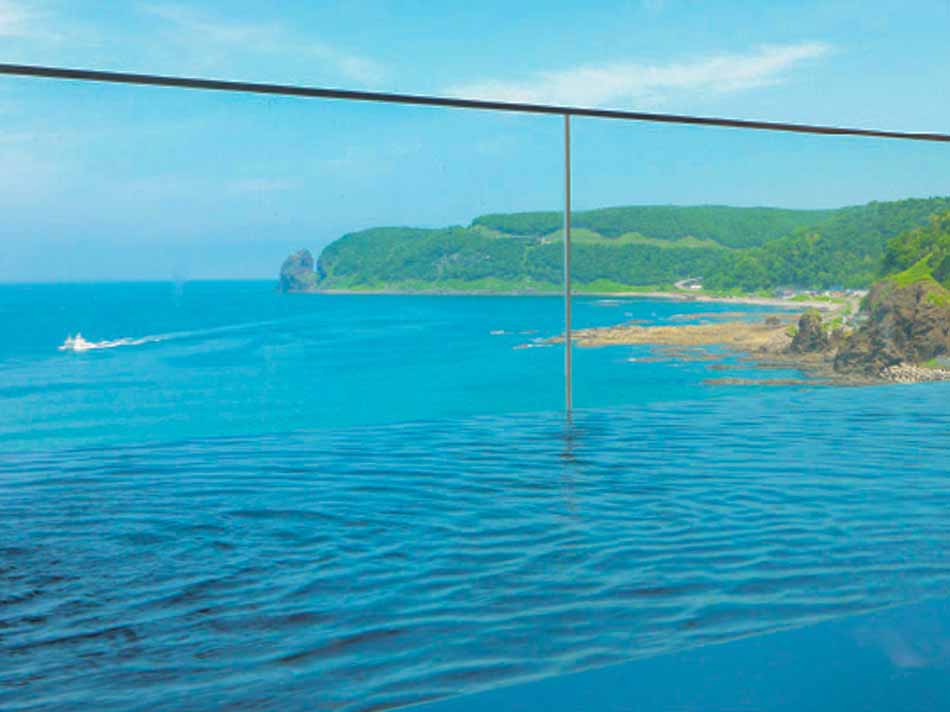 Location: Utoro Onsen, Near Shiretoko National Park, Eastern Hokkaido
General Information: Utoro Onsen (ウトロ温泉) is the gateway to the Shiretoko National Park located on the same-named peninsula in the far east of Hokkaido. In Utoro there are a few things to see and do like the Oronko Rock or sightseeing boat cruises.
But what you really want to explore is the beautiful and unspoiled Shiretoko National Park, of course. Everything from the Shiretoko Five Lakes, the Oshinkoshin Falls, or the Furepe Waterfall, the drift ice, and the possible sightings of bears, foxes, and other wildlife will let your heart beat faster. At least if you are an outdoor enthusiast just as I am.
Onsen Town Near Hakodate: There are only a handful of onsen hotels and inns in the area so you should plan and book your trip as early as possible. Kitakobushi Shiretoko Hotel & Resort (北こぶし知床 ホテル&リゾート) is an onsen hotel that you can also visit as a non-staying guest. The modern onsen facilities and open-air hot spring bath have ocean views. So in winter, you can also see the drift ice.
Shiretoko Yuuhi No Ataruie Onsen Hostel (知床夕陽のあたる家 ONSEN HOSTEL) also welcomes day-trippers from 15:00 – 19:00 o'clock. They do not have a lot of pictures on their webpage, though, so I am not sure about the quality of their onsen facilities. I checked a few Japanese onsen sites and it looks like you also can see the ocean from the bath.
When I visited Shiretoko I did not stay in Utoro but in Shari, so I definitely have to come back and check out the accommodations in Utoro.
Access: From the nearest station JR Shiretoko Shari Station you can only continue by bus or rental car to Utoro Onsen. There are also direct buses from Memanbetsu Airport to Utoro. Sapporo is a 7-hour car drive or an 8-hour bus journey away.
More Beautiful Onsen Towns in Japan
Onsen Towns Near Tokyo (Onsen Baths & Ryokan): Get to know 14 amazing onsen towns that you can visit as a day trip from Tokyo. Some of Japan's most renowned hot spring towns such as Hakone Onsen, Atami Onsen, and Minakami Onsen are only 90 minutes away from Japan's capital.
Onsen Towns Near Kyoto & Osaka: In Kansai, you can find 2 of the 3 ancient onsen towns in Japan, Shirahama Onsen, and Arima Onsen. In total, I will show you 12 awesome onsen towns that you can visit as a day trip from Kyoto and Osaka and 2 of them are only 30 minutes away.
Onsen Towns in Kyushu: In my post, I give detailed descriptions of 12 onsen towns located in the south of Japan, Okinawa, and the tropical rainforest island Yakushima. There are a lot of small but idyllic hot spring villages including my personal favorite, Kurokawa Onsen, and the most adventurous onsen town, Beppu Hot Spring Village.