Meiji Jingu (明治神宮), also known as Meiji Shrine, is a famous Shinto shrine in Tokyo that is surrounded by a large evergreen sacred forest and known for its beautiful wooden architecture. It is conveniently located next to Harajuku and is one of Japan's most popular and most-visited shrines.
In this blog post, I'll show you what you can see and do when visiting Meiji Jingu including the main shrine complex, the big stack of sake and wine barrels along the gravel path, the camphor tree couple, the Meiji Jingu Museum, and the spiritual power spot within its Inner Garden.
At the end of this post, you will find all the information you need to plan your visit such as the exact opening hours, the best time to visit Meiji Jingu, and a list of things you can do before or after exploring the shrine. I will also answer some of the most commonly asked questions.
Meiji Shrine | Meiji Jingū (明治神宮)
📍 Harajuku, Shibuya, Tokyo, Tokyo Prefecture
🗾 Kanto Region, eastern Japan
⏱ 1 min from Harajuku, 30 min from Tokyo Station
Hours: sunrise to sunset
Closed: no closing days
Entrance fee: free
Nearest station: Harajuku Station (JR Yamanote Line)
Time needed: 1 – 3 hours
Nearby: Yoyogi Park, Takeshita Dori, Omotesando
Official website: https://www.meijijingu.or.jp/en/
Additional notes: The museum on the grounds is open from 10:00 until 16:30 and closed on Thursdays. The Inner Garden is open from 9:00 until 16:30. While you can see and explore the shrine complex for free there is a small entrance fee of ¥1,000 for the museum and ¥500 for the garden.
All About Meiji Shrine (Meiji Jingu)
one of the most famous and popular Shinto shrines in Japan
one of the most visited sightseeing spots in Tokyo
an evergreen oasis with more than 100,000 trees
features Japan's largest wooden Myoujin Torii
What to See
Meiji Jingu Inner Sanctuary & Main Shrine
Japan's Largest Wooden Myojin Torii Gate
Meiji Jingu Consecrated Sake & Wine Barrels
Camphor Tree Couple
Evergreen Sacred Forest
Shibafu Park & Lawn
North Pond
Treasure House
Shinto Rituals
Meiji Jingu Inner Sanctuary & Main Shrine (Honden)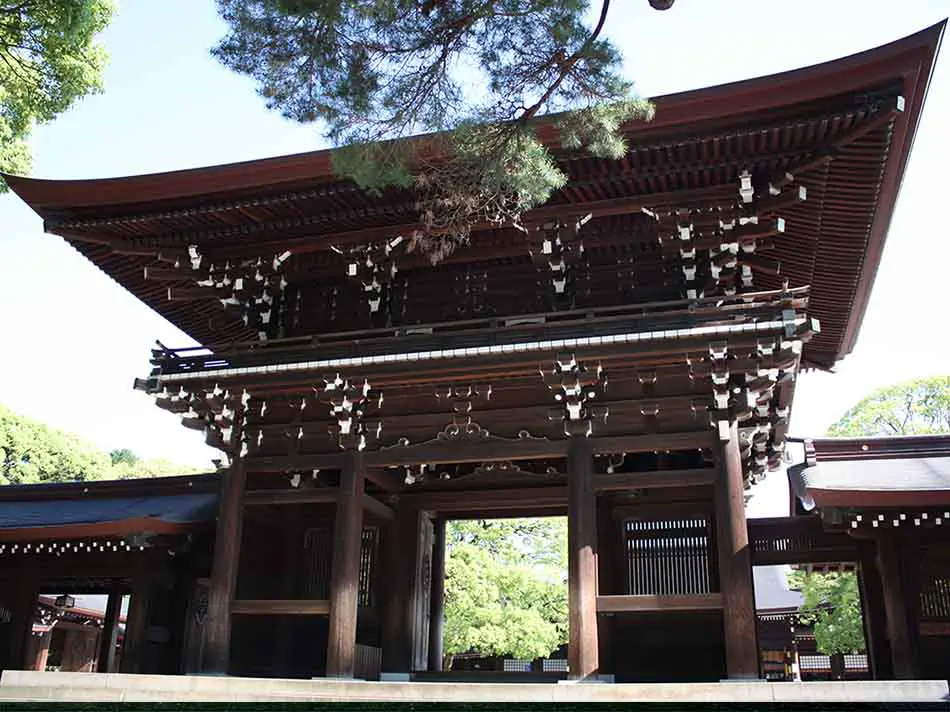 The beautiful wooden main shrine complex is located in the center of Meiji Jingu Naien (明治神宮内苑). It takes a 10-minute stroll through Meiji Jingu's sacred forest to reach it from Harajuku Station as well as the other entrances near Yoyogi Station and Sangubashi Station.
The whole inner sanctuary consists of the Honden (本殿, Main Shrine), Kaguraden (神楽殿, "Hall of Shinto Music and Dance" or "Sacred Dance Stage"), Nagadono (長殿, Amulet Office), Kyakuden (客殿, Reception Hall) Temizuya (手水舎, Purification Water Fountain), and different sized Torii (鳥居, Shrine Gates) at the entrances.
Japan's Largest Wooden Myojin Torii Gate (Ootorii)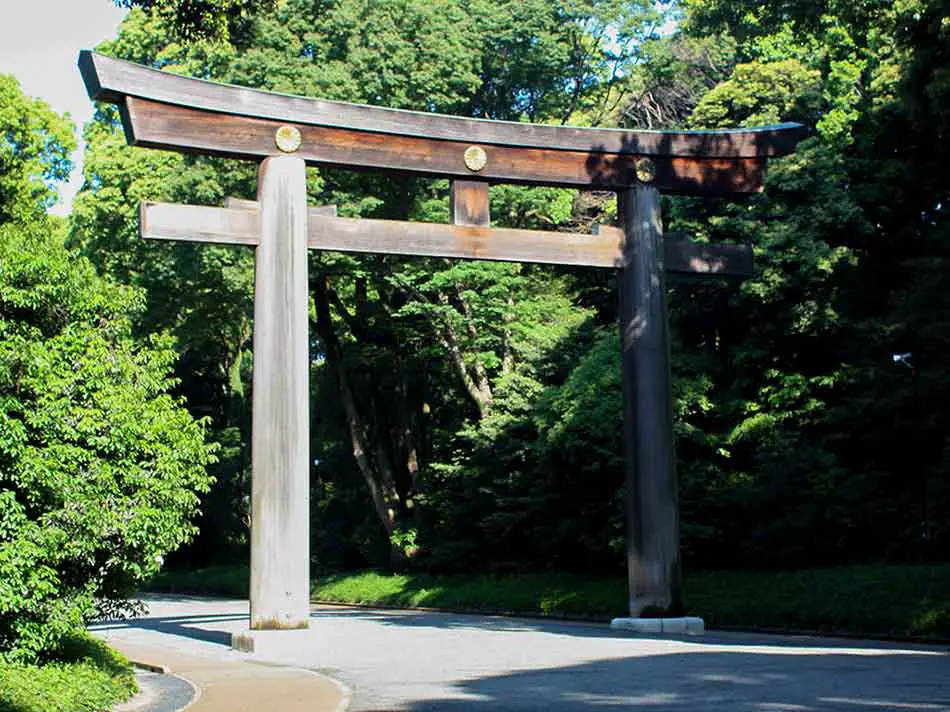 When you approach the inner shrine sanctuary from the southern entrance (Harajuku Station) or the northern entrance (Yoyogi Station) you will be able to see this magnificent Ootorii (大鳥居, Great or Second Torii Gate).
It is the largest wooden myojin-style torii in Japan and is made from a 1,500-year-old Japanese cypress.
The wooden shrine gates that greet you right at the entrance of the sacred forest are already amazingly beautiful but this huge torii with a height of 12 meters and a width of 17.1 meters is just awe-inducing.
In case you are approaching from the western entrance (Sangubashi Station) make sure that you leave the main shrine complex through the south, so that you won't miss this beauty of a torii!
Meiji Jingu Consecrated Sake & Wine Barrels (Houken Sakadaru)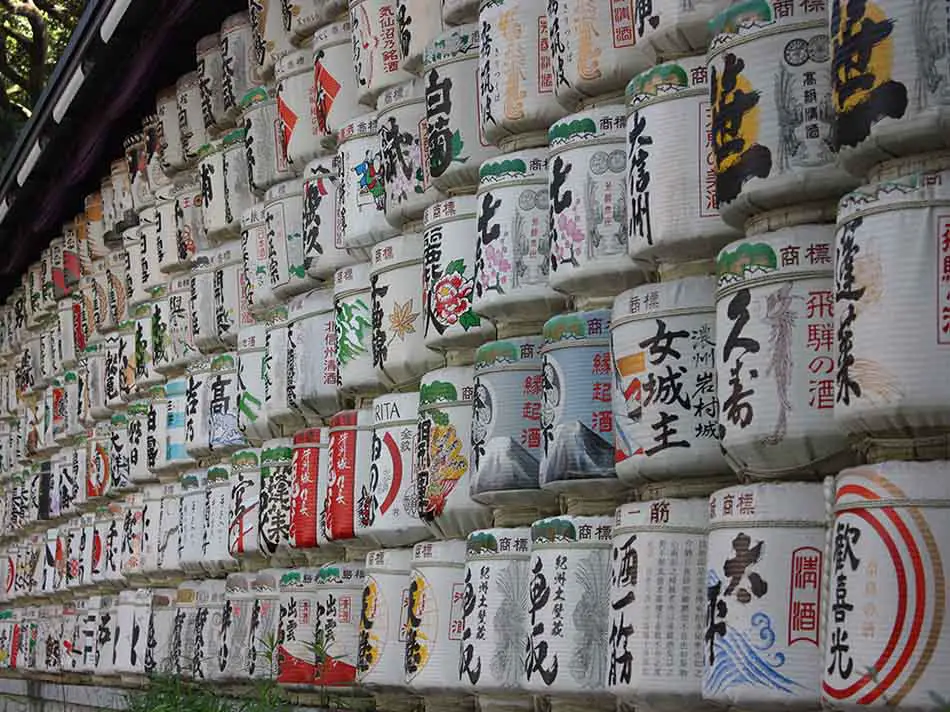 Right before you reach the large wooden torii from the southern entrance you will see a stack of straw-covered, colorful sake barrels to your right and a stack of wooden wine barrels to your left.
These barrels are called Houken Sakadaru (奉献酒樽, consecrated sake barrels or wine casks) or Kazaridaru (飾り樽, decoration barrels).
The sake itself is offered to the kami or used in Shinto rituals and the empty barrels are put on display for both decorative reasons and to honor the deities.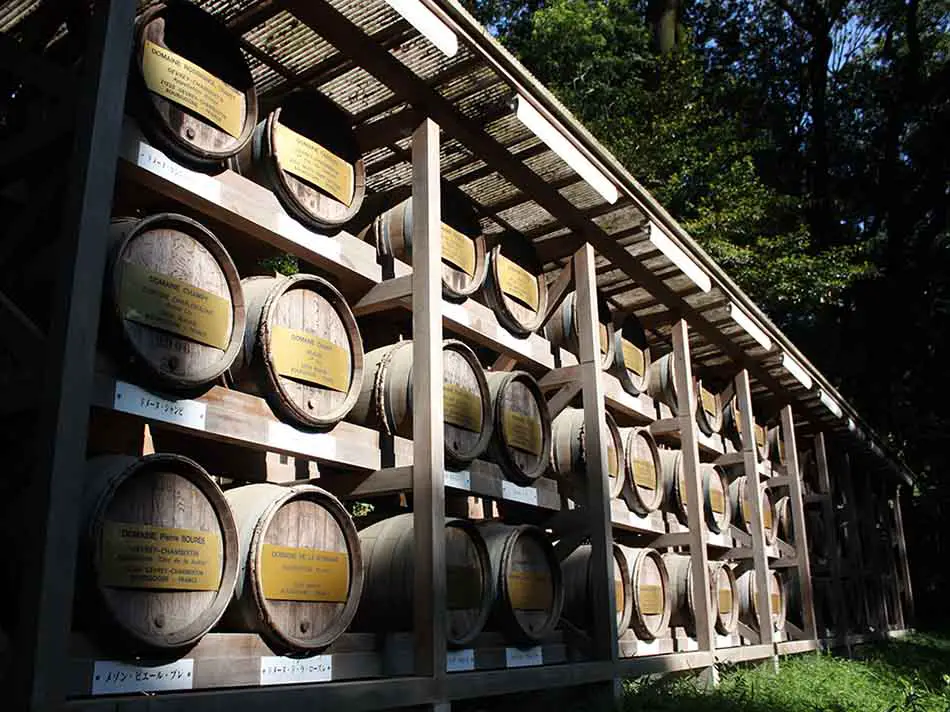 The wine barrels are a gift from celebrated wineries of Bourgogne in France and are consecrated and put on display at Meiji Jingu in memory of Emperor Meiji's love for French wine and as a sign of world peace and amity.
Meiji Jingu is special and unique because you can see a huge amount of these barrels. There are about 200 sake barrels and 60 wine barrels on display.
Camphor Tree Couple (Meoto Kusu)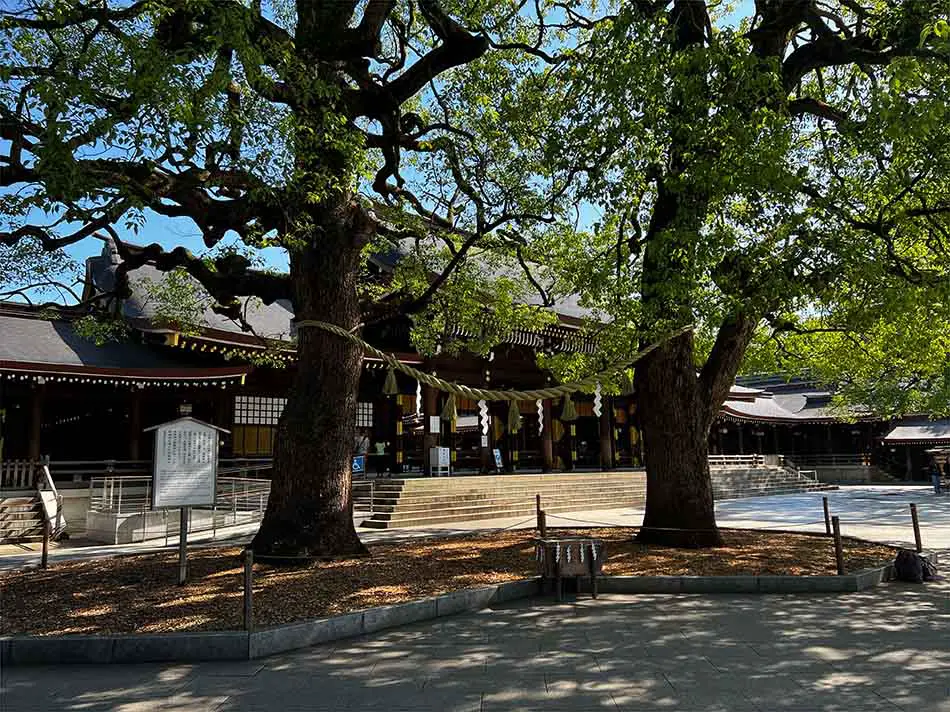 The Meoto Kusu (夫婦楠) are two camphor trees that were planted as saplings in 1920 during the establishment of Meiji Jingu. They are known as the Camphor Tree Couple or the Husband and Wife Camphor Trees and the rope that connects them serves as a symbol of their sacred bond.
Since they have been growing side by side ever since they were planted they are regarded as a symbol of a blissful and solid marriage, much like the marriage of Emperor Meiji and Empress Shoken.
Hence, this tree couple has become a popular destination for people seeking a lifelong partner and couples seeking marital success.
Evergreen Sacred Forest (Meiji Jingu Naien)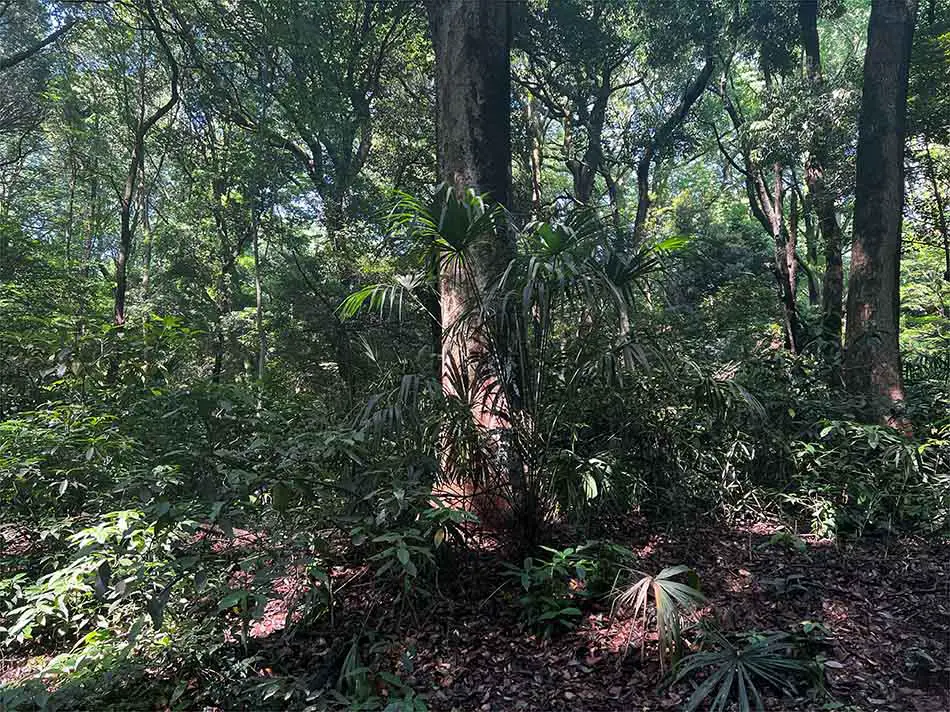 Meiji Jingu Naien (明治神宮内苑, Meiji Jingu Inner Park) is actually the name for the whole inner sanctuary including the main shrine complex and its evergreen forest.
The sacred forest surrounding Meiji Jingu covers an area of 70 hectares and consists of more than 100,000 trees. They were donated by people from all over Japan, and planted by young volunteers.
While planting the trees it was taken care of that the forest can recreate itself and now, 100 years later, it is not distinguishable from a real natural forest.
This green oasis with 234 different species of trees is perfect for a stroll and offers shade during the hot and sunny summer.
You can reach the south entrance of the forest in 1 minute from Harajuku Station, the north entrance in about 3 minutes from Sangubashi Station, and the east entrance in 5 minutes from either Yoyogi Station or Kita-sando Station.
From each entrance, it's at least a 10-minute stroll to get to the main shrine buildings.
Shibafu Park & Lawn (Shibafu Koen & Shibachi)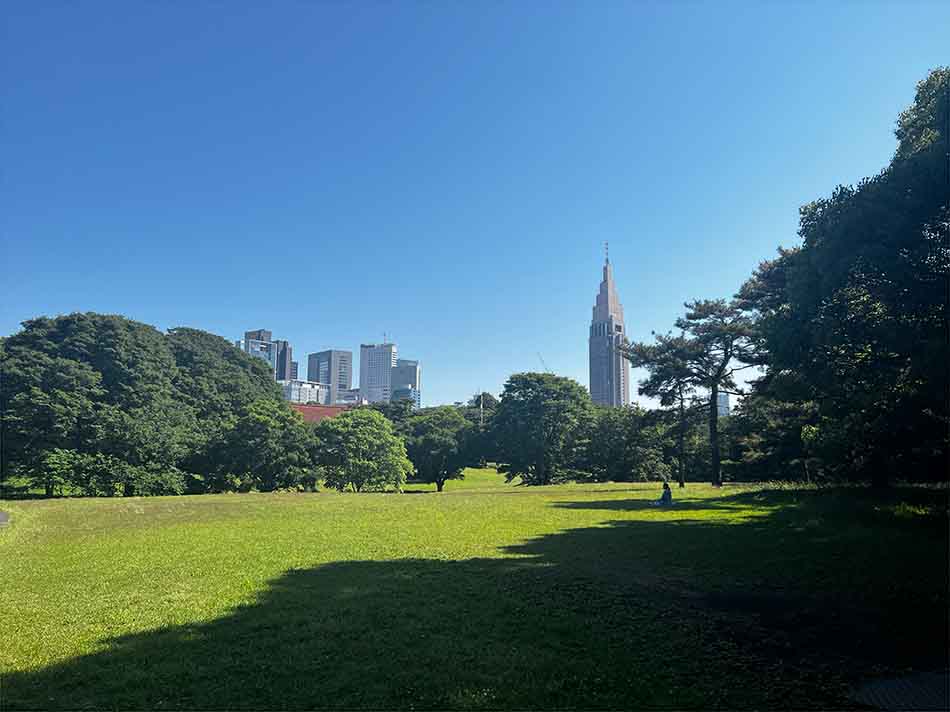 This little plot of grass is known as Shibafu Park (芝生公園, Shibafu Kouen) or Shibachi Lawn (芝地, Shibachi) and it is located in the northern part of Meiji Jingu Naien, right in front of the Treasure House.
It's a tranquil place where you can relax and enjoy nature but with the impressive skyline of Shinjuku as a backdrop. In spring, you can also see cherry blossoms here.
If you need to take a rest or want a quiet place to eat some onigiri before you explore the busier areas of Harajuku, Shibuya, or Shinjuku, this is the perfect place.
North Pond (Kita Ike)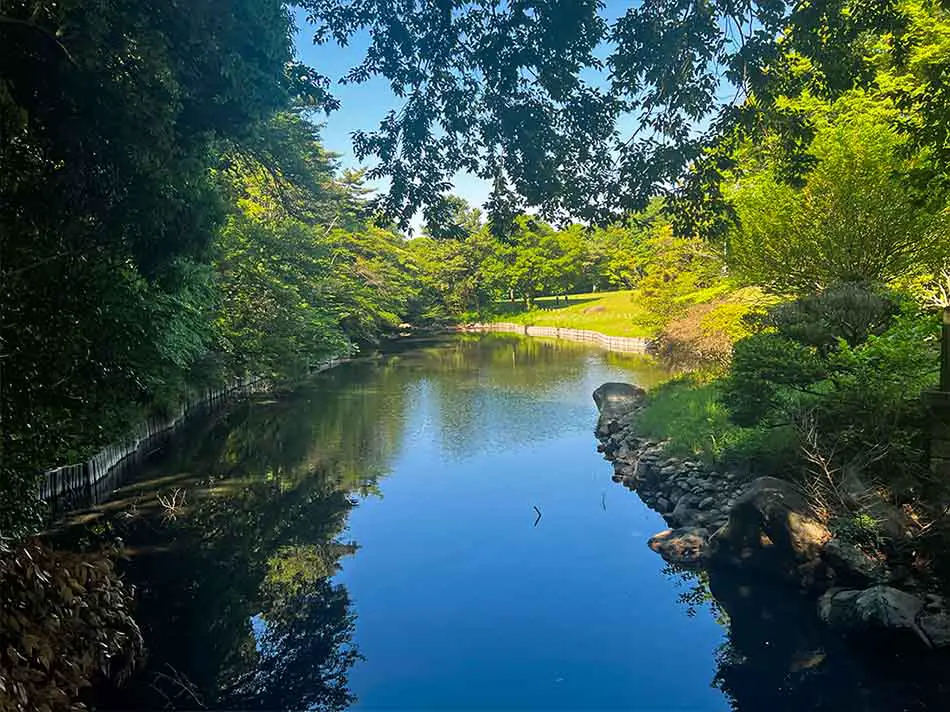 The North Pond (北池, Kita Ike) is right next to the Shibachi Lawn. Here you can observe various species of ducks, including mandarin ducks, and see a stone called Kame Ishi (亀石, Turtle Stone).
This Turtle Stone, along with Kiyomasa's Well inside Meiji Jingu's Inner Garden, is considered a power spot and believed to have strong spiritual power that can evoke positive energies within you.
If you happen to visit during the annual Hina Matsuri (usually on or around March 3rd), make sure to check out the pond to see the Nagashi Bina Ritual. During the ritual, paper dolls are set afloat on the water.
Treasure Museum (Houmotsuden)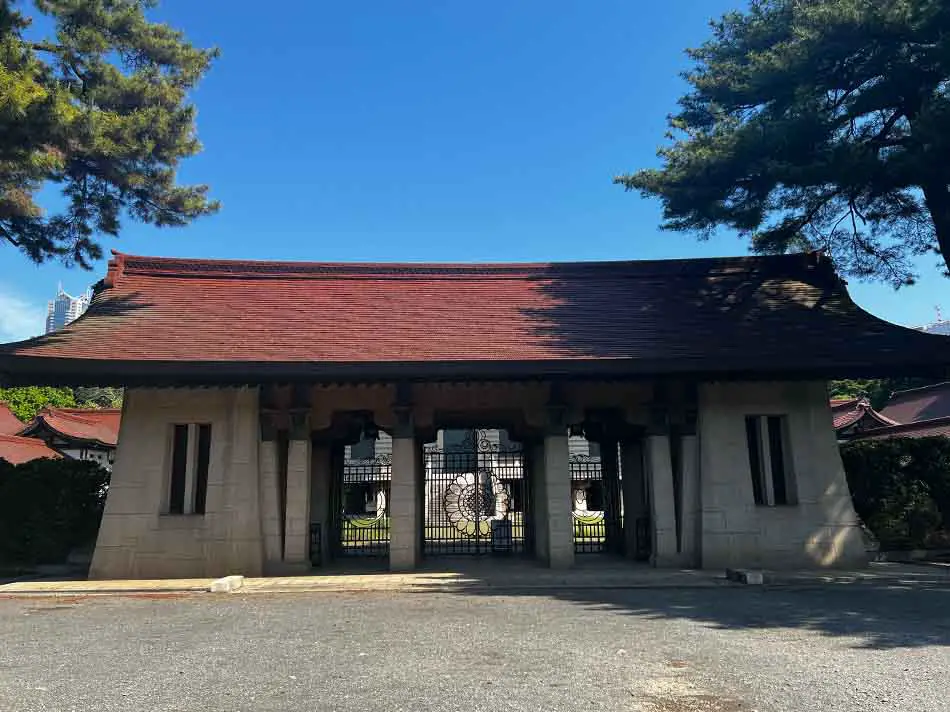 The Treasure Museum or Treasure House (宝物殿, Houmotsuden) stores a large number of national and cultural relics and is used to display the treasures of the Meiji Shrine.
Daily & Monthly Shinto Rituals
Another amazing thing you can see when visiting Meiji Jingu is a variety of Shinto rituals and ceremonies. You might even be lucky enough to witness a Shinto wedding procession.
Every day at 8 o'clock and 14 o'clock a Shinto ritual called Nikku-sai takes place. In the sacred ceremony, the priests will offer food to the kami and pray for peace.
The ritual takes about 10 minutes and you can witness it when you gather and wait in front of the Honden (Main Shrine) at the designated time.
On the 1st and 15th of each month at 9 o'clock another traditional Shinto event called Tsukinami-sai is held.
🕗 8 o'clock and 14 o'clock every day: Nikku-sai
📅 On the 1st and 15th at 9 o'clock: Tsukinami-sai
📅 Many more Shinto rituals and events are held throughout the year (check)
What to Do
Meiji Jingu Museum
Meiji Shrine Inner Garden
Forest Terrace Meiji Jingu
Buy Fortune-Telling Slips or Amulets
Make a Wish With an Ema
Meiji Jingu Museum (Meiji Jingu Myuujiamu)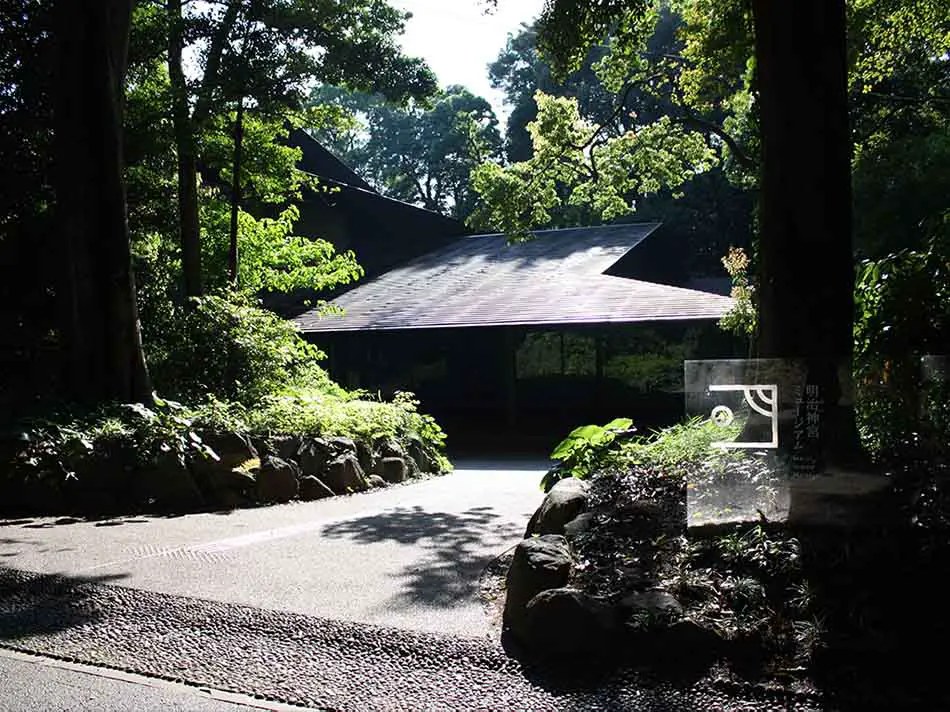 Visit the Meiji Jingu Museum (明治神宮ミュージアム, Meiji Jingu Myuujiamu) to learn more about the history of the shrine and to see various items that were used by Emperor Meiji and his wife Empress Shoken.
The museum was newly opened in 2019 and designed by the renowned architect Kuma Kengo, who also designed the incredible Starbucks Reserve Roastery Tokyo in Nakameguro and Tokyo's new Olympic stadium, the Japan National Stadium.
From the south entrance (Harajuku Station), it takes about 5 minutes to get to the museum.
Meiji Jingu Museum | Meiji Jingu Myuujiamu (明治神宮ミュージアム)
Hours: 10:00 – 16:30 (last admission 16:00)
Closed: Thursdays (except national holidays)
Entrance fee: ¥1,000
Meiji Shrine Inner Garden (Meiji Jingu Gyoen)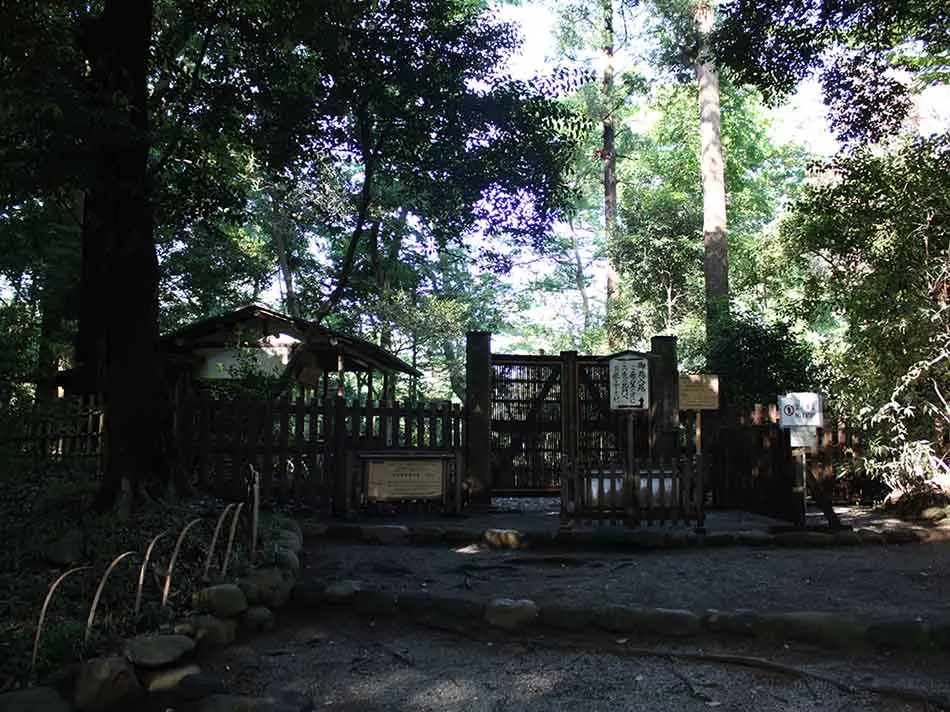 Take a stroll through the Inner Garden of Meiji Jingu known as Meiji Jingu Gyoen (明治神宮御苑) to see Kiyomasa's Well, its renowned Iris Garden in June, and blooming azaleas in late April.
The garden features a huge pond with Kois and turtles, an old tea house, and a well called Kiyomasa's Well, which was one of the most famous wells of the Edo Period and is still known as a spiritual power spot.
You can see a variety of flowers here blooming throughout the year such as Wisteria (Fuji) and Water Lilies (Suiren). Some beautiful Japanese maple trees surround the garden and you can enjoy their autumn colors from late November to mid-December.
Some of the azaleas blooming here in late April are over 100 years old, but the highlight is the iris garden with its 150 different iris species and a total number of 1,500 irises that are in full bloom from late May until the end of June.
Meiji Shrine Inner Garden | Meiji Jingu Gyoen (明治神宮御苑)
Hours: 9:00 – 16:00/16:30 (longer hours in mid-June)
Entrance fee: ¥500
📅 Azaleas: late April
📅 Irises: late May ~ late June
📅 Autumn colors: late Nov ~ mid-Dec
Forrest Terrace (Foresuto Terasu Meiji Jingu)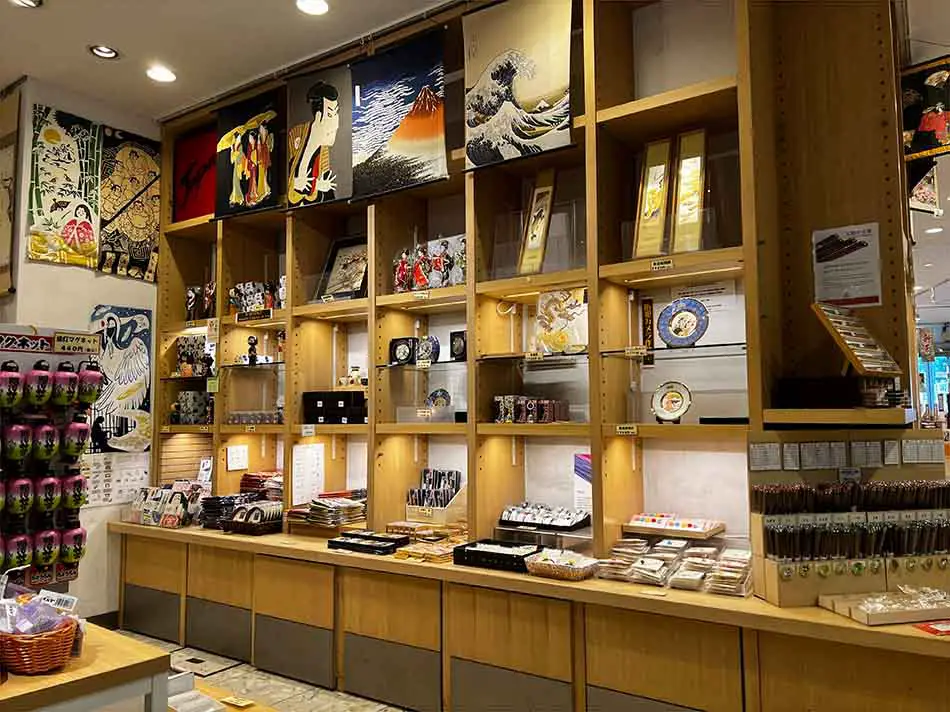 Have lunch or coffee and tea at one of the restaurants and cafes or buy some very special and unique Meiji Jingu souvenirs for yourself, your family, and your friends at home.
There are two cafes, CAFÉ Mori Terrace 2nd and CAFÉ Mori no Terrace, which is near the Harajuku Entrance, a Noodle & Rice Bowl restaurant, and a Japanese-style restaurant called Yoyogi with special menus.
At the souvenir shop called Mori, you can get paper fan postcards, magnets, key chains, handkerchiefs, zodiac chopsticks, and bamboo bookmarks. They also have green tea leaves, ritual sake filled in small barrels, and Japanese sweets.
Forest Terrace | Foresuto Terasu Meiji Jingu (フォレストテラス明治神宮)
Hours: 9:00 – gate closing time
Price: ¥200 – ¥5,000
🍵 Coffee and tea: from ¥500
🍜 Soba and ramen: from ¥700
🍱 Boxed lunch and set meals: from ¥1,540
Buy Fortune-Telling Slip (Omikuji) or Amulets (Omamori)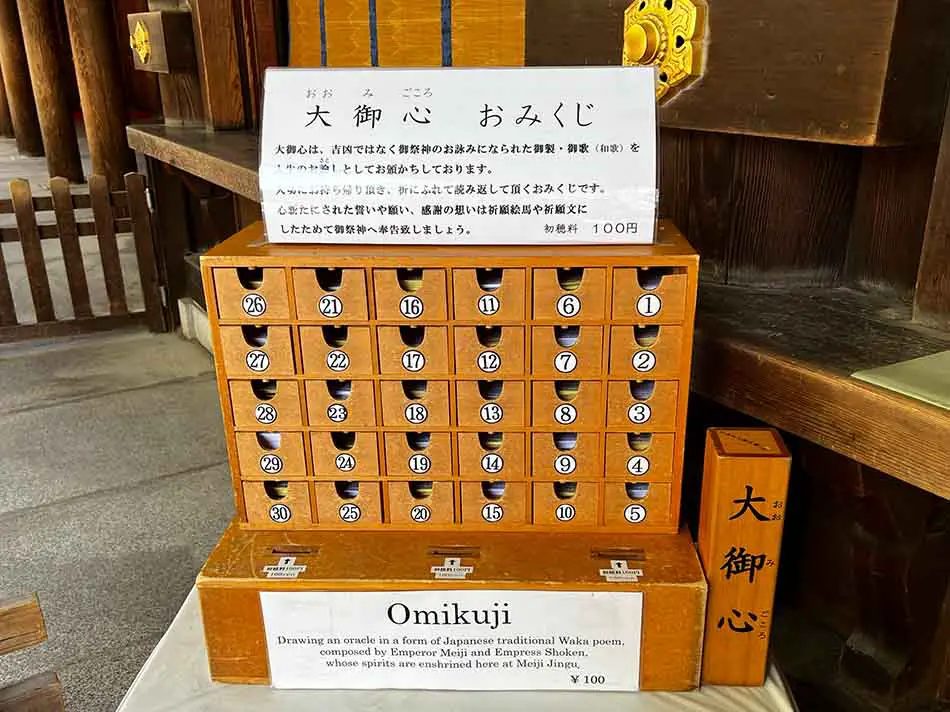 Meiji Jingu's Omikuji (御神籤, Fortune-Telling Slips) are uniquely written in the form of waka poems since Emperor Meiji and Empress Shoken were both passionate poets.
The best thing about them is that you will be able to understand them easily since the poems are translated into English.
At the Nagadono (長殿, Amulet Office), you can also get a variety of cute and beautiful Omamori (お守り, amulets).
🔮 Omikuji: ¥100
💎 Omamori: ¥1,000
Make a Wish With an Ema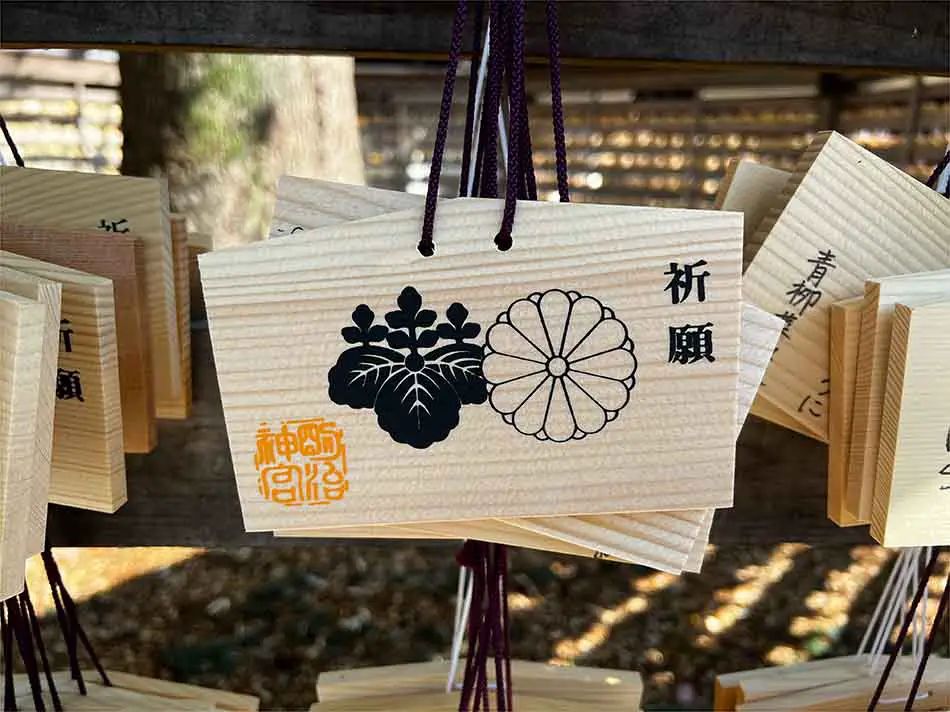 You can get an Ema (絵馬, Votive Tablet) at the Nagadono (長殿, Amulet Office) and write your wish or a message of gratitude on them before hanging them on the votive table rack (絵馬掛け, Ema Kake) which surrounds the camphor tree on the right.
The Shinto priests will offer your Ema to the kami and burn them in a ritual fire so that your wish or message will (hopefully) be heard.
📜 Ema: ¥500
Is Meiji Shrine Worth Visiting?
Meiji Jingu is one of the most popular and famous shrines in Japan and one of the most significant shrines in Tokyo and definitely worth a visit. The shrine and the massive green forest are beautiful, you can often see Shinto rituals and weddings, easily combine it with nearby sights, and it's free.
Meiji Jingu is the perfect place for you if you like a serene atmosphere, impressive architecture, and want to witness Japan's rich cultural heritage. You can stroll through green and the beautiful garden, witness traditional Shinto ceremonies, and learn about Japan's history.
It's a peaceful escape and green oasis in the heart of Tokyo that offers a glimpse into Japan's past and its spiritual traditions.
Why is Meiji Jingu So Popular?
Meiji Jingu's popularity stems from its historical significance and tranquil surroundings. The shrine's stunning wooden architecture, lush gardens, the opportunity to witness traditional Shinto rituals, and close proximity to other major sights make it one of Tokyo's most popular destinations.
It's a must-visit destination for those seeking an authentic cultural experience in Tokyo.
Plan Your Visit to Meiji Jingu
Costs: Is Meiji Shrine Free? How Much Does it Cost?
There is no admission fee for Meiji Jingu. You can see the shrine buildings and stroll through the sacred forest surrounding the shrine for free. If you want to see the Inner Garden of Meiji Jingu it will cost you ¥500, though, and there is also an entrance fee of ¥1,000 for the Meiji Jingu Museum.
🪙 Meiji Jingu Shrine: free
🪙 Meiji Jingu Museum: ¥1,000
🪙 Meiji Jingu Inner Garden: ¥500
Time: How Much Time Do You Need for Meiji Jingu?
About 1 hour is needed for Meiji Jingu Shrine and strolling through its sacred forest. If you also want to visit the Meiji Jingu Museum and see the Inner Garden it will take more time and you should plan to spend about 3 hours here.
⏱ 1 – 3 hours
Hours: What Time to Visit Meiji Jingu?
Meiji Jingu is open from sunrise to sunset so its opening hours differ by month. In summer and spring, it opens at 5:00~5:40 and closes at 17:20~18:30. In winter and autumn, it opens at 5:40~6:40 and closes at 16:00~16:50. Some shrine facilities have shorter opening hours from 9:00 – 16:00.
January: 6:40 – 16:20
February: 6:20 – 16:50
March: 5:40 – 17:20
April: 5:10 – 17:50
May: 5:00 – 18:10
June: 5:00 – 18:30
July: 5:00 – 18:20
August: 5:00 – 18:00
September: 5:20 – 17:20
October: 5:40 – 16:40
November: 6:10 – 16:10
December: 6:40 – 16:00
The best time to visit Meiji Jingu is early in the morning because you can avoid the crowds and see a Shinto ritual. If you want to visit the garden or the museum you have to be around until they open at 9:00 or 10:00. In the afternoon the chances are higher to witness a Shinto wedding, though.
⛩ Nikku-sai: daily at 8:00 and 14:00 o'clock
⛩ Tsukinami-sai: on the 1st and 15th of each month at 9:00 o'clock
Access: How to Get to Meiji Shrine?
Harajuku Station (JR: Yamanote Line) and Meiji-jingumae Station (Tokyo Metro: Chiyoda Line and Fukutoshin Line) are the nearest stations. JR pass holders should use the JR Yamanote Line and get off at Harajuku Station to get to Meiji Shrine.
1-minute walk from Harajuku Station (Yamanote Line)
1-minute walk from Meiji-jingumae Station (Chiyoda Line, Fukutoshin Line)
3-minute walk from Sangubashi Station (Odakyu Line)
5-minute walk from Yoyogi Station (Yamanote Line, Chuo-Sobu Line; Toei Oedo Line)
5-minute walk from Kita-sando Station (Fukutoshin Line)
The shrine itself is about 10 minutes away.
Meiji Shrine is also just a 15-minute walk away from Shibuya and a 20-minute walk away from Shinjuku.
From the Shinkansen train stops at Shinagawa Station and Tokyo Station, it takes 30-40 minutes to get to Meiji Shrine.
What is the Dress Code for Meiji Jingu?
In Japan, there is no strict or particular dress code for visiting a Japanese shrine like Meiji Jingu but since it is a religious place it is recommended to wear modest clothes. Jeans, shorts, and T-shirts are acceptable but shouldn't be too revealing or inappropriate.
What Does Meiji Jingu Mean?
Meiji Jingu (明治神宮) translates as "Meiji Shrine" or "Meiji Imperial Shinto Shrine". Meiji (明治) is the name of Emperor Meiji also known as Meiji the Great, who was the 122nd emperor of Japan. Jingu (神宮) means "imperial Shinto shrine". The name can also mean "Meiji's Shrine" or "Shrine of Meiji".
Things to Do Before or After Visiting Meiji Jingu
Yoyogi Park (2 minutes away)
Tokyo's 5th largest public park
Takeshita Street (1 minute away)
Shopping street famous for kawaii culture, fashion, and crepes
Shibuya Crossing (10 minutes away)
Famous crossing right in the center of Shibuya
Nearby sights: Yoyogi Park, Takeshita Dori, Omotesando, Shibuya Crossing
Areas to explore: Shibuya, Harajuku, Shinjuku
Food: What & Where to Eat
Mizuho – Daifuku (10 minutes from Meji Jingu)
Mizuho (瑞穂) is a Japanese sweets shop that is famous for its azuki bean paste-filled mame daifuku. In case you love mochi you have to try their daifuku (大福). I got one from one of my students once and it was so good! However, you have to come here before noon or the chances are high that they are already sold out.
Hotels: Where to Stay
I haven't stayed at this particular Tokyu REI Hotel in Shibuya, but when I'm in Osaka I always stay at the Osaka Tokyu REI Hotel and I just love it! It's certainly not the most affordable hotel in that area but the location and access are amazing. It's more or less right next to Shibuya Crossing.
Since I haven't stayed here in Shibuya myself take this recommendation with a grain of salt, please!