Kyushu is known for some of the best and most picturesque hot spring resorts in all of Japan. Last week I discovered even more beautiful onsen towns in Kyushu, but they are less famous and so many foreign visitors do not know about them. That's why I decided to write this post.
The most beautiful onsen town in Kyushu is Kurokawa Onsen. Beppu is one of the most famous hot spring towns and offers a great variety of springs like the seven Hells, sand onsen baths, and a mud onsen. For a hot spring in the middle of nature, I recommend the natural sea onsen on Yakushima Island.
These are just 3 out of the 12 amazing onsen towns and hot springs resorts in Kyushu I'm going to introduce in this post. With detailed information about the top onsen and things to do in each onsen town, you will be able to find and decide on the perfect destination for your onsen experience in Kyushu.
1. Kurokawa Onsen (Kumamoto)
Location: Kurokawa Onsen, Near Mt. Aso, Kumamoto Prefecture
General Information: Kurokawa Onsen (黒川温泉) is often referred to as Japan's most picturesque onsen town and one of my personal favorites. This traditional onsen town is located near the Aso Kuju National Park between Mount Aso in Kumamoto Prefecture and the Kuju Mountains in Oita Prefecture. Surrounded by lush green mountains and nestled along a river you can enjoy Japan's rural atmosphere and nature.
Both Mount Aso and the Kuju Mountains are great for sightseeing. Mt. Aso is an active volcano with one of the world's largest calderas and a stunning light blue caldera lake. Due to its volcanic activity, Mt. Aso can sometimes be closed, though. The Kuju mountains offer different hiking trails to its peaks and easier walking trails around the Tadewara Marsh where you can sometimes see raccoon dogs. The Nabegataki Waterfall and the Kusasenri grass plain are other beautiful things to see near Kurokawa Onsen.
Most Beautiful Onsen Town in Kyushu: Kurokawa is one of the best onsen towns for onsen hopping. Get a wooden Nyuto Tegata (onsen hopping pass) at the information center or one of the participating onsen ryokans and you can soak in 3 of the beautiful open-air hot springs in town for 1,300円 (about $12, 11€).
In total, there are about 30 hot spring baths and onsen ryokan, and for about 20 of them you can use the onsen-hopping pass. There are so many beautiful hot springs here that I will have to write another post to cover all of them, but here are a few gender-separated onsens to start with.
Yamamizuki (山みず木) is a traditional onsen ryokan surrounded by a forest with indoor and open-air baths right next to a river. At Yamabiko Ryokan (やまびこ旅館) you can only soak in one bath as a day-tripper but it has a really beautiful and unbelievable blue color. They also have a really cute dog called Ume-chan.
Access: The nearest station is JR Aso Station from where it is a 50-minute bus ride. From Fukuoka (Hakata Station) it takes about 4 hours to get to Kurokawa Onsen. There are also direct buses from Yufuin Onsen Town (2 hours) and Kumamoto Station (3 hours).
Website: www.kurokawaonsen.or.jp
2. Beppu Hot Spring Village (Oita)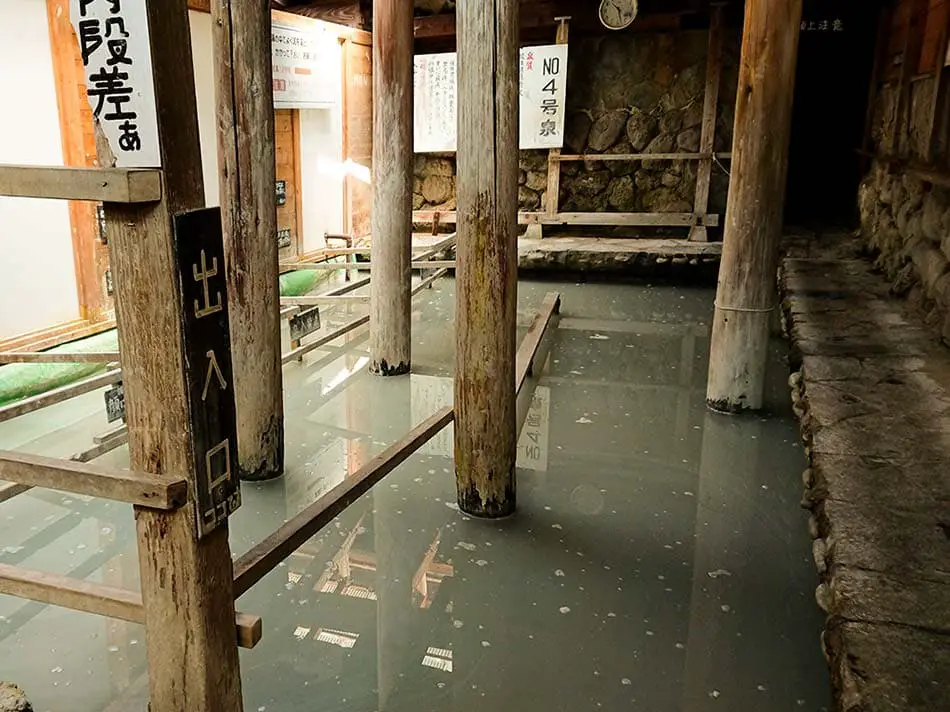 Location: Beppu, Oita Prefecture
General Information: Beppu Onsen (別府温泉) is a large hot spring village and one of the most famous and popular onsen towns in Kyushu and Japan. 8 smaller hot spring areas are spread over Beppu and part of the hot spring village. Beppu Onsen near the station in the city center and Kannawa Onsen near Beppu's Hells, are some of the highest-rated and most spectacular hot springs among them.
Similar to the Hell Valley in Noboribetsu, one of the best onsen towns in Hokkaido, Beppu's hells are an incredible experience of volcanic activity. With inviting names like "Demon Mountain Hell" and "Blood Pond Hell" the colorful Hell hot springs are waiting for you. Two important things: don't soak and please do not support the hell with the crocodiles and the one with the hippo in a tiny, tiny enclosure.
Most Famous Onsen Town in Kyushu: As long as you are a bit adventurous you can have some very unique onsen experiences in Beppu. It starts with a sand onsen bath at Takegawara Onsen (竹瓦温泉) and can end with a mud onsen bath that is good for your skin at Beppu Onsen Hoyoland (別府温泉保養ランド).
I tried both and while not my favorite onsen experiences, they are the most adventurous and interesting ones so far. And yes, I will definitely go there again when I am in Beppu.
You can have more conventional onsen experiences at the rustic Ichinoide Kaikan (いちのいで会館) featuring old blue open-air onsen ponds with a nice view and a meal. Sakura-Yu (桜湯), on the other hand, has a quite nice outdoor bath and an amazing but affordable collection of rentable family hot spring baths. While if you stay overnight at the onsen hotel Seaside Hotel Mimatsu OOETEI (シーサイドホテル美松 大江亭) you will get beautiful modern onsen facilities.
There are also a couple of tattoo-friendly onsens in Beppu such as Horita Onsen or Hyotan Onsen. You can read more about them in my linked post about hot springs in Japan that welcome guests with tattoos.
Access: Get off at Beppu Station and you will immediately find your first few onsen baths. Kannawa Onsen and Jigokudani are a 23-minute bus ride away from Beppu Station or 46 minutes on foot from Beppudaigaku Station. From Fukuoka, it takes about 2 hours to get to Beppu. Kumamoto is 2.5 hours away and Yufuin is about 1 hour away.
3. Yufuin Onsen (Oita)
Location: Yufuin, Near Beppu, Oita Prefecture
General Information: Yufuin Onsen (由布院温泉) is an idyllic and popular onsen town just a little bit further west of Beppu and makes for a perfect day trip from the bigger hot spring village.
The town is all about strolling around the scenic alleys filled with art museums, cafes, and souvenir shops. At the other end of the town, you will find Lake Kinrinko famous for its morning mists, and the Yufuin Floral Village, a cute shopping district that seems to be right out of a Ghibli movie.
Nearby the lake you will also find the west trailhead of Mount Yufu. However, if you want to climb to the summit Yufu's tourist association advises taking the bus to the main trailhead because the west trailhead can be confusing.
Idyllic Onsen Town Near Beppu: If you are looking for a day-trip onsen directly in Yufuin I recommend the onsen ryokan Traditional Japanese inn Makibanoie (旅荘 牧場の家). This ryokan has a nice gender-separated onsen bath with views of Mount Yufu and several private onsen baths. Another option is Sansuikan, a hot spring right next to the river.
My personal onsen highlight is a little bit further up the hill and it takes about 20 minutes to walk there from Yufuin Station. The name of this beautiful mountain onsen is Yama no Hoteru Musouen (山のホテル 夢想園) or just Musouen. Its spacious open-air baths are some of the largest and oldest in Yufuin and are fed by a hot spring that has been flowing for 600 years. Day-trippers are welcome from 10:00 – 15:00 o'clock and you should bring your own towel to avoid additional costs.
Access: Just get off at Yufuin Station and continue by bus or on foot to the onsen. There is a direct train from Fukuoka that will bring you to Yufuin in about 2 hours. Beppu is a bit over an hour away and Kumamoto is about 2 – 3 hours.
4. Ibusuki Onsen (Kagoshima)
Location: Ibusuki, Near Kagoshima, Kagoshima Prefecture
General Information: Ibusuki Onsen (指宿温泉) is a small hot spring town 50 kilometers south of Kagoshima city with 800 springs. It is famous for its hot sand baths. Instead of soaking in hot spring water, you are buried in hot sand that has been naturally heated by the steam of a hot spring flowing underground. After your sand bath and washing off the sand, you usually take a dip in a real hot spring tub.
In Ibusuki you can visit the Satsuma Denshokan Museum, an outstanding art museum displaying the traditional beauty of Japan and the Satsuma Province. Things you can do around Ibusuki are sending a letter from Japan's southernmost train station Nishi-Oyama or trying to balance a lid from one torii gate to another at Kamafuta Shrine for good fortune. You can also hike the volcano Kaimondake and enjoy the views from its top.
Hot Sand Onsen Town Near Kagoshima: The most popular place to take a hot sand bath is the Saraku Sand Bath Hall (砂むし会館 砂楽) right next to the sea. You will also get the famous little umbrella so that your face is in the shade and protected from the sun. While Saraku's sand onsen bath location is top and one of the best in Ibusuki their onsen tub is pretty basic.
For nicer onsen facilities I recommend the Ibusuki Coral Beach Hotel (指宿コーラルビーチホテル) and Ibusuki Hakusuikan (指宿白水館). Both of them offer hot sand baths, indoor onsen baths, and open-air onsen baths. Hakusuikan welcomes day-trippers but the Coral Beach Hotel's onsen facilities you can only use as a staying guest.
Access: Get off at Ibusuki Station on the JR Ibusukimakurazaki Line and you are right there. You can get here in about 1 – 1.5 hours from Kagoshima and in 2 – 3 hours from Kumamoto and Fukuoka.
5. Unzen Onsen (Nagasaki)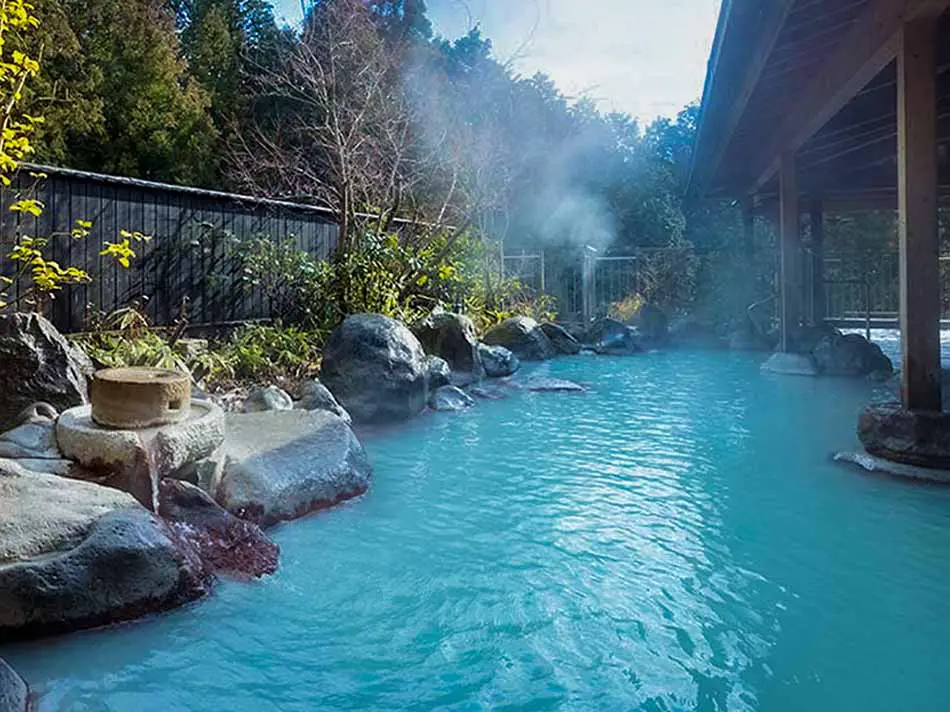 Location: Unzen Onsen, Mount Unzen, Nagasaki Prefecture
General Information: Unzen Onsen (雲仙温泉) is a hot spring town located on the slopes of the active volcano Mount Unzen not far from Nagasaki city. With all the steam vents around you, this quiet onsen town feels a bit like Silent Hill especially when it is getting dark. Once you know for what the Hot Spring Fields aka Hells were used in the past the place reminds you even more of the horror game series…
Besides the onsen and the Hot Spring Fields, nearby attractions include the Mount Unzen Ropeway and several hiking trails through the volcanic group. Late October and mid-November are one of the best times to visit this onsen town because of the beautiful fall colors. Oh! And, by the way, the whole area is part of the Unzen Amakusa National Park, Japan's first national park.
Onsen Town on a Volcanic Mountain: Unzen is not a big hot spring town but you can find several public onsen baths and hot spring ryokans that you can visit as a day-tripper.
One of the most traditional and also highest-rated public hot springs is Kojigoku Onsen (小地獄温泉館). If this is your first onsen visit ever its old wooden indoor baths might be a bit daunting, but if you are a hot spring fan like me you will love the authentic atmosphere.
Right across from Kojigoku, you will find Seiunsou (青雲荘). This onsen hotel has a nice open-air bath and they also welcome daytime visitors.
Unzen Fukudaya (雲仙福田屋) has the most beautiful onsen facilities in my opinion. Their indoor baths seem to be in a forest and their outdoor baths have beautiful views. Unfortunately, the rotenburo baths can only be used by staying guests, but the onsen ryokan also has private open-air onsens that non-staying guests can rent.
Access: The onsen is an 80-minute bus ride away from JR Isahaya Station. You can get to Isahaya Station in 30 minutes from Nagasaki and 90 minutes from Fukuoka. So the whole journey to the onsen will take about 2 hours from Nagasaki and about 3 hours from Fukuoka. There is also a direct bus from Nagasaki to the onsen town.
Website: www.unzen.org
6. Aso Onsen Village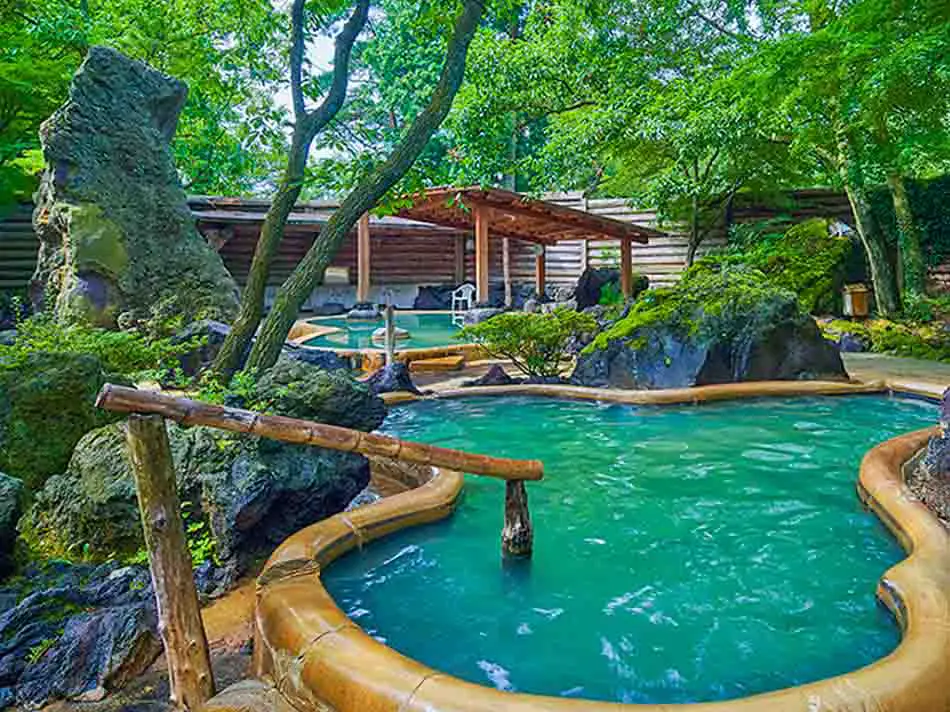 Location: Aso Onsen, Near Kurokawa Onsen, Kumamoto Prefecture
General Information: Aso Onsen Village (阿蘇温泉郷) is a quiet but historic hot spring resort in Kumamoto Prefecture. It is a little bit closer to the Aso Kuju National Park and Mount Aso than Kurokawa Onsen and therefore a good base to do both. Aso Onsen has been visited by famous people like the Japanese novelist Natsume Soseki.
Quiet Onsen Town in Kyushu: The onsen hotels I recommend you are the Arden Hotel Aso (アーデンホテル阿蘇), the Aso Hotel (阿蘇ホテル), and the Hotel Green Pia Minamiaso (ホテルグリーンピア南阿蘇).
The Arden Hotel has some of the largest onsen facilities in western Japan and features 13 different onsen bathtubs. It is my favorite onsen out of the 3 but day-trip bathing is only possible in combination with a meal plan, unfortunately.
The unique point of the Aso Hotel is that they have a fountain where you can drink the hot spring water and that one of their open-air baths is on the 8th floor and offers spectacular views.
Hotel Green Pia Minamiaso has an open-air bath from where you can see the sea of clouds if you are lucky and if you come early in the morning. This is the best onsen for a one-day trip.
Access: 20 minutes by bus from Aso Station. From Kumamoto it will take you about 2.5 hours to get to Aso Onsen Village, from Fukuoka it will take about 3 hours. You can also get to Kurokawa Onsen from Aso Onsen or the other way around in about 1 hour by bus.
Website: www.onsen.aso.ne.jp (Japanese only)
7. Kirishima Hot Spring Village (Kagoshima)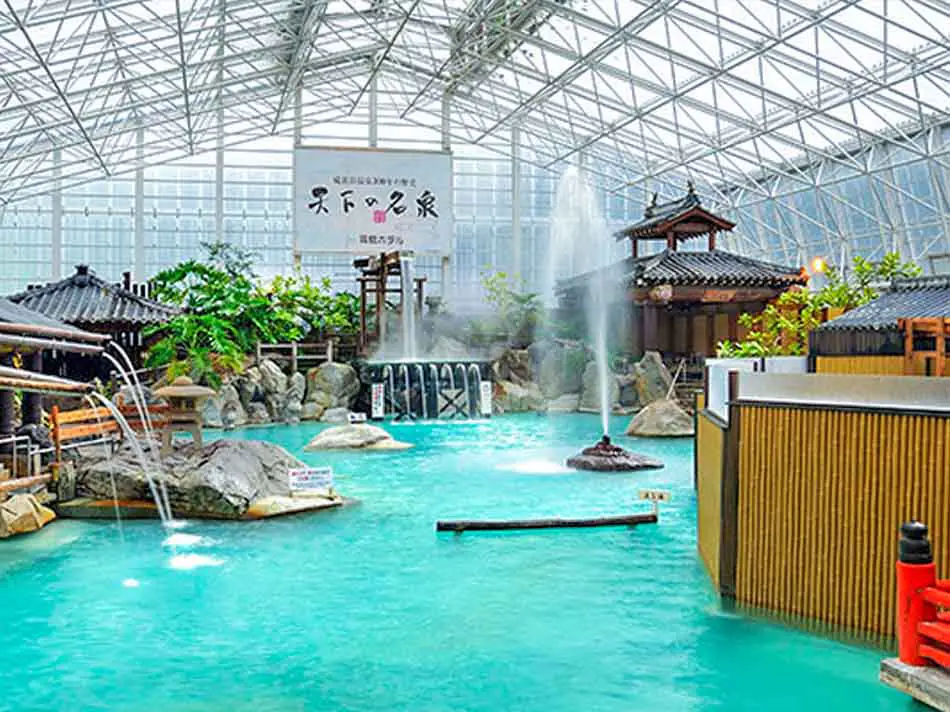 Location: Kirishima Onsen, Near Kagoshima, Kagoshima Prefecture
General Information: Kirishima Hot Spring Village (霧島温泉郷) is the name of a group of hot springs that are located all over the Kirishima Mountain Range. The area is also known as the Kirishima Kinkowan National Park which features beautiful plateaus, waterfalls, lakes, and many hiking opportunities. Plus, it is bound to myths and legendary stories. According to Japanese mythology, Ninigi No Mikoto, the grandson of the sun goddess Amaterasu and the great-grandfather of the First Emperor, descended here from heaven.
It is also said that from Mount Karakuni, one of the peaks in the Kirishima Mountain Range, you are able to see South Korea. That's why the mountain's name is written with the Kanji for Korea "韓国" but with an alternative reading. Another mountain, Shinmoedake, was featured in the old James Bond movie "You Only Live Twice".
Mystic Hot Spring Town Near Kagoshima: Each of Kirishima's hot spring towns has its own charm: Shinyu Onsen, for example, is a beautiful onsen deep in the mountains while Maruo Onsen (丸尾温泉) is one of Kirishima's biggest hot spring resort full of entertainment districts.
One of the easiest onsen to access might be the Kirishima Hotel (霧島ホテル). The hotel's bathing facilities are like a huge onsen theme park and feature several indoor and outdoor pools. They are divided into 3 sections, a small men-only indoor bathing area, a more spacious women-only bathing area with outdoor baths, and a mixed-gender bath hall with a unique glass roof. In the evening from 19:30 – 22:00, the bath hall is exclusively for women. They welcome day-trippers and there is a bus that will bring you from Kagoshima Airport or Kareigawa Station to the hotel.
If you want a beauty onsen that is good for the skin, I recommend the Sakura Sakura Onsen (さくらさくら温泉). They are renowned for their natural mud hot spring baths and have really nice onsen facilities.
Access: The onsens are scattered all around Kirishima-Onsen Station and public transportation isn't good, so it is best to get a rental car. The onsen town is about 1 hour north of Kagoshima and you can get here in about 3 hours from Fukuoka (Hakata Station). More details on how to get to Kirishima Onsen will follow in a later post.
8. Tsuedate Onsen (Kumamoto)
Location: Tsuetate Onsen, Near Kurokawa, Kumamoto Prefecture
General Information: Tsuedate Onsen (杖立温泉) is a small onsen town in Kyushu about 1 hour further north of Kurokawa Onsen. When visiting this town you might feel like you traveled to another country because of its very distinctive culture.
In this onsen town, you can experience a number of traditional festivals like the carp streamer festival in May or the Dondoya Fire Festival in January. You will also find a lot of smaller temples and shrines with Jizo statues. The Momiji Bridge is another interesting sight and a place you should visit if you travel with your significant other.
Hidden Onsen Town in Kyushu: You can find a lot of small and insanely cheap public baths in this onsen town. Some of them like the mixed-gender bath Motoyu (元湯) cost only 200円 (about $2 or 2€) and even private onsen are available for just about 1,000円 (about $10 or 10€).
The day-trip onsen I want to recommend you is Hizenya (ひぜんや). They have so many beautiful onsen facilities that you could literally spend the whole day hopping from one to the other. In total there are 23 different types of onsen baths.
An onsen ryokan that I just found and want to try as soon as I can is Izumi-Ya (純和風旅館 泉屋) because of their amazing looking rock garden bath and their interesting steam sauna. Yudanaka Yoroduya (湯田中温泉 よろづや) looks also really beautiful, though. Too many good choices in this hot spring town!
Access: From the nearest station JR Hita Station it is a 45-minute bus ride. But currently, the route is damaged, so the only way to get to the onsen town is a 90-minute bus ride from Aso Station. In total, the journey takes about 3 hours from Kumamoto city and 5 hours from Fukuoka (usually 2 hours via Hita Station). Kurokawa Onsen is a 1-hour bus ride away.
Website: www.tsuetate-onsen.com
9. Ureshino Onsen (Saga)
Location: Ureshino Onsen, Near Fukuoka, Saga Prefecture
General Information: Ureshino Onsen (嬉野温泉) is a lesser-known onsen town in Kyushu with a history of about 1,200 years. The area is famous for tea and so some of the hot springs here offer unique "tea onsen baths". After your soak, you should definitely enjoy some Ureshino Tea at one of the tea gardens. One of the plantations is famous for its sole cherry blossom tree that blooms in the latter half of March.
Takeo Onsen is another small onsen town nearby with a history of 1,300 years and Arita, one of Saga's most visited sightseeing spots, isn't far either. Arita is famous for its pottery and you can see a shrine with a Torii made out of porcelain.
Onsen Town Famous For Tea: I haven't heard about this onsen town before my research for this post, but I have to say wow! There are a lot of really nice looking onsen, onsen ryokan, and onsen hotels. So many that it was really hard to decide on the ones I should mention here.
Ureshino Onsen Kotobukiya Ryokan (嬉野温泉ことぶきグローバルイン) or just Ureshino Global Inn features a small semi-open-air wooden bath and a stone indoor bath. Larger and slightly more modern yet traditional onsen baths you can find at Wataya Besso Suimeiso (和多屋別荘 水明荘).
Yukai Resort Ureshinokan (湯快リゾート嬉野館) is another onsen resort with interesting-looking pot baths and Taishouya Shiibasanso (大正屋 椎葉山荘) is a beautiful onsen ryokan with large bathing facilities. Its outdoor baths are right next to a river.
I haven't been to this onsen town yet so I definitely have to visit it and write an in-depth article about the hot springs and the ryokans.
Access: From the nearest station Takeo-Onsen Station it is a 30-minute bus ride to Ureshino Onsen. Fukuoka city is about 2 hours away. Saga city and Arita are about 1 hour away.
10. Yakushima Onsen (Kagoshima)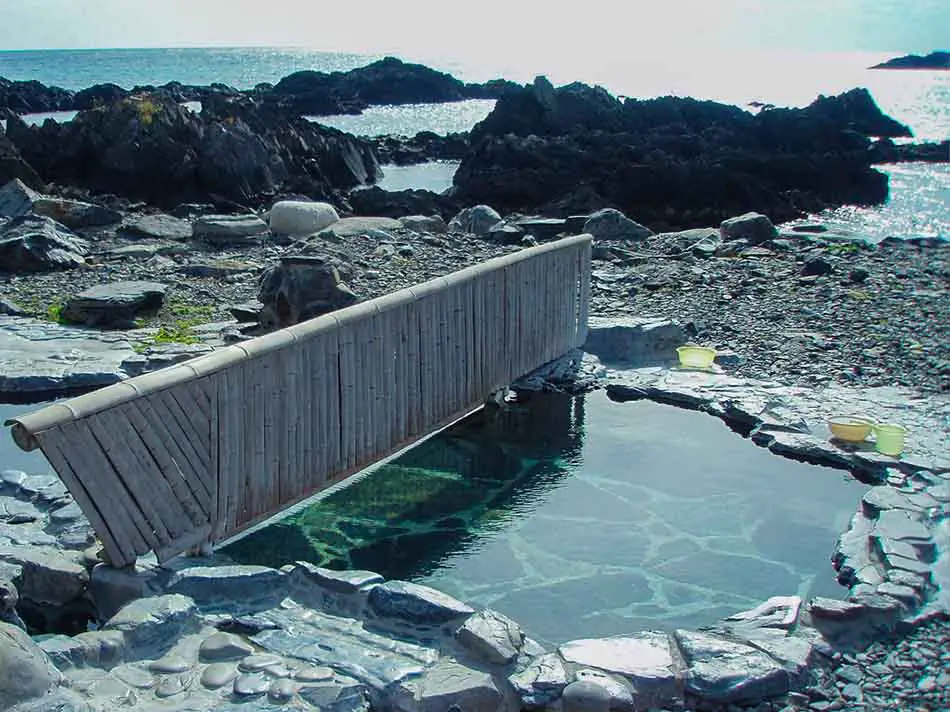 Location: Yakushima Island, Kagoshima Prefecture
General Information: Yakushima Island is famous for its evergreen forest which was also Hayao Miyazaki's inspiration for his amazing anime "Princess Mononoke". And since you can find several hot springs on the island, it is also known as a hot spring resort called Yakushima Onsen (屋久島温泉).
The island is all about nature and wildlife: trees, beaches, animals like sea turtles, monkeys, and the cute little Yakushima Deer. One of Yakushima's main attractions is its oldest tree called Jomonsugi. The cedar tree is at least 2,170 years old but might have even been around for 7,200 years and the only way to see it is a 10-hour long hike through the beautiful ancient rainforest.
I know that visiting Yakushima takes time and that it is not really on the way, but let me tell you just this: Go! I mean, doesn't this place sound like the best thing ever?
Onsen Island With Natural Sea Onsen: I have counted about 10 different hot springs on Yakushima Island. Jomon no Yado Manten (縄文の宿まんてん温泉) is the most accessible onsen since it is right next to Yakushima airport. The gender-separated onsen facilities feature a large public indoor bath with several tubs, a rotenburo, an open-air cypress bath, a rentable family bath, and a stone sauna. Non-staying guests are welcome but can only use the indoor bath and the rotenburo.
However, the most interesting hot springs are located in the south, in my opinion. Yudomari Onsen (湯泊温泉) and Hirauchi Onsen (平内温泉) are two natural sea onsen located right next to or actually in the ocean. In Yudomari you can soak 24/7, while Hirauchi is only available twice a day for a few hours in between the tides. However, both onsen baths are unisex. Yudomari has a bamboo screen that separates the bath into a male and a female section, though.
Access: The onsen baths are scattered all around the island. In the north near Miyanoura and Yakushima airport, and in the south near Hirauchi. So the most convenient way is to get around by rental car, but there are also buses available. You can get to Yakushima Island by air from Kagoshima (30 minutes), Fukuoka (1 hour), and Osaka (about 2 hours), or you can take a ferry from Kagoshima (2 hours) or Ibusuki (about 1.5 hours).
11. Takeo Onsen (Saga)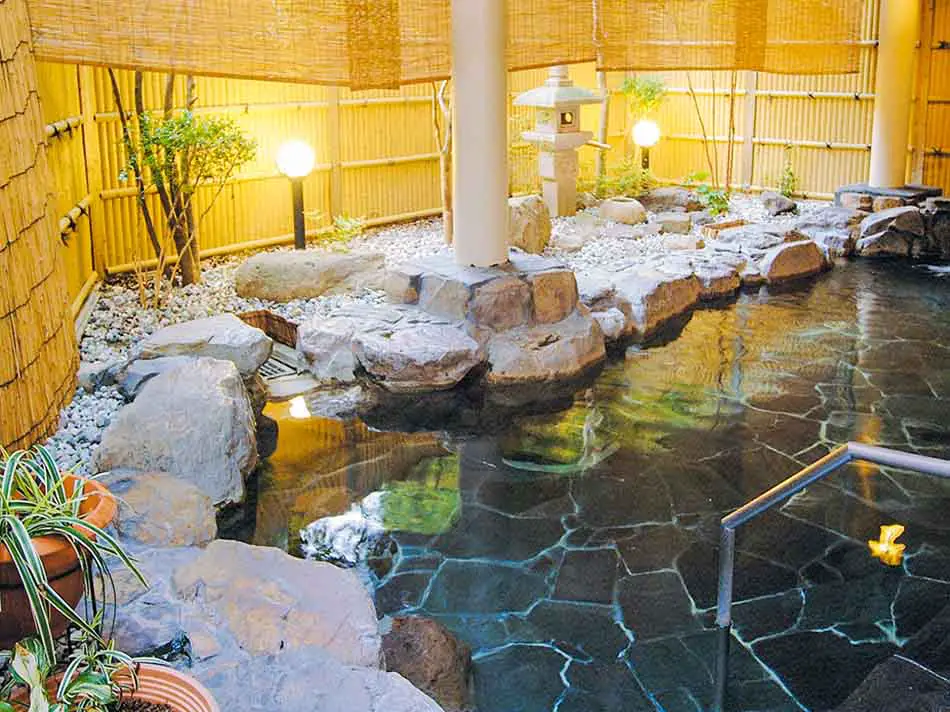 Location: Takeo Onsen, Near Ureshino Onsen, Saga Prefecture
General Information: Takeo Onsen (武雄温泉) is another onsen town with a history of over 1,300 years. Yet I have never heard of it before. (I guess this means I have to spend some more time in Kyushu, especially in Saga Prefecture). It is famous for its silky onsen water and famous visitors like the feudal lord Masamune Date or the German physician and botanist Philipp Franz von Siebold came to soak in Takeo Onsen's baths.
Things to see include the two-storied tower gate called Sakuramon and the Takeo Onsen Shinkan. This onsen was a bathhouse in the past, but now it is a museum that you can enter for free.
Small Onsen Town in Kyushu: Takeo's oldest onsen is called Motoyu (元湯). As to expect from a public bath with a history of 1,300 years this is not the most beautiful bath, but one of the most historic and authentic onsen you will find in Kyushu.
In more beautiful onsen baths and a rotenburo, you can soak at Takeo Onsen Romontei (武雄温泉 鷺乃湯).
Or how about a stunning private marble onsen bath that was built for a feudal lord? This you can experience at Tonosama Yu (殿様湯), which translates as "Feudal Lord Bath".
Access: Just get off at JR Takeo Onsen Station and explore the city and onsen on foot. It takes about 1 hour to get here from Fukuoka and Arita is just 15 – 20 minutes away.
12. Ryukyu Onsen (Okinawa)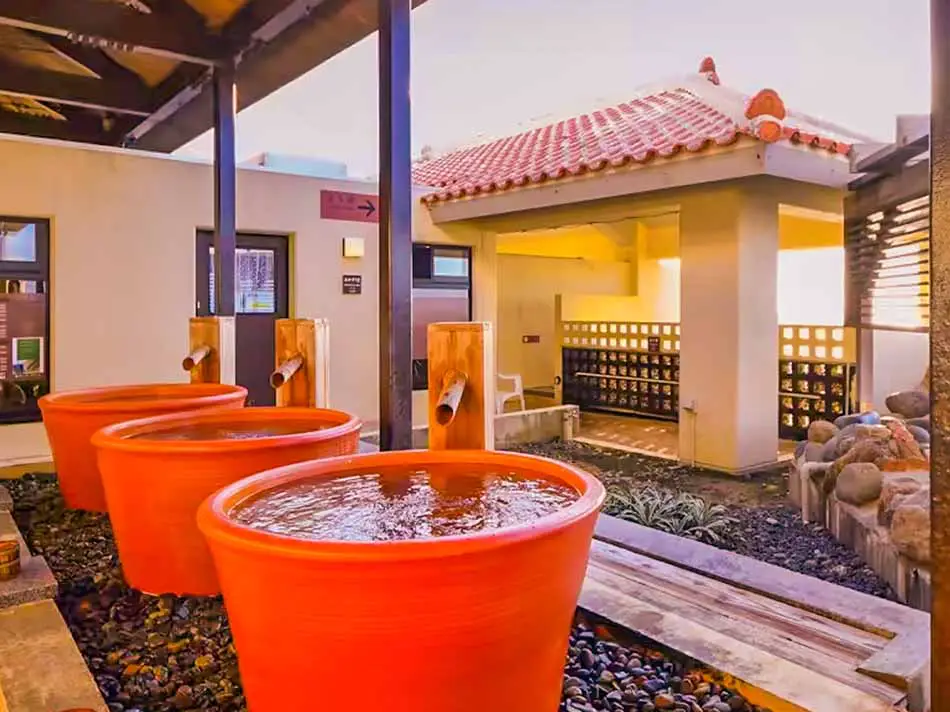 Location: Naha, Okinawa Main Island, Okinawa Prefecture
General Information: This is actually not an onsen town and you could even argue that Okinawa is not in Kyushu, but I still wanted to mention it as a possibility. Similar to Yakushima Island, you can find several natural hot springs on Okinawa Island. Most of them are beautiful beach onsens with views of Okinawa's white sand beaches and its turquoise ocean.
Besides sunbathing and snorkeling things to do and see in Okinawa include sacred sights like Sefa Utaki, many castles, and castle ruins, and also the war memorials.
Onsen Resorts on Okinawa Island: Ryukyu Onsen Senagajima Hotel (琉球温泉 瀬長島ホテル) is an amazing-looking onsen hotel with a touch of the Ryukyu Kingdom. Here you can soak in a variety of indoor and open-air baths including pottery baths. Of course, you are right next to the beach and have ocean views. This onsen hotel is also very close to Naha Airport.
Another popular onsen is the Jurassic Onsen Churaumi no Yu (ジュラ紀温泉 美ら海の湯) at Hotel Orion Motobu Resort & Spa (ホテル オリオン モトブ リゾート&スパ). It is close to Okinawa's famous aquarium. The hotel's onsen facilities are modern and located on the upper floor with great views.
Terme VILLA Chula-U (Terme VILLA ちゅらーゆ) is yet another onsen hotel with modern-looking bathing facilities. Personally, I prefer the more traditional ones at Ryukyu Onsen, though.
Access: Naha Airport. Flights from Kagoshima to Okinawa take about 1.5 hours. From Tokyo, it takes about 2.5 hours and from Osaka, it is a 2-hour flight. The Ryukyu Onsen Senagajima Hotel is 30 minutes by bus from Naha Airport.
Bonus: Onsen in Miyazaki Prefecture
I feel a bit bad because Miyazaki is the only prefecture in Kyushu I didn't mention in this post, even though it is such a beautiful place. So here are 2 hot spring (towns) that are located in this picturesque prefecture.
Kitagou Onsen (北郷温泉) – An onsen town in the middle of nature and not too far from Miyazaki's Udo Shrine. Around the onsen town, you can find about 50 waterfalls, the most famous one being Godan No Taki. Kitago Onsen is also famous for its cherry blossoms.
Aoshima Onsen (青島温泉) – This onsen town has a little bit of a tropical atmosphere like the rest of Miyazaki Prefecture with hot springs surrounded by palm trees. The onsen town is a little bit further south of Miyazaki city and Miyazaki airport and is famous for its same-named island and the "Devil's Washboard".