When you visit a hot spring for the first time I'm pretty sure you will be wondering at some point if you can wear bathers in an onsen. Especially if you are shy you will want to wear something instead of just wearing your birthday suit, but…
Can you wear bathers in an Onsen? The majority of onsen doesn't allow you to wear bathers or any other clothes while soaking in the hot spring. Since you are sharing the bathwater with other guests bathing naked is the most hygienic way and helps to keep the water clean. However, there are a few onsens where you can wear bathers.
While I already knew the answer from my onsen trips, I was actually surprised that there are quite a few hot spring spas where you can wear bathers. In or near all the major cities like Tokyo, Kyoto, and Osaka you will find a place where you can get around being naked. However, for an authentic onsen experience, I have a few better tips for you.
Why You Can't Wear Bathers in an Onsen
Japan's long and profound bathing culture dates back thousands of years. Did you know that there are books from the 6th century that already note the existence of hot springs in Japan? While it all started as purifying Shinto rituals and enjoyment for emperors, hot springs are now one of Japan's most loved traditions and tourist attractions.
The long history of hot springs is one of the reasons why it is not common to wear bathers or other clothes during your soak in an onsen. Back in the day, the Japanese didn't have bathers or any other type of swimwear. Even wearing something like underwear as a substitute for bathers wasn't possible because Japanese people first started wearing underclothes in the 20th century.
Of course, Japanese people already had Yukata back then. But even though Yukata are Japanese traditional bathrobes, they aren't bathers and they were usually just worn after the bath. That has changed a lot over the past years, though. Now you can still wear Yukata to onsens, but they are more often used as summer clothes, and Japanese people put them on when visiting a matsuri or fireworks display.
Another reason is that one of the most important things is hygiene and cleanliness in a hot spring since you are sharing your bathwater with other guests. If you are wearing bathers its fibers and more importantly bacteria, that can form inside your wet bathing suit in a matter of minutes, could get in the water. So wearing nothing but your birthday suit prevents this and is, therefore, the most hygienic.
Some onsen experts also strongly believe that wearing bathers can reduce the health and beauty benefits of onsens for the part of your skin covered in clothes.
Japanese Onsen That Allow You to Wear Bathers
We have talked about the historical reasons and know why bathing together without clothes is actually better for hygiene in onsens. But the shyer among you might still be interested in hot spring alternatives where you can wear something. Luckily, there are a few onsens and hot spring spas where you can plunge in wearing your bathers.
There is a caveat, though. Most of these onsens are not real onsens and they don't provide an authentic onsen experience. The few natural onsens where you can wear bathers are most of the time natural open-air or river-baths in the middle of nowhere. While the onsen spas that allow wearing bathers near bigger cities like Tokyo, Kyoto, and Osaka, are usually more like hot spring theme parks or water parks.
They can be a lot of fun visiting, too, though. You will find all the detailed information about each recommendation below.
Hot Springs Near Tokyo Where You Can Wear Bathers
1. Oedo Onsen Monogatari Urayasu Mengekyo (Chiba)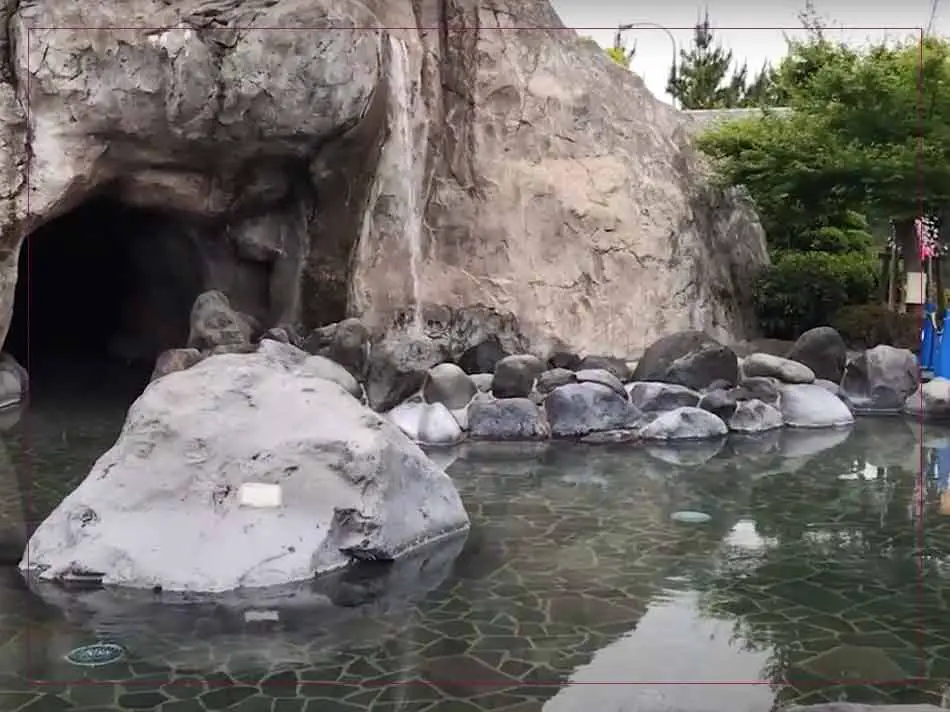 Oedo Onsen Monogatari Urayasu Mengekyo is a huge onsen theme park near Tokyo Disneyland and Tokyo DisneySea. It takes about 40 minutes to get there from central Tokyo.
The hot spring area is divided into two parts. One gender-separated indoor and outdoor spa area where you are not allowed to wear swimsuits. And a huge mixed outdoor area with 11 types of pools where you have to wear bathers.
On the webpages, it says you are even allowed to take photos in the mixed outdoor area. This is something you won't be able to do at a lot of onsens.
2. Hakone Kowakien Yunessun (Hakone)
Hakone Kowakien Yunessun is a hot spring spa resort and water amusement park in the Hakone area south of Tokyo. You can get there in 90 minutes by Shinkansen.
This spa resort is also divided into 2 main areas. The Mori no Yu area is like a traditional Japanese onsen with open-air and cypress baths. No bathers allowed. The Yunessun area is a crazy water park with slides, cave baths, and even crazier wine, coffee, sake, and green tea baths. Here you can wear bathers while enjoying the different pools and water slides.
Another good thing about this hot spring is that you can even go when you have tattoos. Because in the Yunessun area covered tattoos are ok.
Onsen Near Osaka & Kyoto That Allow Bathers
3. Rurikei Onsen (Near Kyoto)
Rurikei Onsen is a large public bathhouse about 2.5 hours west of Kyoto and 3 hours away from Osaka. In the so-called "Bade Zone" you can wear bathers and enjoy a variety of pools. They have an outdoor pool that might give you a little bit of an onsen feeling. But overall it looks more like a swimming pool than a Japanese hot spring. Their rental baths feel more authentic and look nice, though.
Natural Hot Springs Where You Can Wear Bathers
4. Kawayu Onsen (Wakayama)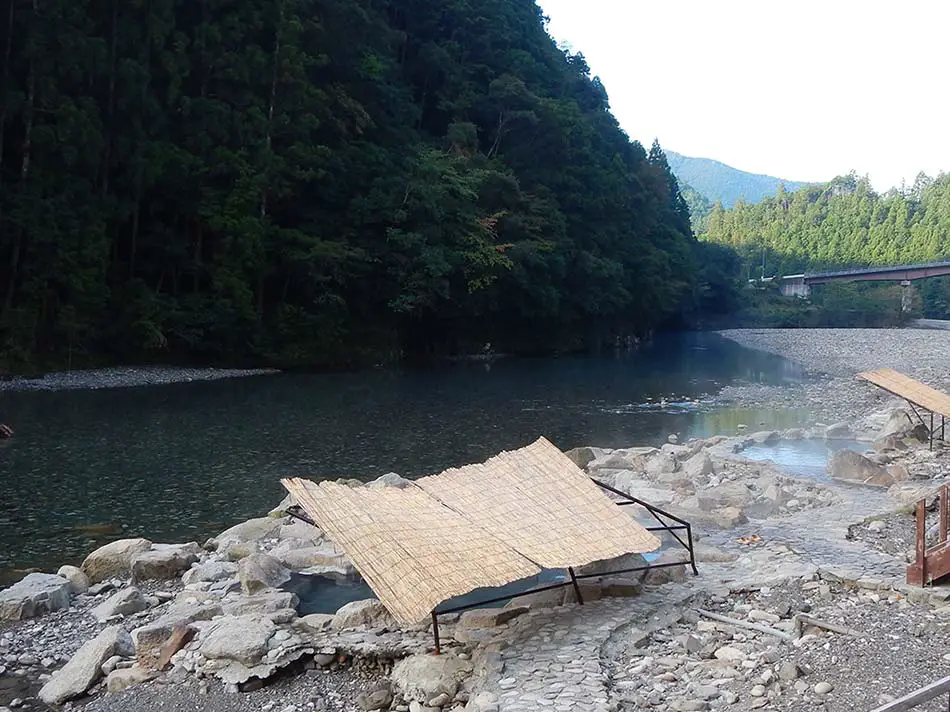 Kawayu Onsen is a natural hot spring where thermal waters bubble up along a riverbank. It is located in the south of Wakayama near Kumano or Shingu city. From Osaka, it will take about 3 hours by car.
You can enjoy the hot spring and play in the river all year round. But the special open-air baths are only available from around November to February. Since this is a free natural onsen it is a mixed bath, but most people will wear bathers.
5. Mizunashi Kaihin Onsen (Hakodate)
Mizunashi Kaihin Onsen is a natural sea onsen located in the ocean about 50 km east of Hakodate. The best thing about this hot spring is that it is 100% natural and 100% free. However, access isn't easy. You will need a car and it will take about 90 minutes from Hakodate. You also need to time your arrival beforehand because you can only take a bath when the tide is high.
How to Enjoy Hot Springs Without Wearing Bathers
Visiting an onsen where you can wear bathers can be a lot of fun, no doubt. Especially when you are into water parks. However, I have to say that it's just not quite an onsen experience. That's why I want to give you a few more tips so that you will hopefully take the plunge into a real authentic onsen.
One possibility that you can always try is renting a private bath at a nice onsen ryokan or hot spring area. It is still a little bit more like just taking a bath at home but at least you will have the look and feel and all the health and beauty benefits of a real onsen. Here you really don't have to be worried about being in your birthday suit and you can see how it all works. The only downside is that it is a little bit expensive.
When you are ready to go to a real onsen try to aim for a time when there are fewer guests. It depends a little bit on the place and what type of onsen it is but probably later in the morning, around lunchtime, and during dinnertime, it should be less crowded.
A few onsens offer cheaper entrance fees in the morning, in that case, it might be a bit more crowded by elderly people immediately after they have opened, so watch out for that. When you are staying at an onsen ryokan with fixed meal times I promise you that the onsen facilities will be more or less empty at that time.
It is actually not uncommon to have a hot spring entirely for yourself. Even at famous hot spring towns like Kinosaki Onsen and Kurokawa Onsen I sometimes had the baths for myself, which was very, very nice!
Last but not least just do it
Yes! Just go and do it. Don't worry about how you look or if other people might stare at you or whatever you are telling yourself. Onsens are such a nice experience and it would be more of a shame if you would miss that kind of experience just because you are worried about something you really don't have to be worried about.
So just go! Take the plunge and enjoy the hot spring!
It is really worth it! Even in summer!