With more than 3,000 hot springs Japan offers plenty of choices for your first onsen experience. To help you find the best onsen I have decided to create a list of Japan's most famous onsen towns and their most popular hot spring baths.
If you are looking for a beautiful and traditional onsen town in Japan Kurokawa Onsen and Kinosaki Onsen are the best. Kusatsu Onsen and Gero Onsen are renowned for their water quality and health benefits, while Noboribetsu and Beppu are Japan's most exotic and interesting hot spring villages.
Below you can read more about each hot spring village mentioned above and all the other famous hot spring towns in Japan. Each description also includes the most popular onsen and onsen ryokans in each town as well as information on how to get to each hot spring resort.
1. Kurokawa Onsen (Kumamoto)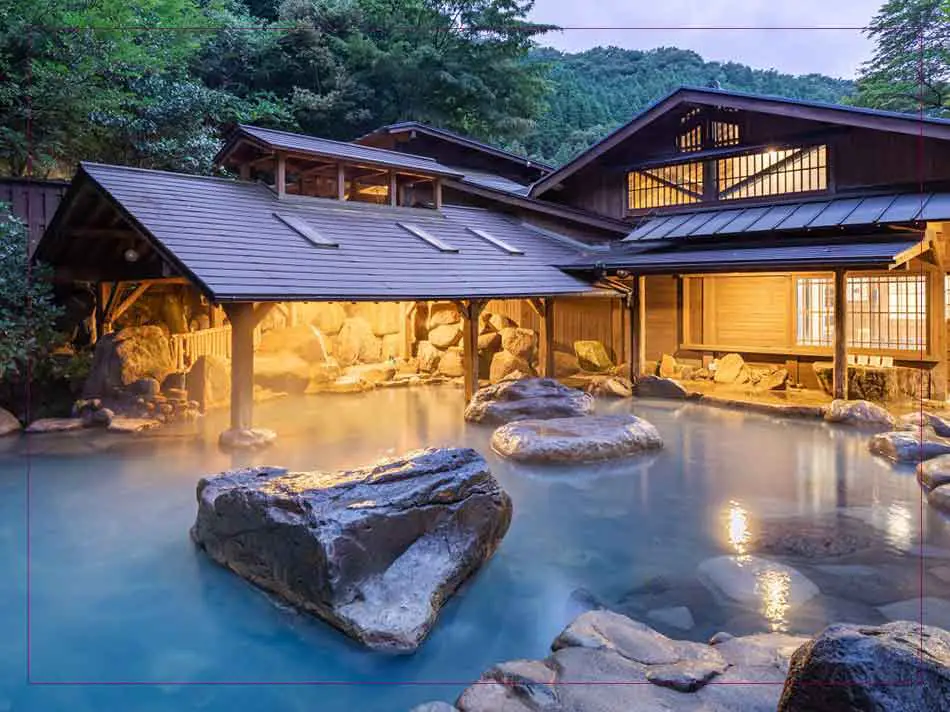 Location: 4h from Fukuoka, Kumamoto Prefecture, Kyushu
Most Picturesque Onsen Town in Kyushu & Japan: Kurokawa Onsen (黒川温泉) is one of the most beautiful onsen towns in Kyushu and Japan and features plenty of amazing-looking rotenburo (open-air baths). It is always hard for me to decide on "the best", but Kurokawa Onsen is really, really high up there in my top 10 onsen town list. And it is definitely the best onsen town for onsen hopping, in my opinion.
Beautiful Outdoor Onsen Baths: When you are in Kurokawa the first thing you have to do is to get the wooden onsen hopping pass called "Nyuto Tegata". It costs 1,300円 (about $12, 11€) and it is the key to enjoy not only one but 3 beautiful rotenburo. Some of my personal favorites are Yamizuki (山みず木) and Yamabiko Ryokan (やまびこ旅館) but there are about 30 onsen and hot spring ryokans and all of them are insanely beautiful. So better take a look at the onsen for yourself.
Some of Kurokawa's hot springs like Hozantei or Anayu are mixed-gender onsen.
Access: 50 minutes by bus from the nearest Station which is JR Aso Station. Fukuoka (Hakata Station) is about 4 hours away. From Yufuin Onsen Town and Kumamoto city, you can take direct busses and get to Kurokawa in 2 and 3 hours.
2. Kusatsu Onsen (Gunma)
Location: 3h from Tokyo, Gunma Prefecture, Kanto
Popular Onsen Town Renowned For Its Water Quality: Kusatsu Onsen (草津温泉) is one of Japan's most famous hot spring resorts. It is located in Gunma Prefecture just a few hours north of Tokyo and is blessed with an abundance of high-quality hot spring water. Two things you can only see here are Yubataka, a hot spring water field and symbol of Kusatsu Onsen, and Yumomi, performances with wooden paddles to cool down the water.
Tattoo-Friendly Onsen: Kusatsu is also famous for having some of the most awesome tattoo-friendly onsens near Tokyo. Ohtaki No Yu or Otakinoyu (大滝乃湯) is a directly fed onsen with beautiful wooden architecture and baths arranged in such a way that they built a hot spring water cascade. Sainokawara Rotenburo (西の河原 露天風呂), on the other hand, is a large open-air bath covering 500 square meters. In spring you can see beautiful cherry blossoms and do Hanami during your onsen soak.
Access: 25 minutes by bus from the nearest station Naganohara-Kusatsuguchi Station. The fastest way from Tokyo but also more expensive is to take the Shinkansen to Karuizawa and set out on a 1:16 hour bus journey. Like this, the whole trip will only take about 2:42 hours instead of 3.5 – 4 hours.
Website: www.kusatsu-onsen.ne.jp
3. Noboribetsu Onsen (Near Sapporo)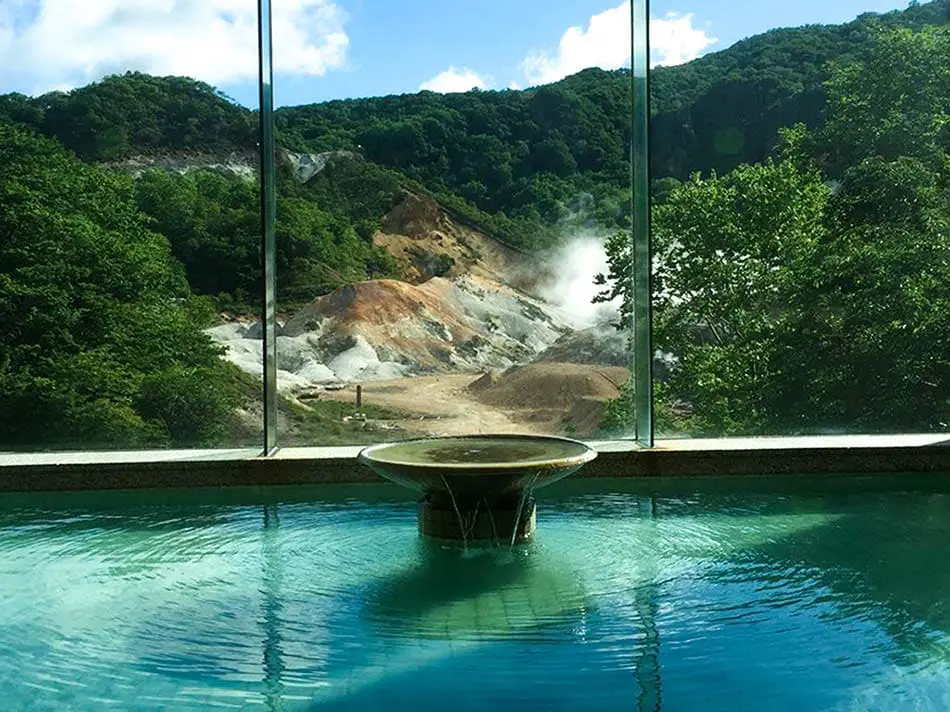 Location: 2h from Sapporo,  Hokkaido Prefecture, Hokkaido
Onsen Town in Hokkaido Famous For Its Hell Valley: Noboribetsu Onsen (登別温泉) is another really cool onsen town in Japan. Conveniently located on the way from Hakodate to Sapporo, Noboribetsu makes for the perfect stop-over. Its highlights are not only the huge variety of springs but also the spectacular Helly Valley with oddly colored rivers and lakes. Especially in fall when you also have autumn leaves the whole valley turns into a beautiful spectacle of colors.
Onsen Hotels Welcome Day-Trippers: Most of Noboribetsu's onsen baths belong to onsen hotels, but they usually welcome day-trippers. Noboribetsu Grand Hotel (登別グランドホテル) and Noboribetsu Sekisuitei (登別 石水亭) have more traditional onsen baths, but Daiichi Takimotokan (第一瀧本館) has larger onsen facilities and by far the best views of Jigokudani (Hell Valley).
Access: 15 minutes by bus from JR Noboribetsu Station. Sapporo is about 1.5 hours away and Hakodate and Yunokawa Onsen are 2.5 – 3 hours away.
4. Nyuto Hot Spring Village (Akita)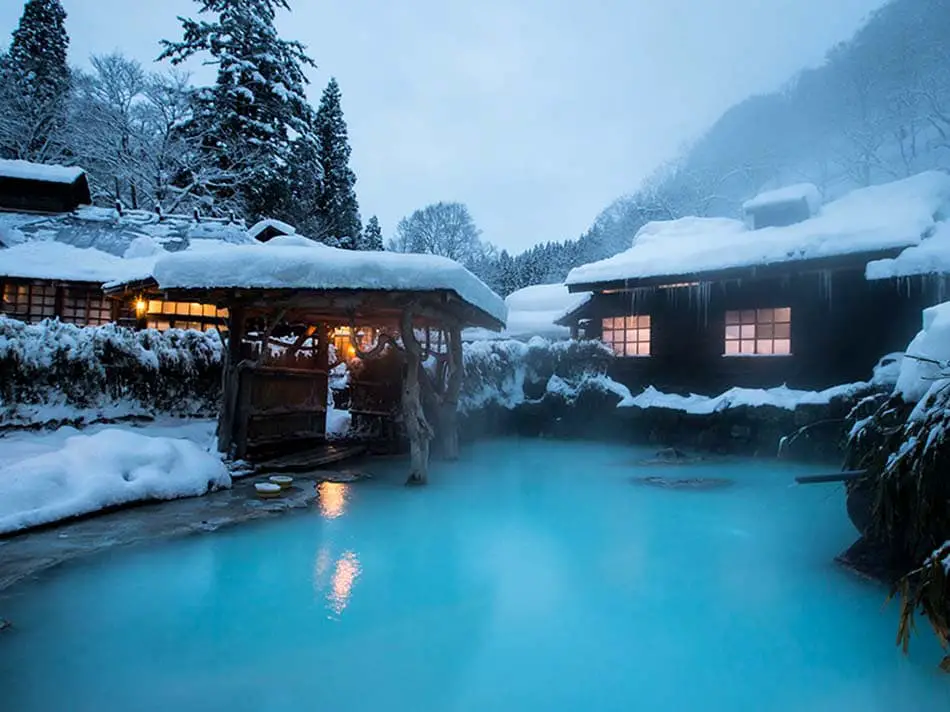 Location: 4h from Tokyo, Akita Prefecture, Tohoku
Secluded Onsen Town Loved By My Students: Nyuto Onsen Kyo (乳頭温泉郷) is a traditional hot spring village deep in the mountains with rustic inns and beautiful outdoor baths. One of my Japanese students told me that she loves this hot spring town so much that it is the only place she keeps visiting year after year. Here you can enjoy the hot spring baths and nature to its fullest.
Unisex Baths & Onsen Hopping: There are 7 onsen ryokan in this hot spring village and a lot of them have unisex onsen facilities or open-air baths. So it is probably not the right onsen destination for you if you are shy. However, Ogama Onsen (大釜温泉) and Magoroku Onsen (孫六温泉) have gender-segregated onsen facilities and Tusuronoyu (鶴の湯) also has an outdoor bath for women-only.
If you are staying overnight you should get the Yu Megurio Pass for 1,800円 (about $18 or 18€), because you can visit and try out all of the 7 onsens.
Access: The bus ride takes about 1 hour from the nearest Station Tazawako Station. Some onsens, however, like Tsurunoyu don't have a bus stop nearby and so you need to brace yourself for a 50-minute long walk. From Tokyo, you can get to Nyuto Onsen in about 4 hours. Sendai is just 2 hours away.
Website: www.nyuto-onsenkyo.jp (Japanese, but external English page available)
5. Beppu Onsen (Near Fukuoka)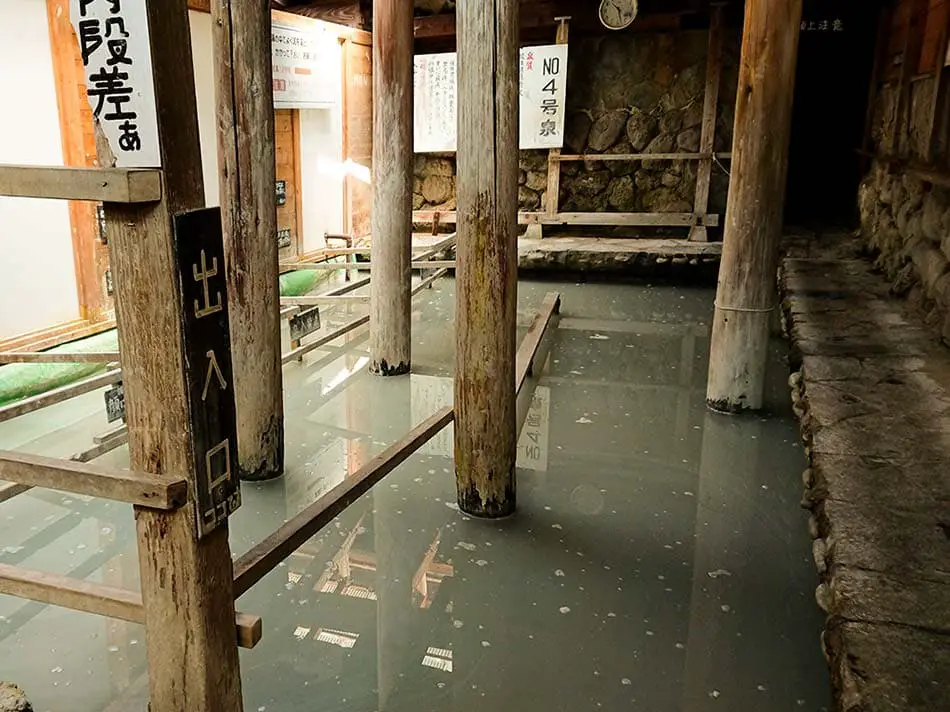 Location: 2h from Fukuoka, Oita Prefecture, Kyushu
Extremely Tattoo-Friendly & Exotic Hot Spring Village: Beppu Onsen (別府温泉) is a huge and extremely tattoo-friendly hot spring resort that consists of 8 smaller hot spring villages. All of them are spread over Beppu city and can be reached in less than one hour. The town is also famous for its hells – hot springs not for bathing and even more colorful than the ones you can see in Noboribetsu's Hell Valley.
Unique Hot Springs Including Sand & Mud Onsen: Beppu is not only Kyushu's most popular onsen resort but also the most adventurous onsen place in all of Japan. The unique onsen experiences you can try are a sand onsen at Takegawara Onsen (竹瓦温泉) and a mud onsen bath at Beppu Onsen Hoyoland (別府温泉保養ランド).
Two tattoo-friendly onsens are Hyotan Onsen (ひょうたん温泉) in Kannawa and Horita Hot Spring (堀田温泉) in the Horita onsen district with a very friendly lady at the reception. More tattoo-friendly onsens you can find in my "32 Tattoo Friendly Onsen & Hot Spring Ryokans in Japan" post.
Access: If you get off at Beppu Station you are already in the middle of the onsen paradise. Fukuoka is about 2 hours away, Kumamoto is about 2.5 hours, and Yufuin is just 1 hour.
Website: www.enjoyonsen.city.beppu.oita.jp
6. Kinosaki Onsen (Near Kyoto)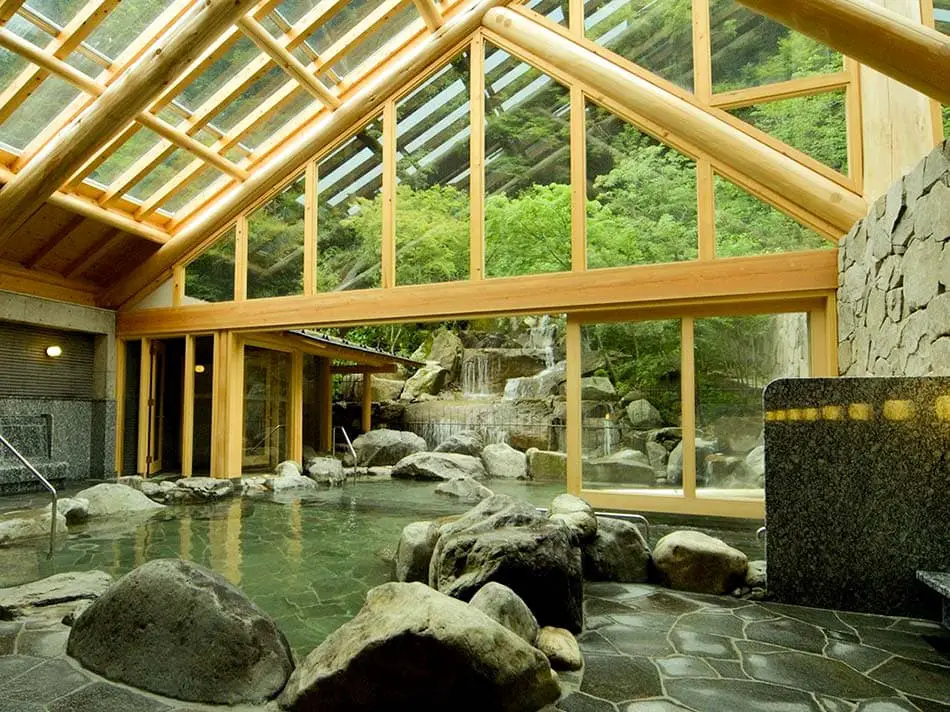 Location: 2.5h from Kyoto, Hyogo Prefecture, Kansai
Most Beautiful & Famous Onsen Town in Kansai: Kinosaki Onsen (城崎温泉) is one of the most famous and beautiful onsen towns in Japan and the No. 1 onsen town near Kyoto and Osaka. Together with Beppu and Kusatsu, it is also one of the best hot spring towns to visit if you are looking for tattoo-friendly onsens in Japan. The city's symbol is the Otagawa River which runs through its city center flanked by green willows, cherry blossoms, and onsen ryokan. Kinosaki is also one of the best onsen towns to stroll around in Yukata and Geta sandals.
Tattoo-Friendly Onsen Hopping: There are 7 public bathhouses in Kinosaki and they are all in a walkable distance from the Station and the other onsen. On weekdays, one of the bathhouses is always closed, so if you want to take a bath in all of them I recommend you to come here on a weekend or to stay for a night. Just as with Kurokawa Onsen each of the bathhouses has its own charm, so it is hard to give you a recommendation. Goshono-Yu (有馬温泉) has beautiful architecture and Ichino-Yu (一の湯) has a cool cave onsen. But again, in my opinion, all of them are worth visiting.
Access: 2.5 hours by train from Kyoto and about 3 hours by train from Osaka. The JR Hashidate Limited Express train and the JR Kounotori Limited Express train will bring you to Kinosaki Onsen in no time.
Website: www.visitkinosaki.com
7. Gero Onsen (Near Nagoya)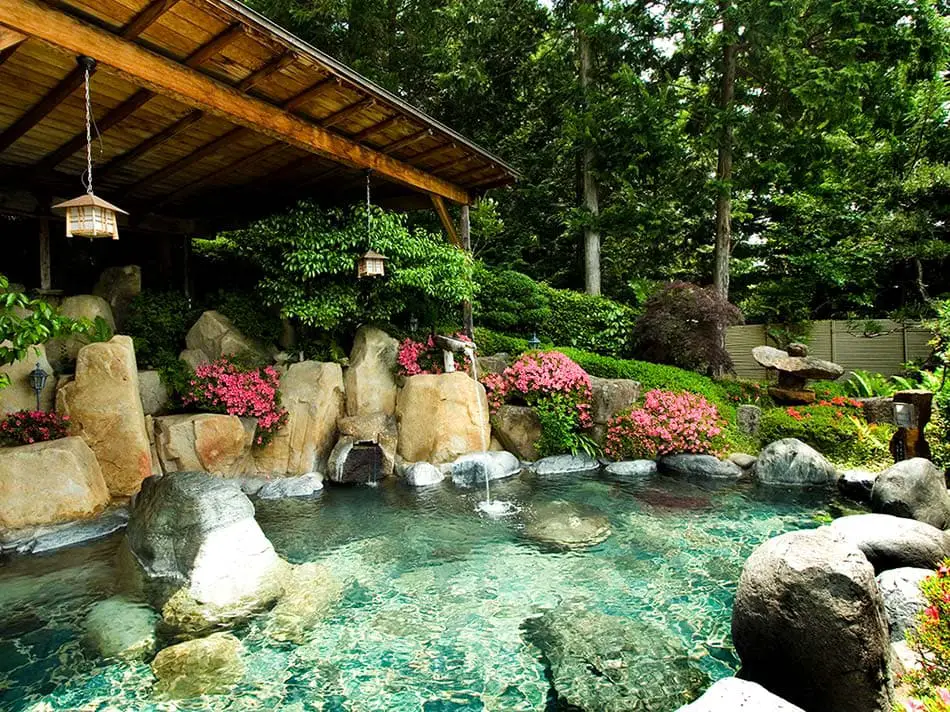 Location: 2h from Nagoya, Gifu Prefecture, Chubu
Onsen Town Considered Among The Best in Japan: Gero Onsen (下呂温泉) has been selected as one of the top 3 onsen towns in Japan by many famous people because of the high quality of its hot spring water. There are plenty of free Ashiyu (onsen foot baths), public onsen baths, and onsen ryokans in the town. When I went to Gero Onsen it was raining a lot, unfortunately. But I really liked the atmosphere of the town, so I can't wait to go there again.
Onsen Hopping: Gero Onsen also offers a wooden onsen hopping pass for 1,300円 (about $12, 11€) called Yumeguri Tegata. With the onsen pass, you can visit 3 different hot springs which is one of the best and cheapest ways to try out different onsen and rotenburo. Yunoshimakan (湯之島館) has a beautiful open-air bath as you can see above and is knowns as one of Japan's beauty onsen that are good for the skin. There is also a free onsen bath right next to the river. It is called Funsenchi (噴泉池) and you are allowed to wear bathing suits but just know that it is right in the city center and there are no covers.
Access: Take the JR Hida Line and get off at Gero Station. From Nagoya, it will take you about 1.5 – 2 hours.
8. Hakone Hot Spring Village (Near Tokyo)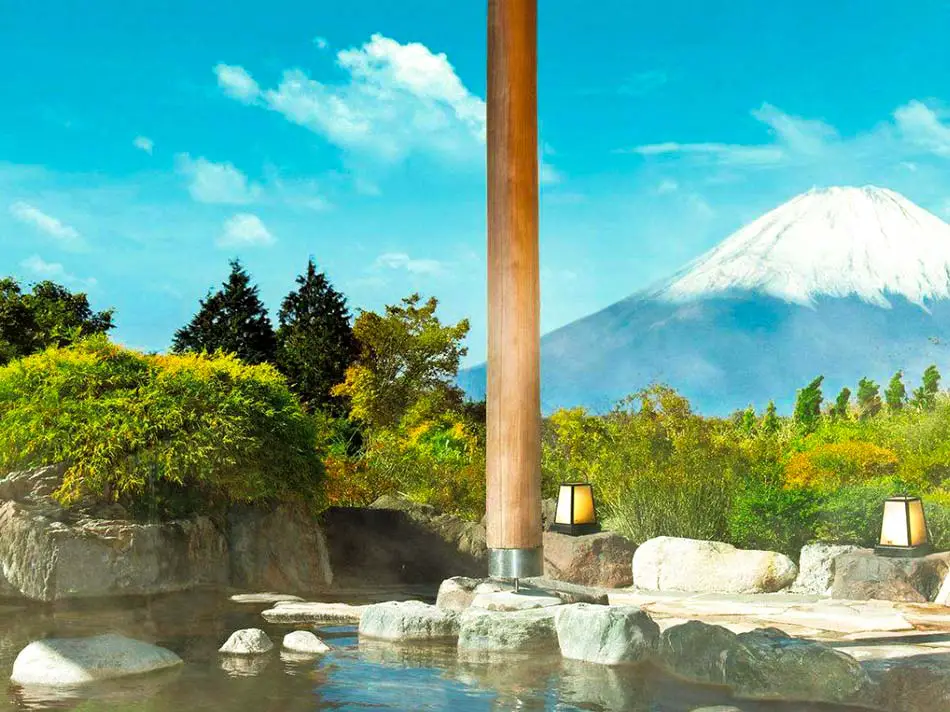 Location: 1.5h from Tokyo, Kanagawa Prefecture, Kanto
Well-Known Onsen Town Near Tokyo: Hakone Onsen (箱根温泉) is probably the most well-known hot spring resort near Tokyo among foreign tourists. The onsen town is located in the Fuji Hakone Izu National Park and is a popular destination for day trips and weekend getaways. With plenty of sightseeing attractions, an extremely beautiful onsen, and easy access from Tokyo it is a tourist magnet. Awesome but usually crowded.
Beautiful Open-Air Onsen: Tenzan Hot Spring Village (天山湯治郷) is the natural hot spring I recommend you to visit. It is actually a small hot spring village with 2 separate and tattoo-friendly onsen facilities Higana Hot Spring and Kayoi Hot Spring Ikkyu. Both of them are amazingly beautiful with open-air baths surrounded by lush green.
The onsen you can see in the picture is the Hotel Green Plaza Hakone and it is one of the surprisingly rare onsens in Hakone with views of Mt. Fuji.
Access: By local bus or the local Hakone Tozan Railway from Odawara Station. The JR Pass is only valid until Odawara Station, the fee for the bus or the Hakone Tozan Railway isn't covered, but you can also consider getting the Hakone Freepass. Tokyo is just 90-minutes away.
9. Nanki-Shirahama Onsen (Near Osaka)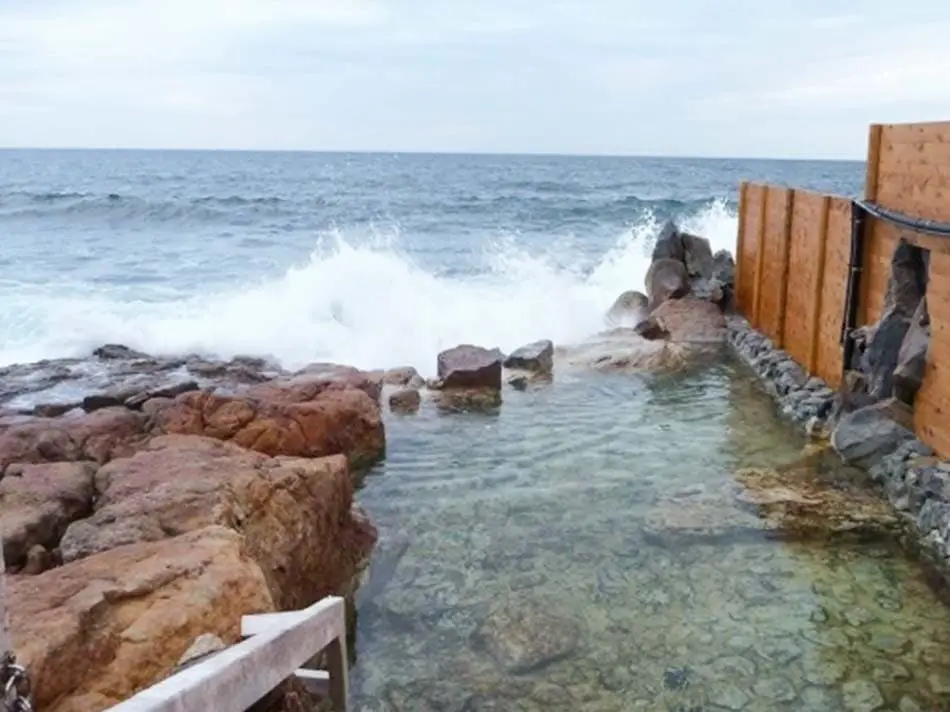 Location: 3h from Osaka, Wakayama Prefecture, Kansai
One of Japan's 3 Ancient Onsen Towns: Nanki-Shirahama Onsen (南紀白浜温泉) or Shirahama Onsen is one of Japan's ancient hot springs together with Arima Onsen which is also near Osaka and Dogo Onsen in Shikoku. The town has a history of more than 1,300 years and is famous for its white sand beach Shirahama Beach. If you like beach holidays or sunbathing this is the perfect onsen town for you.
Natural Beach Onsen: In Nanki-Shirahama you will find beautiful beach onsen with ocean views and also many luxurious onsen hotels with infinity pools. Some of them like the Infinito Hotel & Spa Nanki Shirahama (インフィニート ホテル&スパ 南紀白浜) have been visited by 4 emperors. My favorite onsen in Shirahama is the natural beach onsen Saki No Yu (崎の湯), though. It is presumably Japan's oldest open-air onsen bath and is right next to the ocean so the waves are crashing against the rocks. It is also a tattoo-friendly hot spring.
Access: 18 minutes by bus from Shirahama Station. From Osaka, it takes about 3 hours to get to Shirahama Onsen. From Kyoto, it takes about 4 hours.
10. Dogo Onsen (Ehime)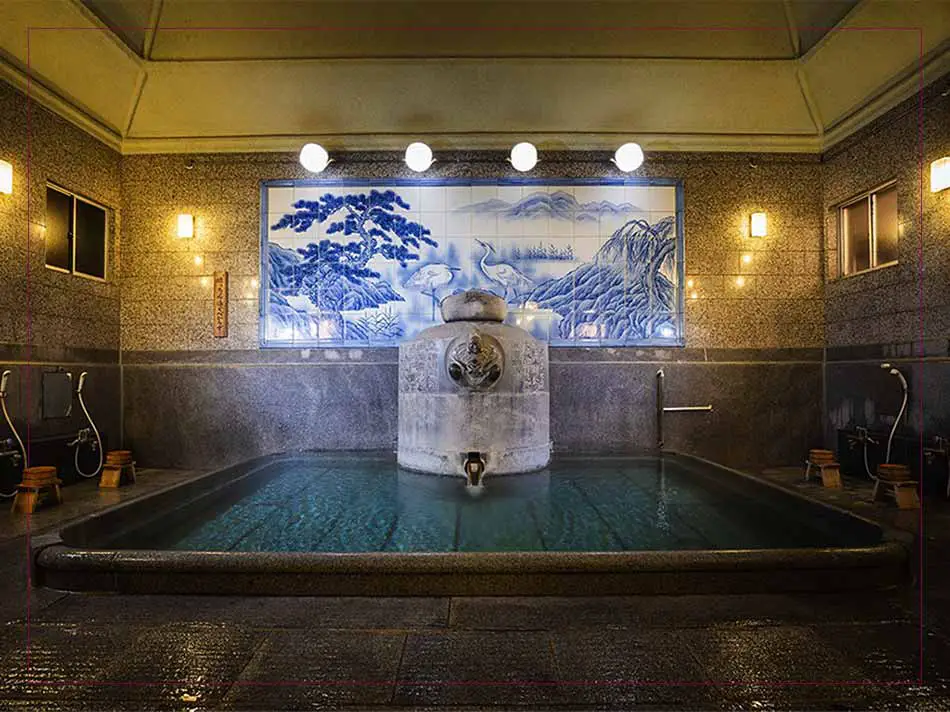 Location: 4h from Hiroshima, Ehime Prefecture, Shikoku
Old Onsen Town That Inspired a Ghibli Anime: Dogo Onsen (道後温泉) is not only renowned for being one of Japan's oldest hot springs but also for being one of the inspirations for Miyazaki's anime "Spirited Away". The onsen town is part of Matsuyama, one of my favorite cities in Shikoku. There's plenty to see like for example Matsuyama Castle or the crazy temple Ishiteji.
"Spirited Away" Onsen: The No. 1 attraction in Dogo Onsen and Matsuyama is, of course, the onsen that inspired Hayao Miyazaki. It is called Dogo Onsen Honkan (道後温泉本館) and if you have watched the anime you will love every little bit of it. The outside is already enough to let your little ghibli heart beat faster. Asuka No Yu (飛鳥乃の湯泉) and Tsubaki No Yu (椿の湯) are 2 other hot springs you can try.
The other good news for a lot of foreign guests is: Dogo Onsen is tattoo-friendly.
Access: 30 minutes by streetcar from Matsuyama Station. If you take the Tokaido-Sanyo Shinkansen from Hiroshima to Fukuyama you can continue by bus to Dogo Onsen and get there in about 3 – 4 hours.
11. Ginzan Onsen (Yamagata)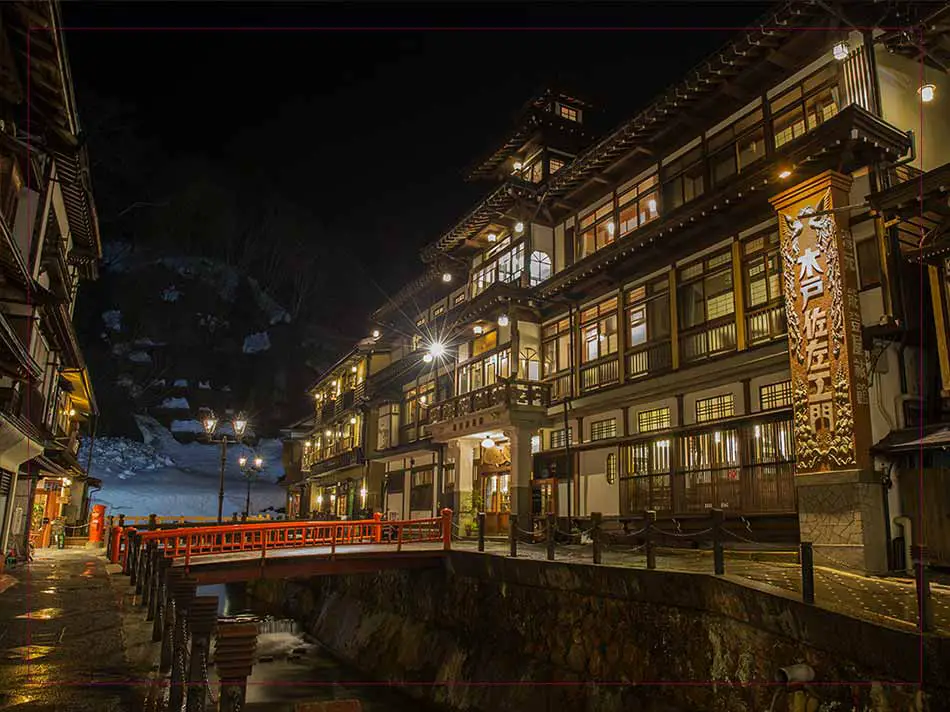 Location: 5h from Tokyo, Yamagata Prefecture, Tohoku
Secluded Silver Mountain Hot Spring Town: Ginzan Onsen (銀山温泉) is a secluded onsen town located in the mountains of Yamagata Prefecture. The onsen town's name literally translates as "Silver Mountain Hot Spring" and the old silver mine is one of the town's main attractions. Another notable feature of this town is the 22-meter-high waterfall at the back of the town not far from the entrance to the silver mine.
Traditional Onsen Ryokan: Soba and Waterfall Takimikan (滝と蕎麦の宿 瀧見舘) is one of the highest-rated and best day-trip hot springs you can find in Ginzan. Kosekiya (古勢起屋別館) is another awesome-looking traditional onsen ryokan, but apparently, non-staying guests can only use the indoor baths. The most famous and most magnificent of all onsen ryokan is Notoya Ryokan (能登屋旅館), but as far as I know, only staying guests are allowed to use the onsen facilities.
Access: From Tokyo, it will take you about 4 – 5 hours to get to Ginzan Onsen, so I don't recommend it as a day trip.
12. Yufuin Onsen (Near Fukuoka)
Location: 2h from Fukuoka, Oita Prefecture, Kyushu
Kyushu's Idyllic Onsen Town & Beppu's Neighbor: Yufuin Onsen (由布院温泉) is Beppu Onsen Town's little neighbor. While Beppu is a large hot spring resort that consists of several smaller onsen villages, Yufuin is an idyllic and scenic onsen town filled with art museums, cafes, and souvenir shops.
Beautiful Mountain & River Onsen: Mount Yufu with its double peaks is the backdrop and landmark of Yufuin Onsen and you can see the volcano from several onsen and onsen ryokans. One of the most beautiful mountain onsen and also one of the oldest hot springs in Yufuin is Yama no Hoteru Musouen (山のホテル 夢想園) or just Musouen. The gender-separated outdoor baths are huge and the views are superb. Other popular onsens are the Traditional Japanese Inn Makibanoie (旅荘 牧場の家) and Sansuikan (山水館).
Access: By train and get off at Yufuin Station. Fukuoka is about 2 hours away and Beppu is about 1 hour away. From Kumamoto city, it takes 2 -3 hours to get to Yufuin.
13. Ibusuki Onsen (Kagoshima)
Location: 3h from Fukuoka, Kagoshima Prefecture, Kyushu
Beach Onsen Town With 800 Springs: Ibusuki Onsen (城崎温泉) is a small hot spring located in the south of Kyushu near Kagoshima, but somehow this hidden onsen gem has a total of 800 springs. The specialty is not soaking in water, though, but being buried in hot sand that has been naturally heated by a hot spring flowing underground.
Hot Sand Onsen: One of the most popular places to take a hot sand onsen bath is Saraku Sand Bath Hall (砂むし会館 砂楽). It is right next to the ocean and you will get one of these cute colorful umbrellas to shade your face from the sun. If you are looking for real onsen baths you can try Ibusuki Coral Beach Hotel (指宿コーラルビーチホテル) and Ibusuki Hakusuikan (指宿白水館).
Access: By train and get off at Ibusuki Station on the JR Ibusukimakurazaki Line. From Fukuoka (Hakata Station) it will take 2 – 3 hours. Kagoshima is less than 90 minutes away.
14. Ito Onsen (Near Tokyo)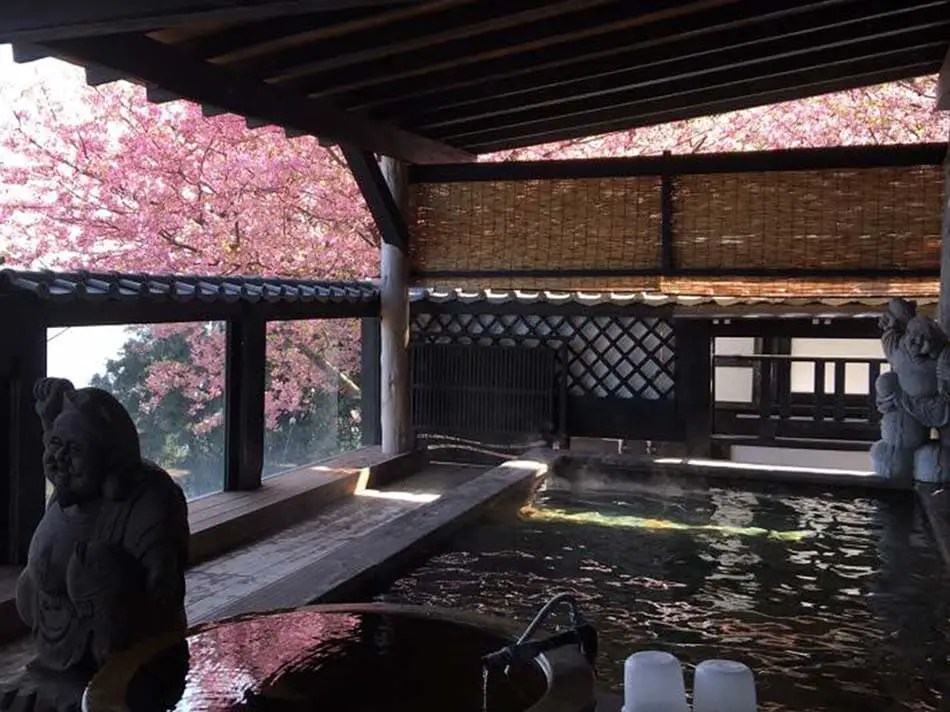 Location: 1.5h from, Shizuoka Prefecture, Chubu
One of Japan's Top Hot Spring Resorts: Ito Onsen (伊東温泉) is another famous and large hot spring resort near Tokyo. While Hakone is located deep in the mountains of a national park Ito is a coastal town right next to the ocean. There aren't too many interesting sightseeing spots in the city but if you like nature you will find plenty of awesome spots and hiking opportunities nearby like for example the Jogasaki Coast or Mount Omuro.
Infinity Onsen Pools: One of the most beautiful and traditional outdoor baths you will find at Izu Ito Onsen Yokikan (伊豆 伊豆高原 陽気館), however, it is a mixed-gender onsen bath. Two other amazing onsens are Yokohama Fujiyoshi Onsen Izuten (横浜藤よし伊豆店) and Akazawa Onsen Resort & Spa (赤沢温泉郷). However, they are not directly in Ito, but further south. For more information, I highly recommend you to read my Ito Onsen Guide. You will find the link below.
Access: By train in about 1.5 hours from Tokyo Station. Take the Shinkansen to Atami Station and transfer to the JR Ito Line.
15. Atami Onsen (Near Tokyo)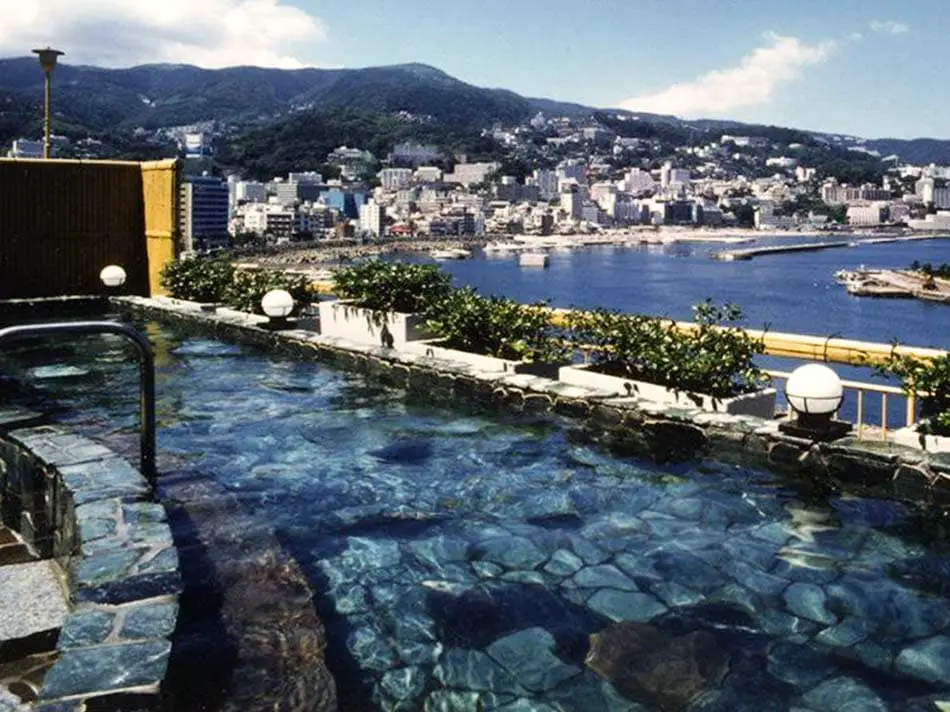 Location: 1h from Tokyo, Shizuoka Prefecture, Chubu
Coastal Onsen Town Closest to Tokyo: Atami Onsen (熱海温泉) is the onsen town that you can reach the fastest and the most conveniently from Tokyo. It is just a short 1-hour Shinkansen ride away. No bus, no transfer, just the Shinkansen, yay! However, that is probably also the reason why it might feel a bit touristy and overpriced.
Nice But Slightly Expensive Onsen: Yuyado Mikan No Ki (湯宿 みかんの木) and Shukaen Yu No Hanazen (秀花園 湯の花膳) are the onsen ryokan I can recommend the most. Both of them welcome day-trippers. If you are in for a short island trip you should visit Hatsushima Island and check out Shima No Yu Hot Spring (島の湯). Hatsushima is just a short 30-minute ferry ride away from Atami.
Access: So easy! Hop on the Shinkansen at Tokyo Station and 1 hour later you will be in Atami.
16. Kinugawa Onsen (Tochigi)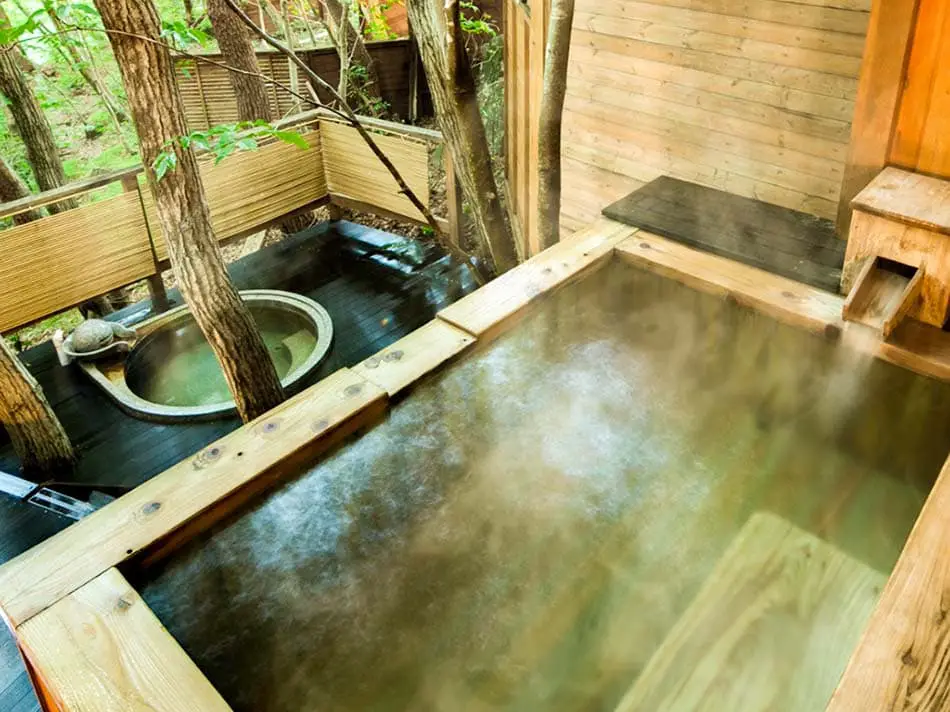 Location: 2.5h from Tokyo, Tochigi Prefecture, Kanto
Leading Hot Spring Resort Near Nikko: Kinugawa Onsen (鬼怒川温泉) is a hot spring resort not far from Nikko. Before only the monks and the daimyo of Nikko were allowed to enjoy Kinugawa's onsen and their benefits but that changed during the Meiji period and now it is one of Kanto's leading hot spring resorts. Nearby you can find all kinds of amusement parks like the Tobu World Square or Edo Wonderland Nikko Edomura.
Onsen Along Kinugawa River: A nice traditional onsen is Yudokoro Suzukaze (湯處すず風). From the beautiful open-air onsen bath, you can overlook the river. Hanare No Yu Akebi (離れの湯 あけび) is another beautiful hot spring with private onsen baths. It is slightly more expensive but you can have the whole tub and a Japanese-style room for yourself.
Access: Take the special Kinugawa Limited Express train bound for Kinugawa Onsen and get off at Kosagoe, Tobu World Square, Kinguawaonsen, Kinugawakoen, or Shin-Fujiwara. Tokyo is about 2.5 – 3 hours away.
17. Ikaho Onsen (Gunma)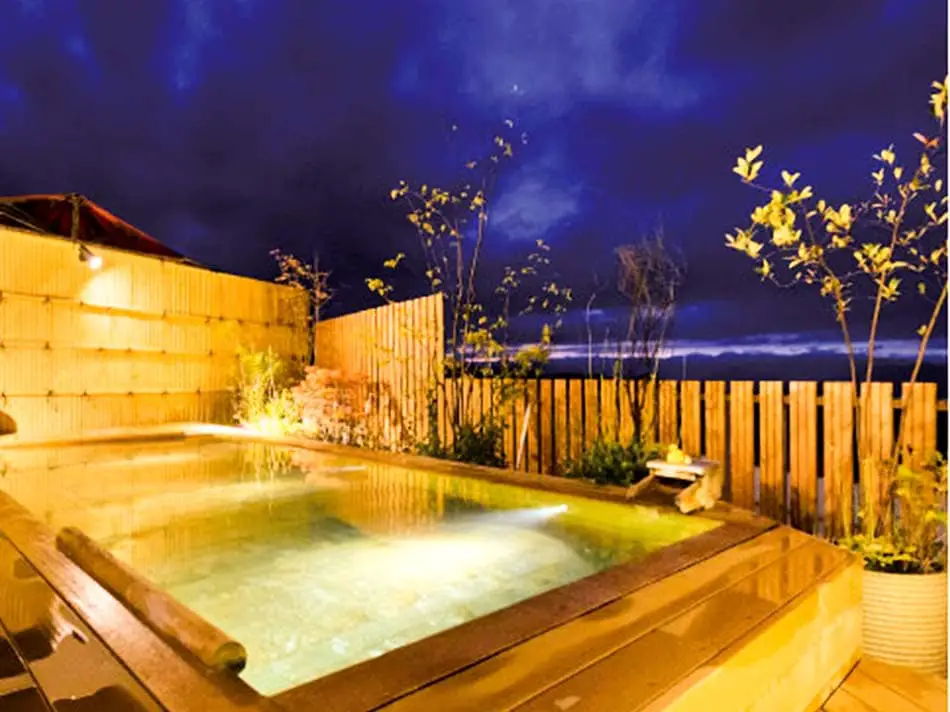 Location: 2.5h from Tokyo, Gunma Prefecture, Kanto
One of Gunma's 4 Famous Hot Spring Towns: Ikaho Onsen (伊香保温泉) is a hot spring resort located on the eastern slopes of Mount Haruna with a history of more than 400 years. It is one of the 4 famous hot spring resorts in Gunma Prefecture together with Kusatsu Onsen, Minakami Onsen, and Shima Onsen.
Onsen With Reddish Hot Spring Water: Ikaho Onsen is famous for the reddish color of its iron-rich thermal hot spring. There are about 24 onsen ryokans and public baths. Nagomigokoro No Yado Omori (和心の宿 大森) or Ikaho Rotenburo (伊香保露天風呂) are good choices for daytime visitors. If you are planning to stay overnight check out the onsen facilities at Hotel Tenbo (ホテル天坊).
Access: 30 minutes bus ride from JR Shibukawa Station. From Tokyo, it takes about 2.5 hours to get to Ikaho.
18. Zao Onsen (Yamagata)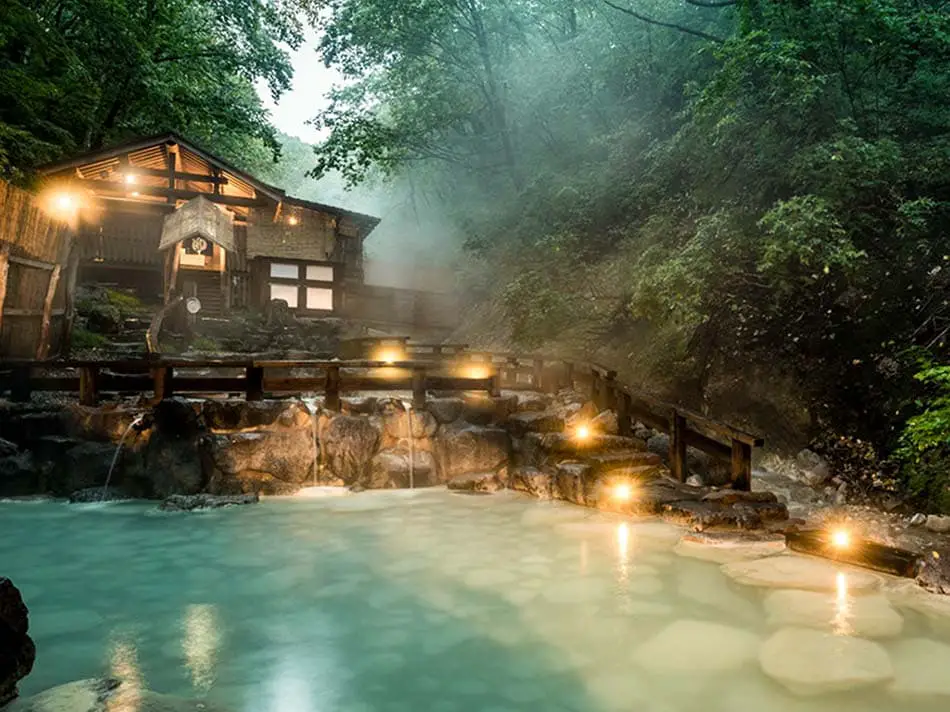 Location: 4h from Tokyo, Yamagata Prefecture, Tohoku
Ski & Onsen Resort Famous For Its Snow Monster: Zao Onsen (蔵王温泉) is a renowned ski and onsen resort deep in the mountains in Yamagata Prefecture. With a history of 2,000 years, it is also one of Japan's older hot spring resorts. Zao Onsen is especially famous for its rare winter phenomenon of frozen trees that take on bizarre shapes and are called "Snow Monsters".
Snow Onsen: There are 5 onsens in this town that welcome day-trippers. Zao Dai-Rotemburo (蔵王温泉 大露天風呂) is a tattoo-friendly bath and is often considered one of Japan's most beautiful outdoor baths. Yunohana Chaya Shinzaemon no Yu (湯の花茶屋 新左衛門の湯) is another great winter onsen near Tokyo. The winter sport and snow season is from early December until early May, but the Snow Monsters are the most spectacular in mid-February.
Access: 40 minutes by bus from Yamagata Station. From Tokyo, it will take you 3 – 4 hours to get to Zao Onsen.
19. Arima Onsen (Near Osaka)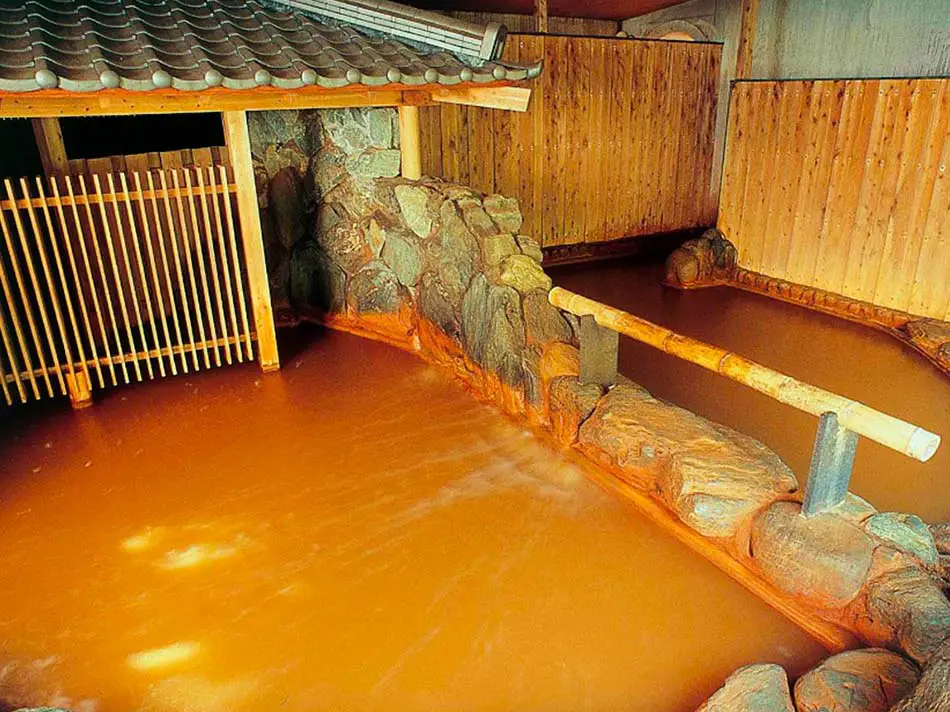 Location: 1h from Osaka, Hyogo Prefecture, Kansai
Ancient Onsen Town With Long History: Arima Onsen (有馬温泉) is the last one of Japan's 3 ancient hot springs and it is one of the nearest onsen towns to Osaka and Kyoto. The onsen town is famous for its two hot springs, the reddish-brown Kinsen ("Gold Spring") and the transparent Ginsen ("Silver Spring"). Since the town is rather small you can easily combine your onsen visit with a day trip to Kobe or Himeji Castle.
Golden Onsen & Silver Onsen: In Arima's 2 public bathhouses, Kin No Yu and Gin No Yu, you can soak in the ancient springs. While the baths are probably not the most beautiful they are some of the most traditional onsen baths in all of Japan. As an alternative, you can try the onsen hotel Arima Grand Hotel (有馬グランドホテル) and the onsen ryokan Tocen Goshobo (陶泉 御所坊). They have nicer onsen facilities and both welcome day trippers. Goshobo's outdoor bath is constructed in such a way that it is gender-separated but you can see and talk to your friend or partner on the other side.
Access: About 1 hour by train from Osaka and Kyoto but you need to transfer at least 3 times and the JR Pass only covers the fee until the first one. First at Sannomiya Station or Shin-Kobe Station, a second time at Tanigami Station, and the last time at Arimaguchi Station. Get off at Arima Onsen Station.
20. Shibu Onsen (Nagano)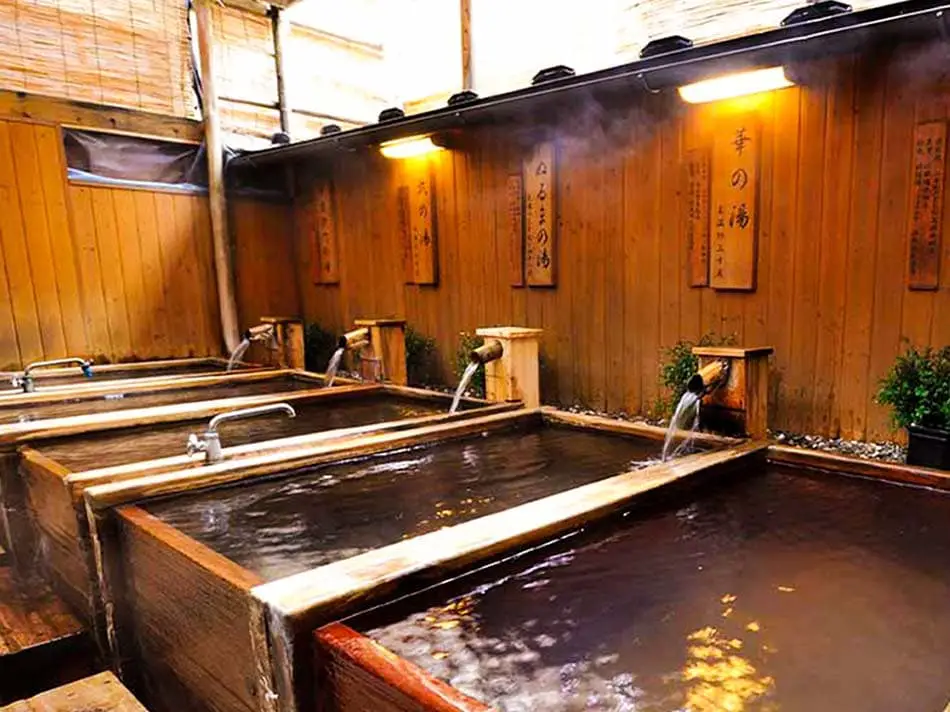 Location: 3h from Tokyo, Nagano Prefecture, Chubu
Traditional Onsen Town Near The Bathing Monkeys: Shibu Onsen (渋温泉) is a traditional onsen town with a history of more than 1,300 years. The famous hot spring bathing snow monkeys are only 2.5 kilometers away from Shibu Onsen and can be easily visited all year round.
Onsen Hopping Stroll With Yukata: This hot spring town is another great onsen hopping town where you can stroll around in Yugata and Geta. There are 9 different public onsen baths but only 1 can be visited as a day tripper. Compared to the other hot springs towns the onsens are quite simple, but there is an ancient tale that you will be blessed with luck when you manage to visit all 9 bathhouses. This is a fun quest you can try when you are staying overnight
Access: 30 minutes on foot or 7 minutes by bus from Yudanaka Station. If you take the Nagano Shinkansen it will take about 2 – 3 hours from Tokyo. Nagano is about 1 hour away.
Even More Famous Onsen Towns in Japan
Nasu-Shiobara Onsen – Nasu Onsen (那須温泉) and Shiobara Onsen (塩原温泉郷) are 2 onsen towns in Tochigi Prefecture near Tokyo. They are so close to each other that they are often referred to as Nasu-Shiobara Onsen. If you are looking for hot springs that are good for the skin, surrounded by nature, and quiet but near Tokyo, this should be your first choice.
Yugawara Onsen (湯河原温泉) – A nice onsen resort with a long history of more than 1,250 years located in Kanagawa Prefecture. The onsen is less famous than its popular neighbors Atami Onsen and Hakone Onsen and therefore also less crowded. So a good alternative if you are looking for a relaxing soak just 90 minutes away from Tokyo.
Shuzenji Onsen (修善寺温泉) – Attractive onsen resort located in the middle of Shizuoka's Izu Peninsula not far from Ito Onsen. The town center with the river and the Tokko No Yu Ashiyu located in the middle of the river bed as well as the nearby bamboo forest are quite scenic and have a peaceful atmosphere.
Onsen Towns Near Tokyo: My favorite 14 onsen towns near Tokyo with detailed descriptions of their hot springs and recommended onsen ryokan where you can stay overnight.
Onsen Towns Near Kyoto & Osaka: You can find 2 of the 3 ancient springs in Kansai and Japan's most picturesque hot spring resort Kinosaki Onsen. Plus, a lot of other beautiful onsens with ocean or lake views.
Onsen Town in Hokkaido: If you like skiing or snowboarding then you should definitely choose one of the hot spring resorts in Hokkaido. You will be rewarded with powder snow and a soak in some of the most scenic winter onsen.