After a long day of sightseeing soaking in a Japanese hot spring is one of the best ways to relax and recharge your mind, but what about your skin? Is going to an onsen good for the skin? Here is what I found out about the beauty benefits of hot springs for your skin.
Scientific studies have proven that certain types of hot springs have a rejuvenating effect on the skin and promote wound healing. There are plenty of components in the water of Japanese hot springs that help to remove dead cells, stimulate blood circulation, and make your skin smooth and clear.
These are just some of the beauty benefits you can reap when soaking in an onsen in Japan. Below I have a more detailed list and you will also learn what you should and shouldn't do to maximize the beauty benefits and effects of onsen.
This is especially important for you to know if you have more sensitive skin. So I have also listed the onsen and hot spring towns that are most renowned for the beauty effects of their spring water and the best places to visit if you have sensitive skin.
Why Onsen Are Good For The Skin – 8 Beauty Benefits
Japan is the land of the hot springs and there is an onsen for every occasion. You can go to the ocean and enjoy the sunset while soaking in a beautiful beach onsen. You can go hiking and relax in a tranquil mountain onsen while overlooking the snow-capped mountains. And you can visit an onsen as part of your beauty routine and rejuvenate your skin gently and naturally.
1. Anti-Aging Effect
Free radicals are not only the reason for illnesses such as cancer but also the source of aging. They corrode the skin cells and their membrane and can damage the DNA inside of them up to point that it becomes cancerous. This is also called oxidation.
Hot springs cause the opposite of that, restoration, because of their oxidation-reduction and antioxidant effects. The components in the onsen water help to reduce corroded and damaged cells and they also prevent further oxidation leaving your skin refreshed and youthful.
2. Clear Skin Effect
Soaking in the hot water stimulates blood circulation and opens up your pores. Similar to sweating in a sauna this has a cleansing effect on your skin and helps to flush out impurities. After the pores are open the natural components in the water will stick to your skin and create a protective membrane keeping your skin clean for several hours after your bath.
3. Detoxing Effect
The detoxing effect is also caused by increased blood flow and sweating. Medical studies have shown that toxins can be flushed out through the skin. This will not only cleanse your body and skin but also relieve the burden on your kidneys and liver.
4. Moisturizing Effect
The steam of the hot spring water hydrates the skin and works as an excellent natural moisturizer. If you have dry skin it can also increase oil production so your skin won't be flaky.
5. Rejuvenating Effect
Next to reversing aging effects the oxidation-reduction and restoration effects of the components in hot spring water also promote the production of new skin cells. This is the best and most natural way to make your skin look young and refreshed.
6. Silky Skin Effect
During your bath in the onsen, the components will start sticking to your cleansed skin and build a protective membrane. As long as you don't wash it off this membrane will cocoon your skin for up to 2-3 hours after your bath and keep your skin smooth and silky. I personally also feel like it makes really nicely glowing skin.
7. Nourishing Effect
Some of the elements you can find in hot spring water have a nourishing or replenishing effect on the skin. One example of this is sulfur, which has been used by dermatologists for ages to fight acne breakouts.
8. Improved Wound Healing Effect 
One of the studies that have proven that onsens are good for the skin and promote skin wound healing is this study which you can find on the website of the US National Library of Medicine.
Toshiyuki Ojima and his team found that bathing in the carbonate ion-enriched onsen water of a hot spring in Nagano inhibited inflammatory reactions and enhanced the healing process of skin wounds.
Onsens have actually many more health benefits besides wound healing. They can ease bruises, dermatitis, eczema, and other chronic skin diseases as well as rheumatism, neurosis, and neuralgia. I'm not sure if I will ever write a post about this since this is very medical and I am not a doctor, but if so I'm going to link it here.
How to Maximize Onsen Benefits For Beautiful Skin
Before we take a look at the best hot springs for your skin, I want to share some tips on how you can maximize the beauty effects and benefits of any onsen visit. Cause the right bathing method is essential in order to reap all of the onsen benefits.
A lot of you might think that you just have to soak longer in order to get more beautiful skin. But this could actually be very dangerous. If you soak for too long you will get dehydrated and you could lose consciousness while being in the water. So it is very important that you always stick to the recommended soaking time for onsen and don't overdo it.
Instead, it is more important what you do after bathing. I highly recommend you do not take a shower after your onsen bath because it will just wash off the components and diminish their beauty effects. As long as you don't shower them off, the components will stick to your skin and be effective for several more hours. This is by far the most effective way to extend the beauty effects of onsens.
The only exception to this is strong sulfur or acidic springs. Especially if you have sensitive skin because they could cause irritations. You don't have to worry about visiting an onsen, though. Personally, I have never had any issues, rather the opposite, my skin was always clear, smooth, and glowing after bathing.
As a general rule, I would suggest: If your skin doesn't feel good or feels itchy during or after bathing, you should take a shower after the onsen bath. And in case you are worried about hygiene, I recommend you rinse your body with Agari Yu. I have explained all about it in my "Should You Shower After Onsen?" post which I have also linked to above.
Top Onsen With Beauty Benefits For Your Skin
Now that we know that onsens are good for the skin and also know in detail about all of their beauty benefits and how to maximize them, I want to introduce you to springs and hot spring towns that are known as "Beauty Onsen".
In Japan, these onsens are usually called "Bihada Onsen" (美肌温泉) or "Bihada no Yu" (美肌の湯) which means "Beautiful Skin Onsen" or "Beautiful Skin Spring". Sometimes they are also called "Bijin no Yu" (美人の湯) which translates as "Pretty Women Hot Spring".
1. Narada Hot Spring Shiranekan (Yamanashi)  
Narada Hot Spring Shiranekan (奈良田温泉 白根館) is one of the most popular hot springs in Narada Onsen town. The small onsen town is located deep in the mountains of Yamanashi Prefecture. The onsen's mysterious spring is an alkaline sulfur hot spring that can change its color from clear blue to emerald green to milky white on the same day.
Sulfur springs have been renowned for their health and beauty benefits since ancient times. They can be used as a natural cure for acne and they can also help to get rid of blemishes and whiten your skin. When you get into the water of Shiranken's onsen you will be surprised how thick the water feels because of all the components.
Narada Onsen has also been selected as one of the top 3 onsen towns with a moisturizing effect on the skin.
Location: Narada Onsen, Hayakawa, Yamanashi Prefecture
Website: www.hayakawakankou.jp
2. Ogoto Onsen – Yumotokan (Near Kyoto & Osaka)
Yumotokan (湯元館) is one of the 9 Japanese inns you can find in Ogoto Onsen. The small onsen town is near Kyoto and Osaka and is located right next to the shores of Lake Biwa, Japan's largest freshwater lake, and can be reached in only 20 minutes from Kyoto by train. With a history of more than 1,200 years, the hot spring has been reputed to give beautiful skin for ages.
It really doesn't matter which of the onsen ryokans you are going to visit because all of the onsens will be good for your skin. However, my personal favorite is Yumotokan. Here you can heal your soul and silken your skin in a total of 7 different hot spring baths while enjoying magnificent views of Lake Biwa. They also have really beautiful private onsen baths.
Location: Ogoto Onsen, Near Kyoto, Shiga Prefecture
Website: www.yumotokan.co.jp
3. Naruko Onsen – Yusaya Ryokan's Unagi no Yu (Miyagi)
Yusaya Ryokan (ゆさや旅館) is a traditional Japanese inn with a history of more than 380 years located in Naruko Onsen. The inn has 2 indoor baths and an open-air bath (rotenburo) from where you can enjoy one of Tohoku's most beautiful autumn colors in November.
One of their onsen baths called "Unagi Yu" (うなぎ湯) is filled with the water of an alkali hot spring. This spring is especially good for the skin and is also known as the "hot spring for pretty women".
It removes old keratin, cleanses your pores, and makes the skin soft and silky. After your bath, the components in the onsen water will keep your skin moist for several more hours. So you won't need any hand cream or moisturizing lotion.
Location: Naruko Onsen, Osaki, Miyagi Prefecture
Website: www.yusaya.co.jp (Japanese)
4. Mimata Onsen (Shimane)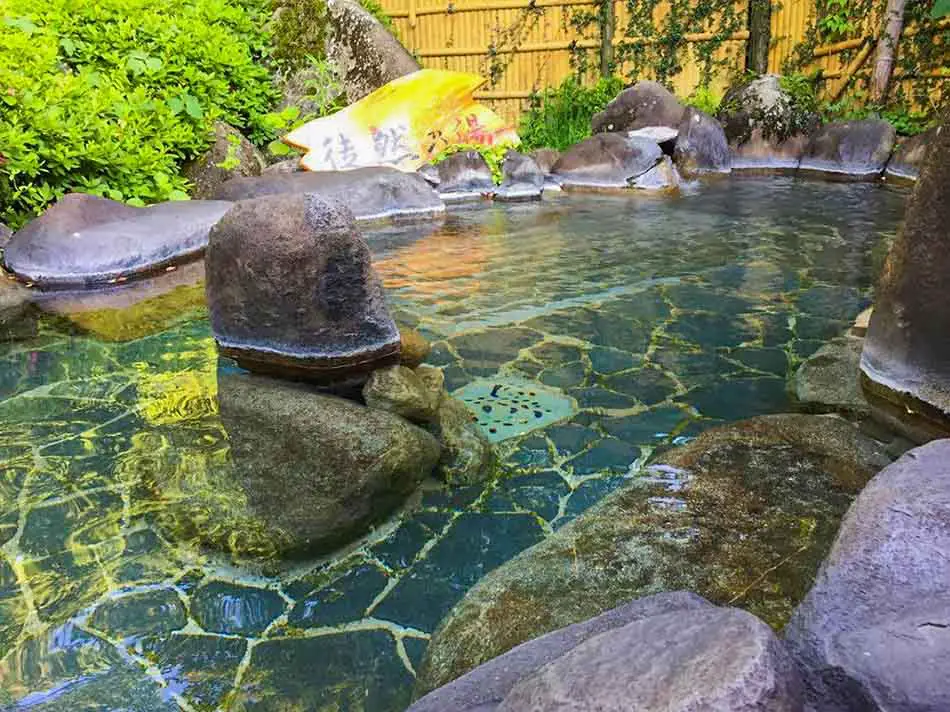 Mimata Onsen (美又温泉) is one of the most famous hot springs in Shimane. The onsen has been around for more than 150 years and has been well known as "Bijin no Yu" aka "Pretty Women Hot Spring" since the Meiji period. Its hot spring water has alkaline properties and can help to heal skin diseases.
When you get into Mimata's hot onsen tubs you will immediately feel the water's slightly slippery texture and its moisturizing effect. Since the hot spring's beauty benefits for the skin are so well known the onsen also sells its own cosmetic made from hot spring water.
Location: Near Hamada, Shimane Prefecture
Website: www.mimataonsen.com (Japanese)
5. Gero Onsen – Yunoshimakan (Gifu)
Yunoshimakan (湯之島館) is a traditional Japanese inn found in one of the 3 most famous hot spring towns in Japan: Gero Onsen in Gifu Prefecture. Already back in the Edo period, the Confucian poet Hayashi Razan advertised Gero Onsen as one of Japan's best hot springs and the small town keeps this title today.
The alkaline-based hot springs of the onsen town are renowned for the water quality and the good effects on the skin. The springs are also nicknamed "beauty hot spring" because of how moist and smooth your skin will feel after soaking in the water.
Many of my female students love to visit Yunoshimakan because, instead of their regular beauty routine, they can just sit in one of the open-air hot spring baths, enjoy the great mountain views, and wake up with beautiful skin.
Location: Gero Onsen, Gifu Prefecture
Website: www.yunoshimakan.co.jp
6. Kannon Onsen Spa (Shizuoka)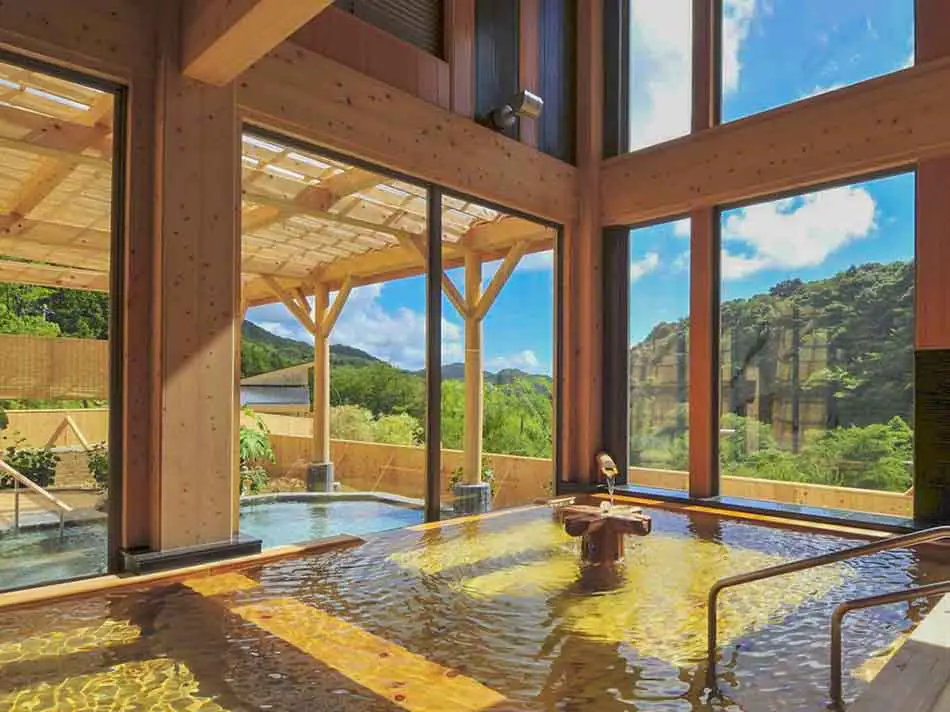 Kannon Onsen (観音温泉) or Kannon Spa is about half an hour away from Shimoda city. This cute coastal town is located in the south of the Izu Peninsula and is famous for its sand beach Shirahama Beach. In Shimoda, you can enjoy all kinds of marine activities and also soak in a nice beach onsen while overlooking the ocean.
Kannon Onsen, however, isn't a beach onsen. From the outdoor bath, you can overlook the surrounding forest and hills. The water comes from the spa's very own alkaline hot spring source with an extremely high pH of 9.5. This onsen isn't only renowned for making your skin beautiful but also for the drinkable natural mineral onsen water that they sell at their shop.
Location: Near Shimoda, Shizuoka Prefecture
Website: www.kannon-onsen.com (Japanese)
7. Okudogo Onsen – Okudogo Ichiyu no Mori (Ehime)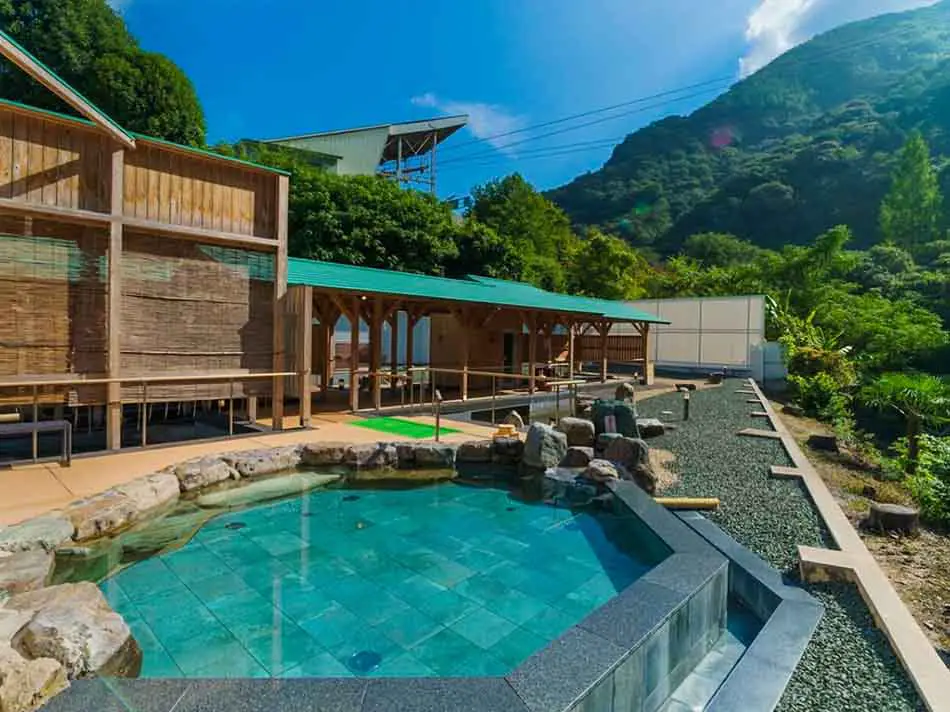 Okudogo Ichiyu no Mori (奥道後 壱湯の守) is a beautiful hot spring inn with the largest open-air bath in western Japan. You can get there in less than half an hour from Matsuyama. In case you haven't heard of Matsuyama, one of its hot springs, Dogo Onsen, is actually pretty famous as it has been one of the inspirations for the popular Ghibli film "Spirited Away".
The ryokan has 3 different rotenburo with beautiful views over the nearby mountains. Their alkaline hot spring has a pH of 9.4 and is referred to as "Bijin no Yu" (literally "Pretty Women Spring") since it is one of the springs that are especially good for your skin.
Location: Okudogo Onsen, Near Matsuyama, Ehime Prefecture
Website: www.okudogo.co.jp (their website can be a bit slow…)
8. Soutome Onsen (Day Tri From Tokyo)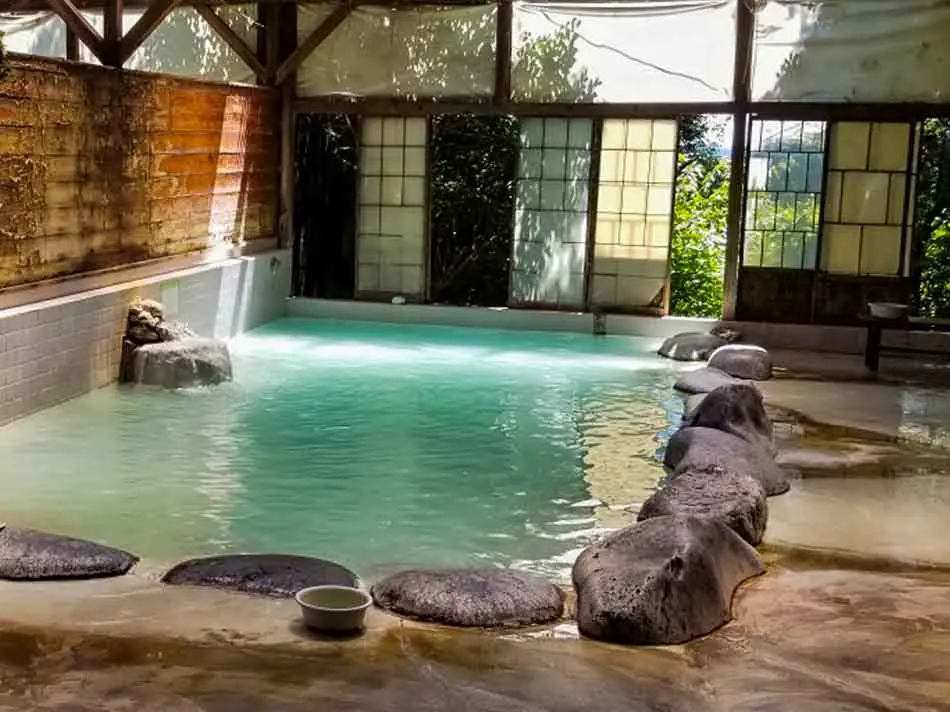 Soutome Onsen (喜連川早乙女温泉) is a tranquil hot spring spa just a bit further north of Utsunomiya in Tochigi Prefecture. You can get there in about 3 hours from Tokyo. The hot spring is also kinda close to Nikko, so you could combine it with a trip to the popular destination and its famous temple.
This hot spring's water also changes its color during the day. Around noon it is usually emerald green, while at night it turns milky white. Its components are a perfect balance of salts, sulfur, and iron that are not only beneficial for the skin but also for common problems experienced by women.
Location: Sakura city, Near Utsonomiya & Nikko, Tochigi Prefecture
Website: www.soutome-on.com (Japanese)
The Best Hot Springs For Sensitive Skin
If you have sensitive skin you can still enjoy onsen baths without any issues. I would just recommend you select the type of hot spring more carefully. Try to avoid hot springs that have acidic water and visit an onsen with a simple thermal spring or slightly alkaline hot spring.
Simple thermal hot springs (単純温泉) are very mild and gentle on the skin and therefore the perfect choice for the elderly, children, and people with sensitive skin in general. In Japan, when babies have their onsen debut the parents usually visit a simple thermal hot spring.
Luckily, many famous hot springs are actually simple thermal hot springs. Most of my recommendations above also fall under this type of hot spring. Gero Onsen, for example, is a simple alkaline hot spring. Other famous onsen towns you can visit are Dogo Onsen, Kurokawa Onsen, Beppu Onsen, Yufuin Onsen, Okuhida Onsen, and Lake Akanko Onsen.
Recommended Onsen Towns near Tokyo are Hakone Onsen, Ito Onsen, Atami Onsen, Nikko Onsen, Nasu-Shiobara Onsen, Kinugawa Onsen, and Ikaho Onsen.
A good hot spring town near Kyoto and Osaka is Arima Onsen. And there are a few more hot spring places but they are less famous.
Also, keep in mind that it might be better to take a shower after your onsen bath if you have sensitive skin.