A lot of Japan's best and most beautiful outdoor hot springs and onsen towns are located high up in the mountains. Once you start looking for a beautiful mountain onsen you will literally find hundreds of them. So it can be really hard to decide which one you should give a try.
To help you with your choice I have spent more than a week checking and comparing all the major and remote mountain onsen and onsen ryokans in Japan. No matter if you are looking for a nice onsen after a long hike through Japan's Alps or if you are looking for a nice hot spring to warm you up after hitting the piste, you will find the right mountain onsen below.
Each hot spring and onsen ryokan has its very own charm and they are in beautiful outdoor regions all over Japan. But all of the onsens are either high up in the mountains or have breathtaking panoramic views of the surrounding mountains. I have also tried my best to include mountain onsens that you can visit as a day trip from major tourist destinations like Tokyo, Osaka, Kyoto, and Nagoya.
Beautiful Mountain Onsen For a Day Trip
1. Hakuba Highland Hotel (Near Nagano)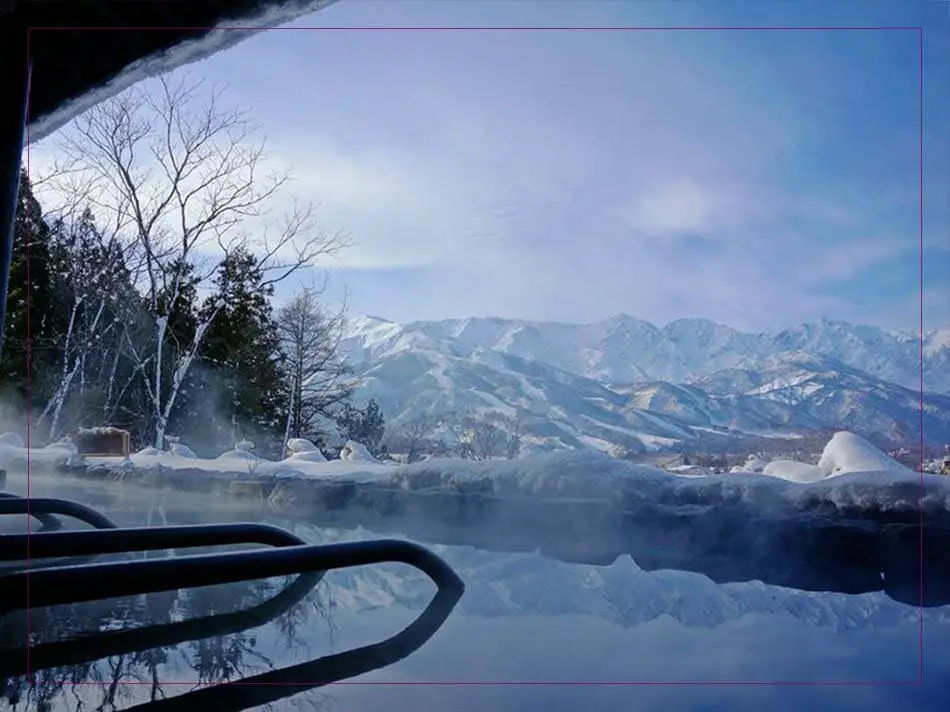 Location: Hakuba, Nagano, Nagano Prefecture
General Information: Hakuba Highland Hotel (白馬 ハイランド ホテル) is all the way up in the north of Nagano Prefecture, near Niigata Prefecture and Toyama Prefecture. The village was the main venue for the Winter Olympics 1998 and is now a popular and internationally renowned ski resort.
From Nagano city, there is a direct bus to Hakuba Station. It takes about 90 minutes and costs 2,000円 (about $20 or 20€). Or you take the Hokuriku-Shinkansen and the JR Oito Line. It will take longer, 2.5 hours, but it is covered by the JR pass. If you take the Shinkansen to Nagano you can go there as a day trip from Tokyo.
Mountain Onsen: From 11:00 – 20:00 o'clock the onsen also opens its doors for non-staying guests. The onsen is located 700 meters above sea level and offers a magnificent mountain view of Japan's Northern Alps. You can see them from both, the 10 meters wide outdoor pool with a lie-down bath and the indoor bath.
In winter you will be able to take a bath being surrounded by snow, while in spring you will have the beautiful snow-covered mountains in the back. What's also special about this onsen is that you can often see the mountains being reflected on the surface of the outdoor bath which looks insanely beautiful.
Private Onsen: The hot spring spa also has a private onsen for rental, but only for guests staying overnight. The fee is 3,000円 (about $30 or 25€) for 50 minutes. You can make a reservation for the same day at the front desk.
Access: 15 minutes from Hakuba Station
Price: 700円 (about $7 or 6€), each month on the 26th just 400円
Website: www.hakuba-highland.net (Japanese)
2. Yama no Hoteru Musouen (Near Beppu)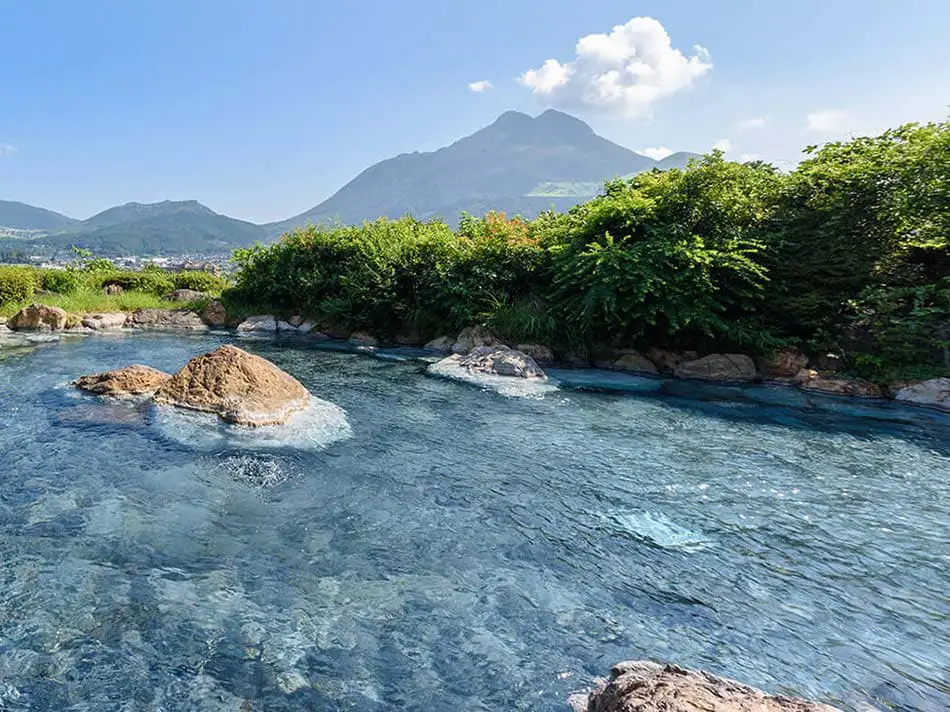 Location: Yufuin Onsen, Oita Prefecture
General Information: Yama no Hoteru Musouen (夢想園) is a tranquil hot spring ryokan surrounded by mountains. It is located in the southern part of Yufuin, a popular hot spring resort. Beppu, one of Japan's most famous onsen towns, and its scorching but colorful Hells (Jigoku) are just around the corner too.
So this ryokan is the perfect base to explore Japan's beautiful southern island Kyushu. From Beppu, you can come here in about 1 hour and from Hakata Station (Fukuoka) it will take you a bit more than 2 hours via the JR Kyudai Line Limited Express.
Mountain View Onsen: Musouen has extremely spacious open-air baths with one of the best panoramic views in Yufuin. Kukai no Yu, the women's open-air bath measures 273.6 square meters. Gomuso no Yu, the men's rotenburo is about 182.4 square meters large.
From the hot tubs, you can overlook the Yufuin Basin and on clear days you can see the twin peaks of Mt. Yufu. Besides the awesome view, you can also enjoy and feel the long history of this traditional and beautiful onsen ryokan. Their oldest outdoor bath Kobo no Yu enshrines a Kobo stone with ties to Gomuso Onsen, a hot spring that has been flowing for 600 years.
As a non-staying guest, you can bathe here from 10:00 – 15:30 o'clock. On certain days certain baths are unavailable, though. So check before you come or you won't be able to enjoy the view. Monday, Tuesday, and weekends seem best.
Private Onsen: The onsen has two private family baths. One open-air bath, and one indoor bath. You don't need to reserve them. As long as the door is open and they are unoccupied, you are welcome to use them. However, they can only be used by families and groups.
Access: 19 minutes from Yufuin Station, 7 minutes by taxi from Yufuin Station
Price: 900円 (about $9 or 8€)
Website: www.musouen.co.jp
3. Hottarakashi Onsen (Near Tokyo)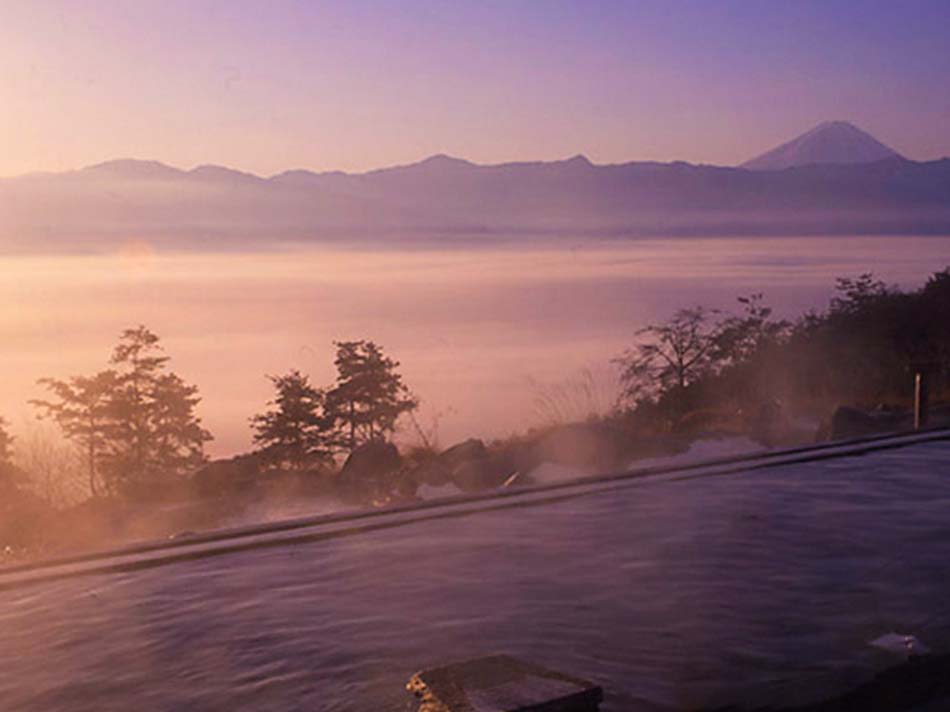 Location: Yamanashi, near Kofu, Yamanashi Prefecture
General Information: Hottarakashi Onsen (ほったらかし温泉) is a famous hot spring with superb views of Mt. Fuji and is also known for its scenic sunrise and beautiful night view. You can get here in 2 – 3 hours from Tokyo by JR Limited Express train on the Chuo Line towards Kofu.
The train ride is covered by the JR Pass but after getting off at Yamanashishi Station you have to take a taxi since there is no public transportation to the onsen. Taxis are quite expensive in Japan and the 10 minutes to the onsen will be 2,400円 (about $24 or 20€). You can also combine the onsen visit with a trip to Kawaguchiko (Fuji Five Lakes).
Mt. Fuji View Onsen: The natural hot spring water comes from an alkali hot spring that isn't too strong and therefore good for people with sensitive skin. From the outdoor bath, you can overlook the countryside northeast of Kofu and see Mt. Fuji in the distance. The view is spectacular during the day when you can see Japan's iconic volcano and at night when you see the sparkling lights of the city below you.
Hottarakashi Onsen's view is so beautiful that it has been featured in the anime Yuru Camp△. You can soak here from as early as 4:30 or 5:30 (1 hour before sunrise) until 22:00 o'clock
If you have a tattoo you can still come here for a soak. It's a tattoo-friendly onsen!
Access: 10 minutes by taxi from Yamanashishi Station
Price: 800円 (about $8 or 8€)
Website: www.hottarakashi-onsen.com (Japanese)
4. Hotel Associa Takayama Resort (Near Nagoya)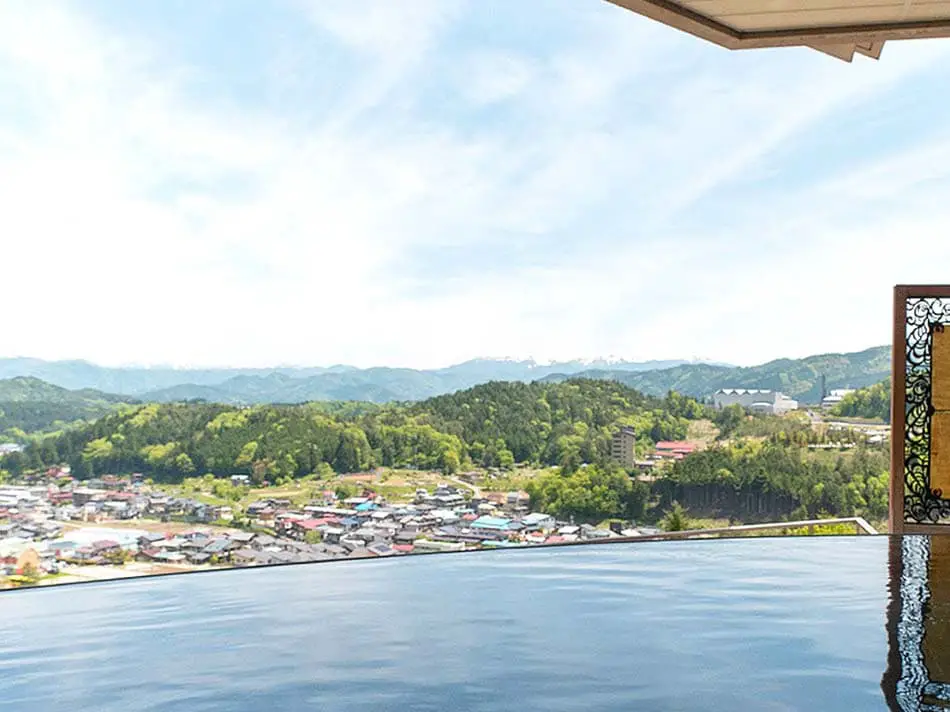 Location: Takayama, Gifu Prefecture
General Information: Hotel Associa Takayama Resort (飛騨高山 ホテルアソシア高山リゾート) is a refined hot spring resort located in the mountainous Hida region of Gifu Prefecture. When I traveled through all 47 prefectures, Takayama was by far one of the most beautiful cities of my entire trip. But not only the city itself the whole region is just gorgeous.
Gifu's hot spring towns Okuhida and especially Gero Onsen in the south are renowned for their natural onsen baths, special water quality, and traditional ryokans. Charming Shirakawago is also just a day trip away and let's not forget about Hida beef, which is even better than Kobe beef, in my opinion!
From Nagoya Station, you can take the JR Hida Line all the way to Takayama Station. The one-way trip takes about 2.5 hours.
Mountain View Onsen: As a guest, you can use the hotel's onsen facilities for free. Non-staying guests can use the free shuttle service to the hotel and enjoy the onsen spa from 12:00 – 21:00 o'clock. The hotel has 1 bathing area for each gender, Ten no Yu on the 7th floor, and Bou no Yu, on the 5th floor. They change on a daily basis, so when you are staying overnight you are able to enjoy all baths.
From both outdoor baths, you have a mountain view and can see the Northern Alps, though, so you don't have to worry. But, of course, the view from the higher floor is a bit nicer. In total, the spa has 10 different outdoor baths, 2 indoor baths, a jacuzzi, and a low-temperature sauna.
Access: 35 minutes from Takayama Station, 8 minutes by free shuttle bus from Takayama Station
Price: 1,200円 (about $12 or 10€)
Website: www.associa.com
5. Spa Resort Ryokan Hakone Ginyu (Near Tokyo)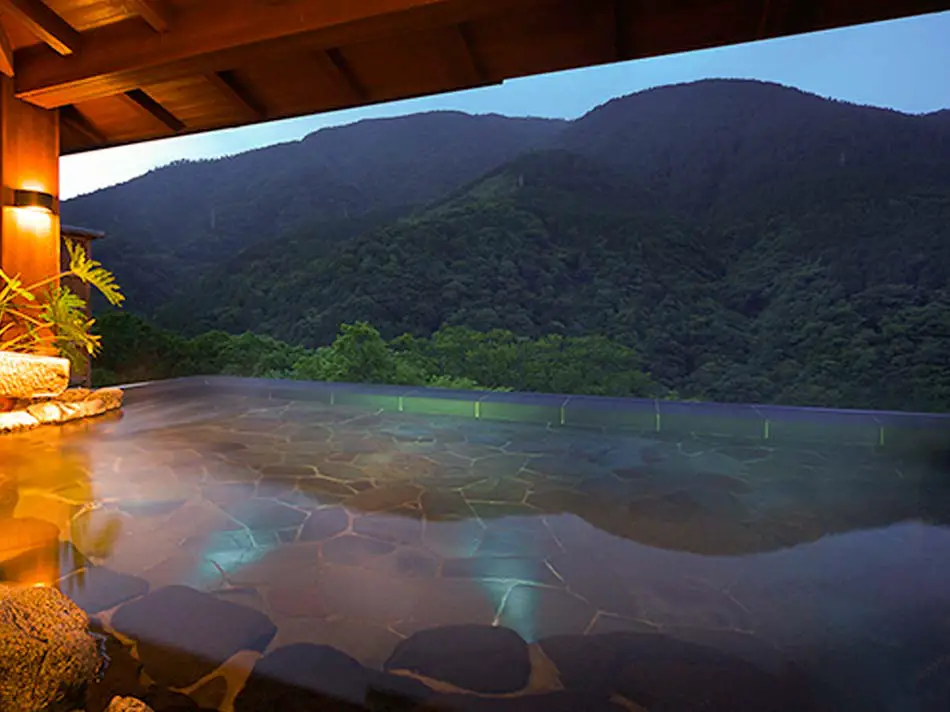 Location: Hakone, Kanagawa Prefecture
General Information: Spa Resort Ryokan Hakone Ginyu (箱根吟遊) is an attractive 4-star Onsen Ryokan located in the mountains of the Fuji-Hakone-Izu National Park. The whole region is a true nature paradise but especially Hakone is famous for its hot springs, Lake Ashinoko, and beautiful views of Mt. Fuji. It is a popular destination for Japanese and international outdoor lovers and counts as one of the best hot spring resorts near Tokyo.
It just takes 90 minutes to get here from Japan's capital. Just hop on the Tokaido-Sanyo Shinkansen towards Odawara and transfer to the local network of buses, trains, cable cars, and ropeways. Together with Nikko, it is probably the most popular day trip from Tokyo.
Mountain Onsen: Before you get too excited about this ryokan there is one thing you need to know, though. Non-staying guests can only use the onsen in combination with a treatment at the day spa. And the treatments start at 10,000円 (about $95 or 85€) and need to be booked beforehand.
But if you decide to turn your onsen visit into a full spa day you will be rewarded with one of the most beautiful and colorful mountain views of all the mountain onsens mentioned in this post. From an altitude of 420 meters, the onsen ryokan is offering close views of the Hakone Mountains and the Hayakawa ravine. In summer you will be surrounded by lush green. In autumn you can enjoy the hot onsen bath and the red autumn leaves.
Private Onsen: If you want to spend a romantic evening with a special someone this might be one of the most romantic onsens you can find. They have a private onsen that can be booked at night from 21:00 – 23:00 o'clock for just 12,000円 (about $112 or 100€). You can bring your own CD and you will have a bartender serving you drinks. For a little extra you can even get champagne, a birthday cake, flowers, or candles. Perfect for an anniversary or honeymoon. In case you decide to stay here you will have a private onsen on the open terrace of your room.
Access: 5 minutes from Miyanoshita Station, 30 minutes by bus from Odawara Station
Price: 10,000円 (about $95 or 85€)
Website: www.hakoneginyu.co.jp
6. Maguse Onsen (Near Nagano)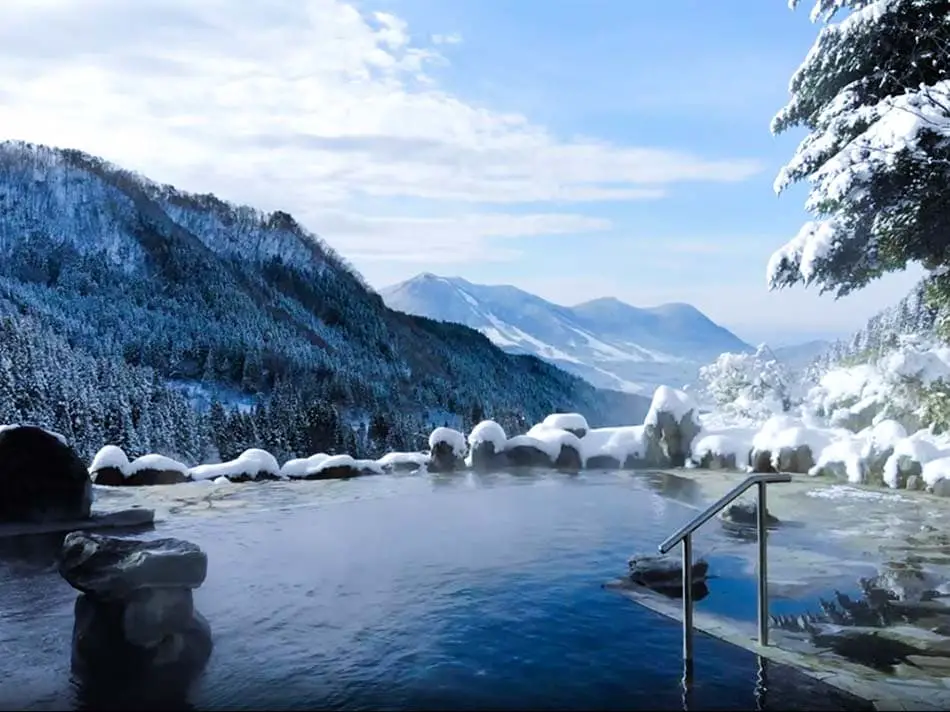 Location: Kijimadaira, Near Nagano, Nagano Prefecture
General Information: Maguse Onsen (馬曲温泉) is about 45 kilometers further north of Nagano city in the middle of the mountains. By Shinkansen it will only take you 11 minutes to Iyama Station but after that public access is extremely limited and you probably need to get a taxi for the 15 minutes up to the hot spring.
The extremely foreigner-friendly ski resort and hot spring town Nozawa Onsen is in the same region less than 30 minutes away.
Mountain Onsen: This Onsen was rated as one of the top hot springs in Eastern Japan. It is also one of Japan's most traditional onsens and its baths have been around since 1987. The spring is 100% natural and can ease nerve pain, and muscle pain, and it has a lot of beauty benefits for your skin, too.
The gender-separated bath features an indoor bath and a spectacular rotenburo surrounded by nature and mountains. On clear days you can see Japan's Northern Alps in the distance. In winter it will turn into a snow onsen and in autumn you can see beautiful fall colors. You can take a bath from 8:00 – 21:00 o'clock except for Wednesdays and irregular holidays.
Access: 15 minutes by taxi from Iyama Station
Price: 500円 (about $5 or 5€)
Website: www.maguse-onsen.com
7. Okame Hot Spring (Near Osaka, Kyoto)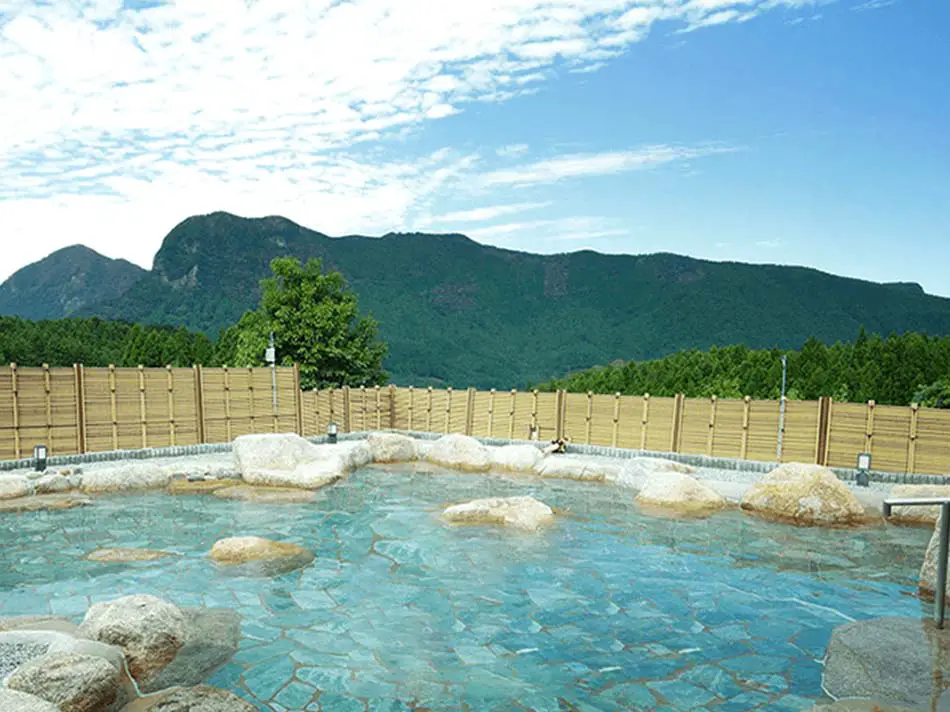 Location: Soni Kogen, Nara Prefecture
General Information: Okame Hot Spring, also known as Soni Kogen Onsen Okame no Yu (曽爾高原温泉 お亀の湯) is an unexplored area in the tranquil Soni River basin. It is located at the northeastern end of Nara Prefecture and next to Mie Prefecture. The area is well known for the most beautiful sunset in Japan, Soni Highland's golden and green pampas grass, and the mountain that looks like the back of a turtle, Mt. Kame. You can also see some of the latest cherry blossoms in the Kansai region.
From Nara or Ise you can get here in 90 minutes. While from Kyoto, Osaka, and Nagoya you can get here in about 2 – 3 hours.
Mountain View Onsen: Okame Hot Spring's water quality was ranked as No. 1 in Western Japan. The onsen features two gender-separated types of bathrooms with relaxing open-air baths. A Stone Bath and a Wood Bath are alternated on a weekly basis. From the rotenburo in the Wood Bath, you can see Mt. Kabuto and Mt. Yoroi. From the open-air tub in the Stone Bath, you can see Soni Highland. Spring is the most recommended season for a soak at this onsen.
From April until the end of November, the bath is open from 11:00 – 21:00 o'clock (last admission 20:00). And from December until the end of March the business hours are from 11:00 – 20:30 o'clock (last admission 19:30). On Wednesdays and the day after a national holiday, the bath is usually closed.
Access: 45 minutes by bus from Nabari Station, 2 hours by bus from Osaka, 2.5 hours by bus from Nagoya
Price: 750円 (about $7 or 7€)
Website: www.soni-kogen.com (English PDF available)
8. Manza Onsen Nisshin Kan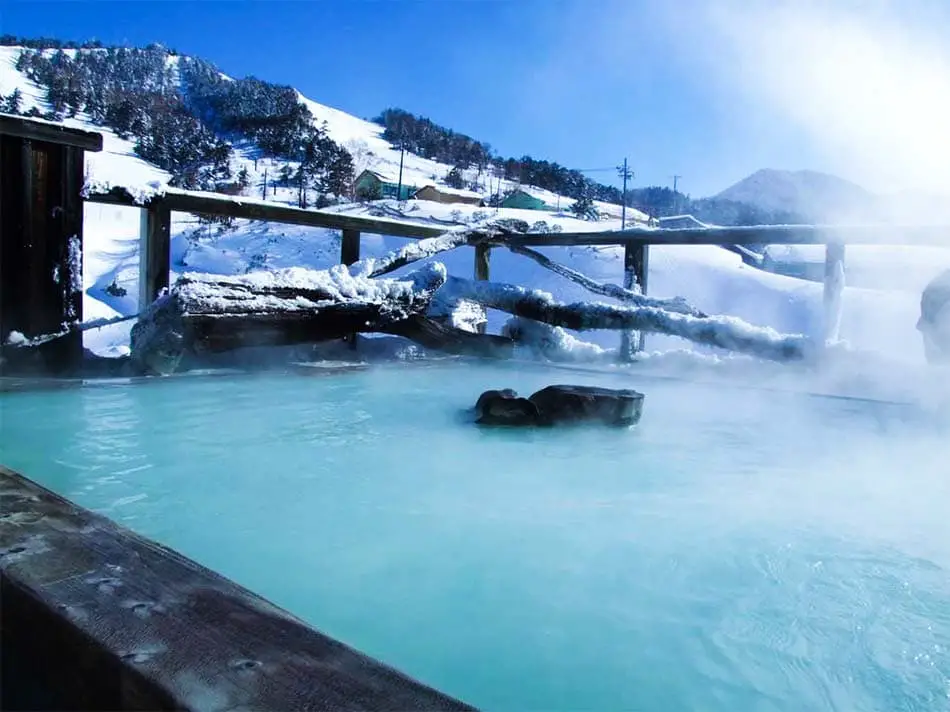 Location: Manza Onsen, Gunma Prefecture
General Information: Manza Onsen Nisshin Kan (万座温泉 日進舘) is a 4-star hotel located on the slopes of Mount Shirane in Gunma Prefecture. This onsen town's excellent hot spring water is one of the most sulfuric in all of Japan and provides various health benefits. The town naturally produces 5.4 million liters of hot spring water. From Tokyo, you can come here in about 3 hours.
Another very famous onsen town in Gunma Prefecture, Kusatsu Onsen, is also just around the corner.
Mountain Onsen: Nisshinkan's gender-separated hot spring bath is at an altitude of 1,800 meters with a magnificent panoramic view of the surrounding mountains during the day and a sky filled with countless stars at night. In total, the bath features 8 outdoor and indoor baths. Gokuraku-Yu is one you can see in the picture above.
Mansa Onsen is also one of the closest and best winter onsen towns near Tokyo to enjoy an outdoor bath in the snow. The indoor pool is really beautiful, too, with beautiful wooden architecture that's actually best to admire in the summer months.
Private Onsen: This onsen has a private indoor hot spring that can be rented for 2,000円 (about $20 or 18€). You can reserve it for 45 minutes from 7:00 – 22:00 o'clock. Reservations are only accepted for the same day.
Access: 40 minutes by bus from Manza-Kazawaguchi Station, or 1:40 hours from Karuizawa Station
Price: 1,000円 (about $10 or 8€)
Website: www.manza.co.jp
9. Ryounkaku (Hokkaido)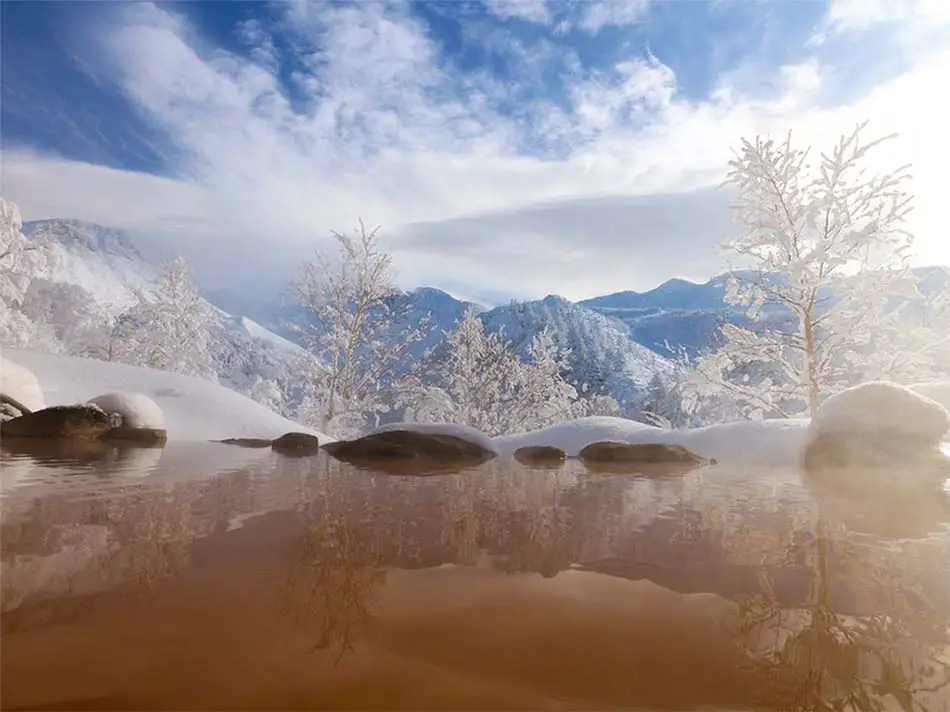 Location: Tokachidake Onsen, Near Furano & Biei, Hokkaido Prefecture
General Information: Ryounkaku (凌雲閣) is a relaxed hot spring located in Tokachidake Onsen in the south of Daisetsuzan National Park. The park is Hokkaido's largest national park and a paradise for hikers and outdoor lovers. Asahidake, Hokkaido's highest mountain, is the first place to see autumn leaves and snow in Japan.
Tokachidake Onsen is a small hot spring town with four different onsen ryokans halfway up the active volcano Mount Tokachidake. From Furano, the onsen is about 1 hour, from Asahikawa it will take about 2.5 hours. In summer you can combine the trip with a lavender farm visit. Biei's famous Shriogane Blue Pons is also nearby.
Mountain Onsen: Ryounkaku's onsen and rotenburo are at an elevation of 1,280 meters above sea level, about halfway up the mountains. It offers spectacular views of the volcano and the rest of the Tokachidake Mountains. The view will be the best in late September and early October when the autumn colors are at their peak. Even though this is a very simple and small onsen, it is kinda special because of its reddish-brownish water.
The unique color of the water comes from the acidic nature of its two natural hot springs. Like other onsen water, this one has a lot of health and beauty benefits, too, and it can even help with chronic skin diseases. However, if you have sensitive skin make sure to shower after the onsen. Day guests are welcome and can use the gender-separated hot spring spa from 8:00 – 20:00 o'clock.
Access: 40 minutes by bus from Kami-Furano Station
Price: 800円 (about $8 or 8€)
Website: www.ryounkaku.jp
10. Hotel Kazubarashi (Iya Valley)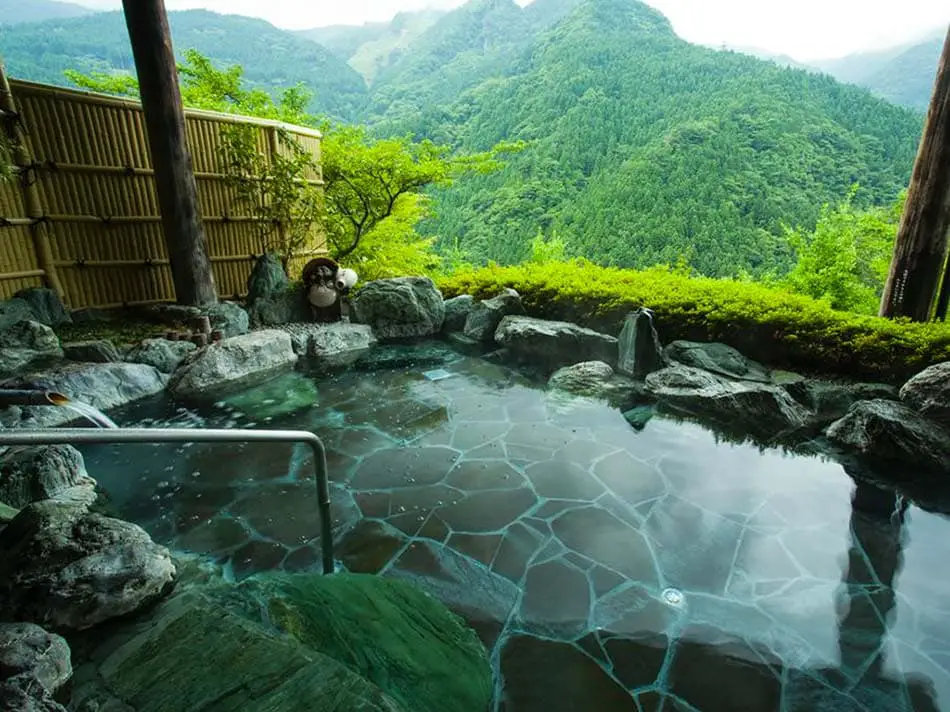 Location: Iya Valley, Tokushima Prefecture
General Information: Hotel Kazubarashi (ホテルかずら橋) is a 2-star hotel nestled in the remote mountains of the Iya Valley in Tokushima Prefecture (Shikoku Island). The valley is famous for its adventurous vine bridges "Kazurabashi" (only for the brave) and the azure blue waters of the Oboke Gorge. From Takamatsu, Tokushima, and Okayama, you can come here in about 2 – 3 hours. If you use the Shinkansen you could even come here on a day trip from Osaka, Kobe, or Himeji.
Mountain Onsen: Kazubarashi Onsen's special feature is that you will reach its high-altitude outdoor baths by cable car. The bath has a gender-separated indoor bath and a gender-separated outdoor bath. You can also enjoy an Ashi-yu (hot spring footbath). After the special ride with the cable car up to the outdoor baths, you will have stunning views of Iya Valley's steep mountain slopes and rocky gorges. In the fall, this is also a really good place to see Momiji – the beautiful autumn foliage.
Day visitors can use the onsen facilities from 10:30 – 16:00 o'clock.
Private Onsen: The hotel has a private bath and also a rentable Goemonburo, but only for staying guests.
Access: 20 minutes by bus from JR Oboke Station
Price: 1,200円 (about $12 or 10€)
Website: www.kazurabashi.co.jp
Bonus: Beautiful Mountain Onsen
Takamine Onsen Hot Spring – One of the highest onsens in Japan. It is located in Nagano at an altitude of 2,000 meters above sea level. Compared to other secret hot springs it is fairly easy to access. If you are into hiking and outdoors you will love the wooden rustic bathtubs as much as I do.
Kurikoma Sanso – A beautiful onsen at an elevation of 1,126 meters in the mountains in Akita Prefecture. Spectacular views of the nature surrounding Mt. Kurikoma, but information on the website and in English is very, very limited…
More Onsen and Hot Springs You Might Like