Kurashiki is a small town located in Okayama Prefecture that is famous for its picturesque canal area and historic art museums. I have visited Kurashiki 3 times so far. In my guide, I will answer the question if Kurashiki is worth visiting on your trip by elaborating on why you should go to Kurashiki and when you should exclude it from your itinerary.
Kurashiki is worth visiting if you plan to visit western Japan, especially Hiroshima or Okayama, and have half a day or a day to spare. You can see the Bikan Historical Quarter, also known as "the Venice of Japan", Japan's oldest Western art museum, buy Japanese denim, and try denim-colored food.
Read on, to find out all 7 reasons why Kurashiki is worth visiting and learn more about the beauty of the Bikan Historical Quarter, the historic importance of the Ohara Museum of Art, and the crazy food you can buy on Kurashiki's Denim Street. I will also tell you when you should skip Kurashiki and suggest some alternative destinations that you can visit instead.
📍 Kurashiki (倉敷), Okayama Prefecture (岡山県)
🗾 Chugoku Region (中国地方), western Japan
⏱ 17 min from Okayama, 55 min from Hiroshima
Why You Should Visit Kurashiki
Kurashiki is one of the most popular and best places to visit in Okayama Prefecture. According to Japanese travel information sites, it is the prefecture's top sightseeing spot (source). Furthermore, many renowned travel guides consider Kurashiki as one of the top 10 travel destinations in the Chugoku Region (source).
So let's find out what Kurashiki is famous for and why it is worth visiting.
1. Picturesque Canal Area Known as the Venice of Japan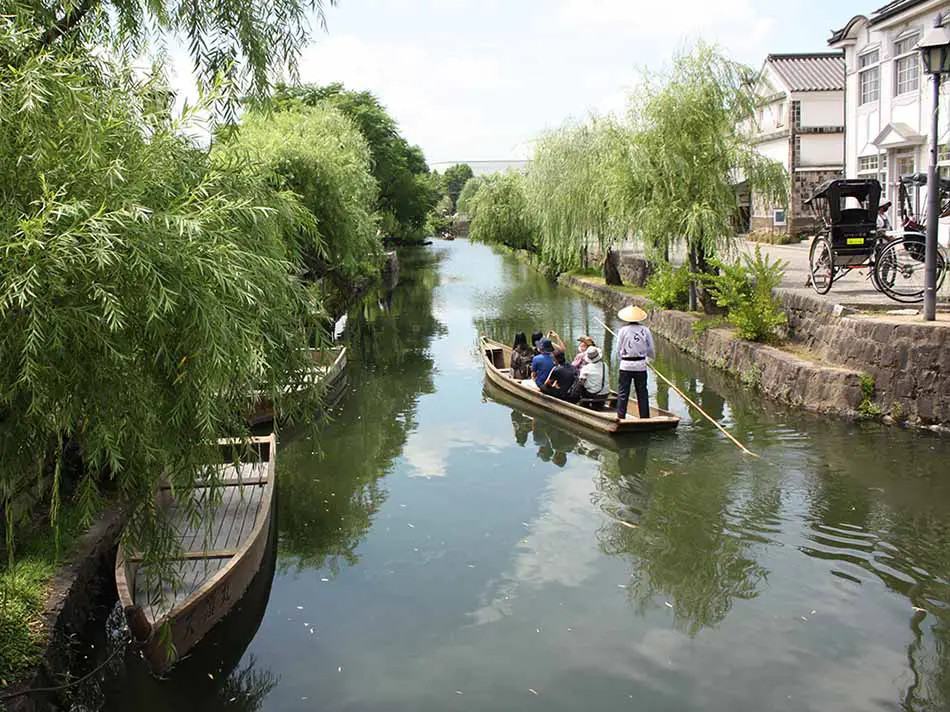 Kurashiki Bikan Chiku (倉敷美観地区), which is called the Kurashiki Bikan Historical Quarter or just the "canal area" in English, is Kurashiki's most famous and renowned sightseeing spot. While small, the town is not known as the "Venice of Japan" or "small Kyoto" for nothing.
The original historical site with plenty of white storehouses and restaurants along the willow-lined canal is well preserved and gives you a glimpse of historic Japan. You will often see wedding couples take their pictures here because it is such a pretty place.
After sunset, the whole Bikan district turns into a beautifully illuminated landscape designed by world-famous lighting designer Motoko Ishii. And even though most of the facilities and retail shops close around 5:00, this lovely scenery makes Kurashiki worth visiting for a whole day.
In March and sometimes until the beginning of April, you can also see some beautiful cherry blossoms along Kurashiki's canal making the whole area even more picturesque. Around the same time, a matsuri called Kurashiki Spring Light Festival takes place, too.
You only need half a day to explore the best parts of the Kurashiki Bikan Historical Quarter, so if you have that much time to spare Kurashiki is definitely worth a visit.
🌸 Early March ~ early April
2. Visit the First Museum of Western Art in Japan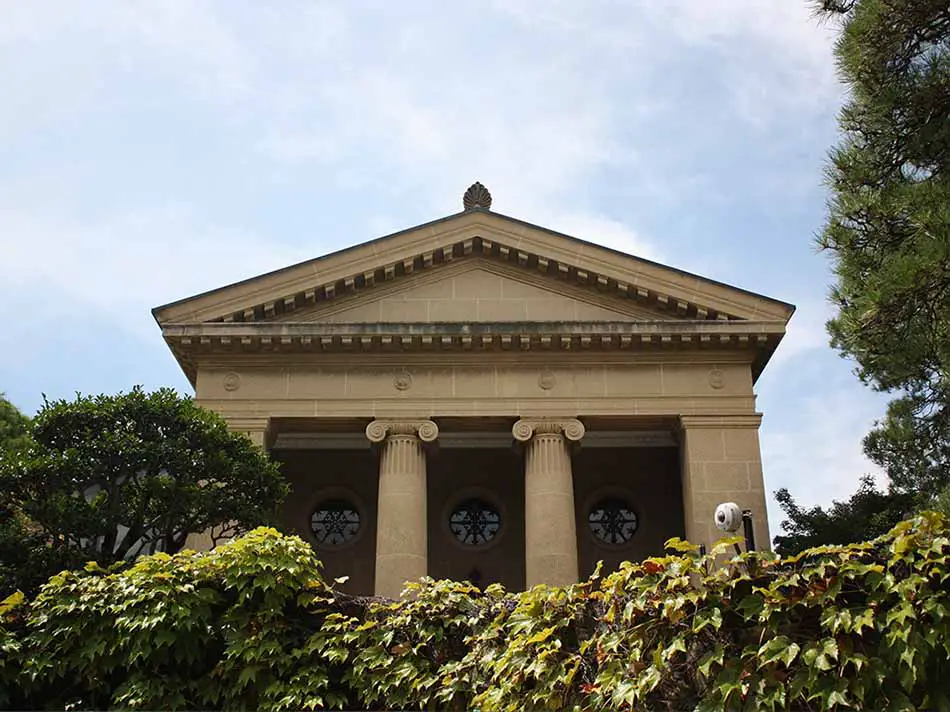 The Ohara Museum of Art (大原美術館, Oohara Bijutsukan), which is often considered one of its biggest attractions, is another good reason to visit Kurashiki. This private museum has an impressive collection and is of historical importance because it was the first museum in Japan that featured Western art.
Here you can see a range of outstanding works created by El Greco, Monet, Renoir, Gauguin, Picasso, and Kandinsky. Some of its most famous paintings are Claude Monet's Waterlillies, Haystacks, Camille Pissarro's Apple Picking, and El Greco's Annunciation (source).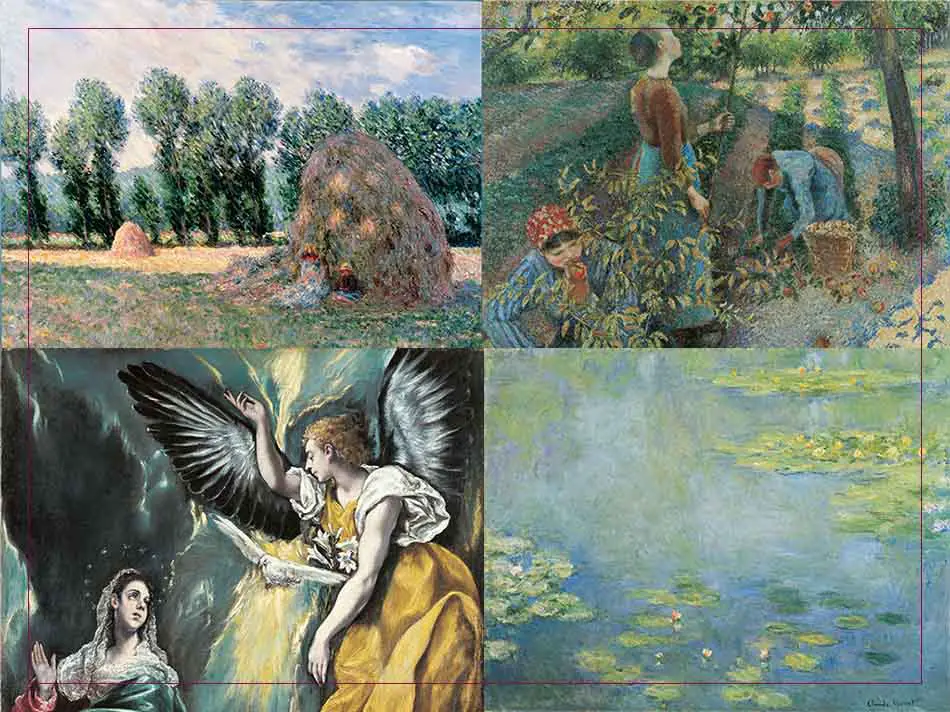 They also have an expanding collection of modern and contemporary art from Japan and the West. In the Craft Art Gallery & Asian Art Gallery, they exhibit Japanese ceramics, woodblock prints, and antiques from China, and in the annex, they also feature some sculptures.
Inside the museum, there is also a Japanese garden called Shinkei-en Garden (新渓園), which looks really beautiful in autumn with its bright red fall foliage.
Ohara Museum of Art
Hours: 9:00 – 17:00 (last entry 16:30)
Closed: Mondays, during winter holidays
Entrance Fee: ¥1,500 ($11.00, 10.00€)
Website: https://www.ohara.or.jp/en/
3. Shop for High-Quality and Unique Denim Items & Kimono
Are you into jeans and denim? Yeah? Then you should definitely consider visiting Kurashiki since it is known as Japan's denim paradise. Actually, the city should be on top of your bucket list since it is a must-visit for denim lovers and fashionistas.
From denim bags to denim umbrellas, foldable denim fans to denim hand towels, and denim kimonos, you can literally find any clothes and any souvenir made from denim fabric. No matter what you are looking for I am sure you will (or can only) find it here.
Visiting all the different shops and seeing the unusual combination of traditional Japanese items and denim makes for a really interesting shopping experience. And, you might hate them or love them, but the denim kimonos are just really unique (source).
However, I also have to mention that the birthplace of jeans in Japan and an even bigger denim shopping district awaits you in Kojima (児島), a city about one hour south of Kurashiki.
In Kojima, you have the famous Jeans Street, a jeans bus, and the Betty Smith Jeans Museum & Village (source), where you can design your own customized jeans.
4. Try and Take Crazy Instagrammable Pics of Blue Food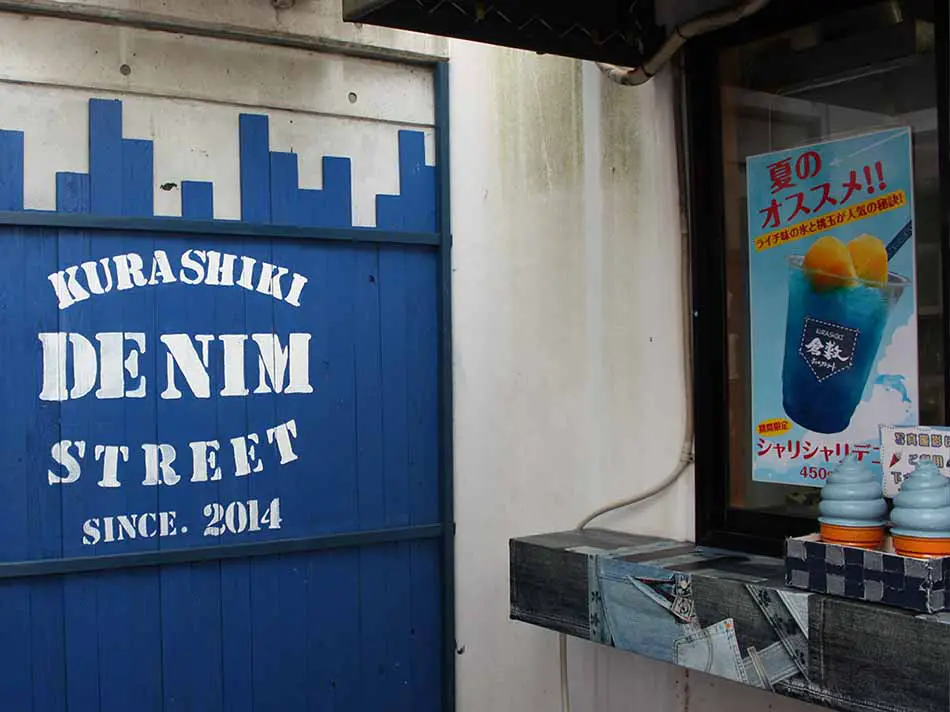 Another denim-inspired quirk that might make Kurashiki worth visiting on your Japan trip is the vivid menu of blue food and drinks.
While not extraordinary or exceptionally good in taste, you can try blue pudding, blue ice cream, blue sake, blue nikuman, and blue burgers and take some crazy pictures for your friends and Instagram.
In Kojima (児島), you can also find a ramen shop that serves a bowl of blue denim ramen. The shop's name is Ramen-ya Kulikara (ラーメン屋Kulikara).
5. Enjoyable Traditional Canal Boat Rides & Rikshaw Tours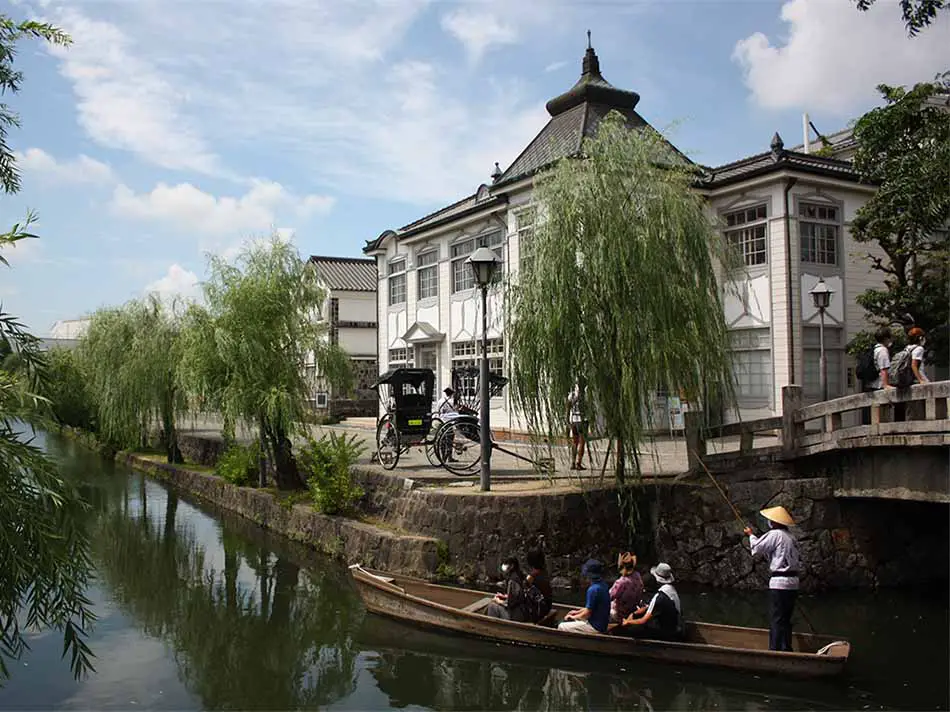 Kurashiki is also famous for its fun and informative traditional canal boat rides and rikshaw tours.
The traditional boat tours (くらしき川舟流し, Kurashiki Kawabune Nagashi) allow you to learn about Kurashiki's history and to see and enjoy the town from a different perspective. The boats depart every 30 minutes from 9:30 – 17:00 and a ride takes about 20 minutes and costs ¥500 per person (source).
From March to November, the boat tours take place every day except for the second Monday of each month. However, from December until February, the tours are only available on weekends. So please keep that in mind when planning your trip.
Also, please note that you might have to wear a traditional straw hat during the boat ride and that your gondolier might only speak Japanese.
The informative rickshaw tours (観光人力車, Kankou Jinrikisha) are conducted by local guides, who are usually very funny, and you can choose if you want a shorter 12-minute ride or a longer 2-hour tour. However, some of them might only speak basic English.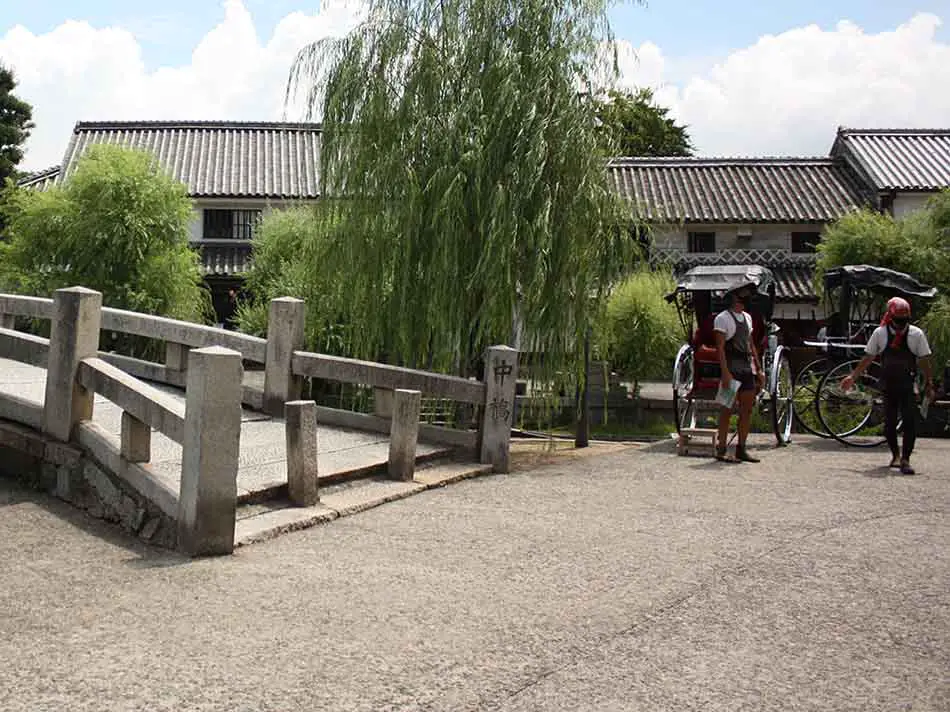 If you are interested in Japan's history, this is a good way and a good opportunity to learn about the importance of Kurashiki during the Edo period and all of its major sites.
The short 12-minute tour costs ¥4,000 (¥5,000 for 2 people, and ¥9,000 for 3 people), and the 30-minute tour costs ¥9,000 (¥10,000 for 2 people, and ¥19,000 for 3 people). The long 2-hour ride is rather expensive, though. It costs ¥31,000, or ¥38,000 for 2 people, and ¥69,000 for 3 people (source).
📅 Mar – Nov: boat rides take place every day, except for the 2nd Monday
📅 Dec – Feb: boat rides are only available on weekends
Tour
Business Hours
Tour Duration
Costs
Traditional Canal Boat Ride
9:30 – 17:00
20 minutes
¥500
($3.50, 3.50€)
Kurashiki Rickshaw Tour
9:30 – sunset
12 min – 2 hours
From ¥4,000
($29.00, 27.00€)
Overview of Kurashiki's Canal Boat Ride & Rickshaw Tour
6. Easy Visit From Okayama or on Your Way to Hiroshima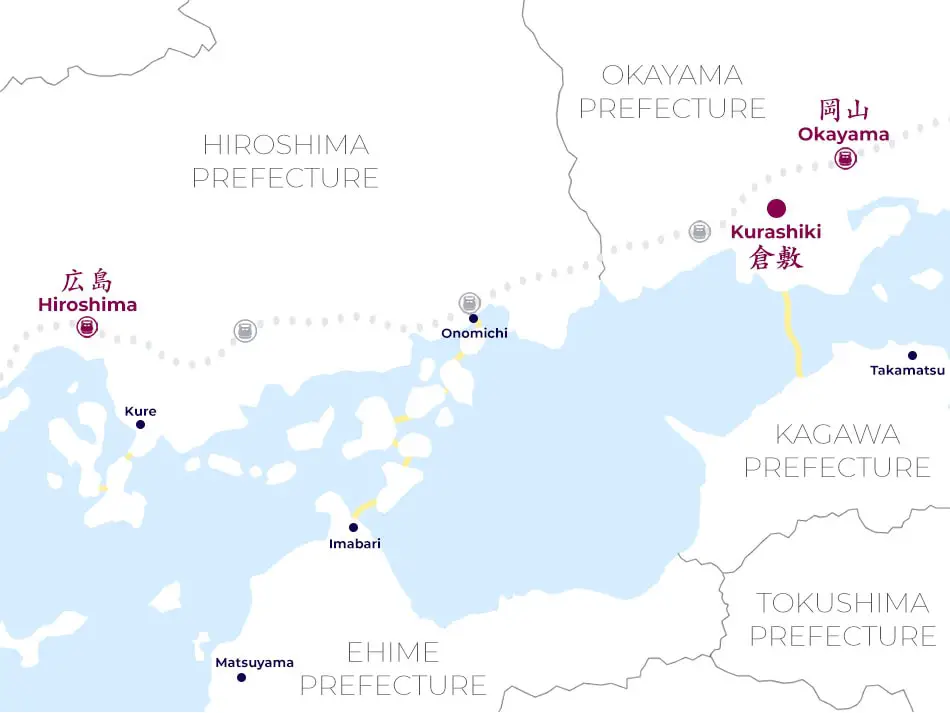 Kurashiki is literally right next to Okayama and it only takes 17 minutes by train to travel from one station to the other. If we include the time you need to walk from Kurashiki Station to the Bikan Historical Quarter it takes about 30 minutes in total.
So if you are in Okayama or planning to go there, Kurashiki is definitely worth a visit and should be on your travel itinerary.
It is also possible to visit Kurashiki for half a day and see all of its major sightseeing spots when you are planning to visit Hiroshima. By shinkansen, it only takes about 59 minutes from Hiroshima Station to Kurashiki Station or about 1 hr 20 min to Kurashiki's canal area.
Since Kyoto and Osaka are also only about 1.5 hours away by shinkansen, you could also consider visiting Kurashiki as a day trip from the Kansai area. Tokyo is about 4 hours away by the way.
From
Time
Costs
Okayama
17 minutes
¥330
($3.00, 2.50€)
Hiroshima
59 minutes
¥7,320
($50.00, 50.00€)
Osaka
1.5 hours
¥6,680
($48.00, 46.00€)
Kyoto
1.5 hours
¥8,320
($60.00, 57.00€)
Tokyo
~4 hours
¥17,660
($126.00, 121.00€)
How Long it Takes & How Much it Costs to Get to Kurashiki
7. Not So Crowded Especially Early in the Morning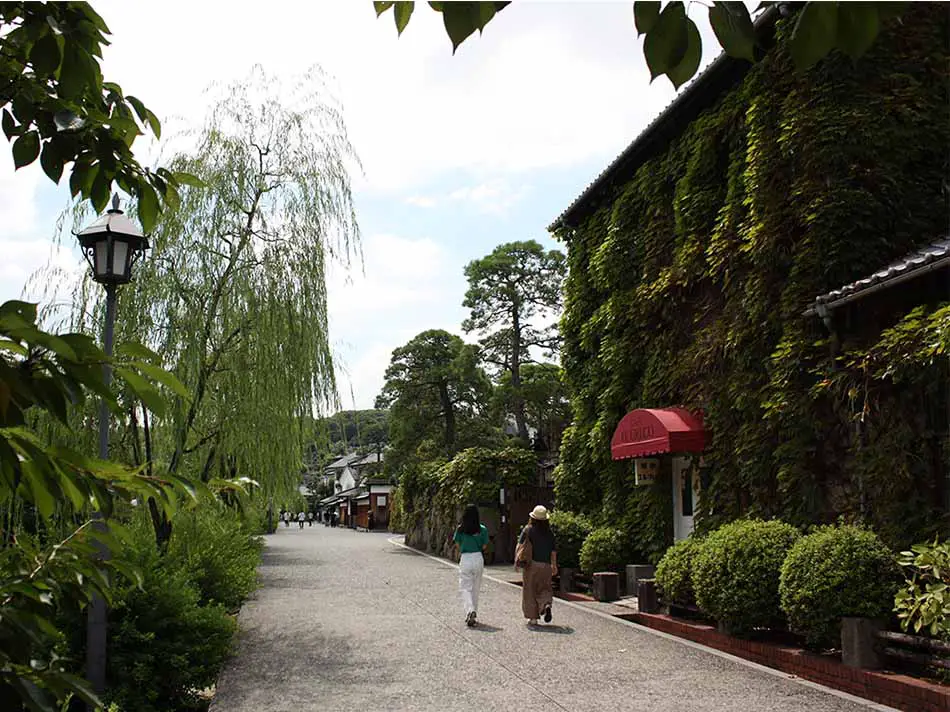 Even though Kurashiki is one of the most popular and beautiful travel destinations in Okayama Prefecture and the Chugoku Region, you usually won't find that many western tourists here.
On top of that, you can easily avoid crowds by arriving early in the morning (around 9 o'clock) on a weekday or by staying until after sunset (after 5:00 or 6:00).
If you want to see the beautifully lit-up canal area and enjoy the whole Bikan Historical Quarter to the fullest, I recommend you arrive in the late afternoon, stay in Kurashiki for one night, spend the next morning exploring the Bikan district, and head to your next travel destination around noon.
When You Should NOT Visit Kurashiki
As you can see Kurashiki is known for a lot of things and Kurashiki's Bikan Historical Quarter is definitely worth a visit. However, Kurashiki might not be worth visiting when one or all of the following conditions apply to you.
1. It's Your First Japan Trip & You Have Less Than 14 Days
If this is your first time in Japan and you only have 2 weeks or even less, Kurashiki is probably not worth visiting. There are so many other amazing travel destinations and things to see and do in Japan for first-time visitors that make Kurashiki feel a bit out of place.
Kyoto's famous geisha district Gion and Pontocho Alley, the small Geisha districts Higashi Chaya and Nishi Chaya as well as the samurai district Nagamachi in Kanazawa, the former merchant district Naramachi in Nara, and Kawagoe, known as "Little Edo district" near Tokyo seem better options.
Kurashiki is a wonderful place to visit if you have been to Japan before or live in Japan.
2. No Plans to Visit Okayama, Hiroshima, or Western Japan
Thanks to the shinkansen Kurashiki is only about 4 hours away from Tokyo, but there are similar places in the Kanto and Chubu Region that you can visit such as nearby Kawagoe, Matsumoto or Kiso Valley in Nagano Prefecture, and Kanazawa in Ishikawa Prefecture.
3. You Will Come to Japan During the Winter Months
In the winter months, the Bikan district looks less beautiful than usual, because the willow trees are not green anymore. The boat tours are also only available on weekdays, so it is not the best season to travel to Kurashiki and I would consider skipping it this time.